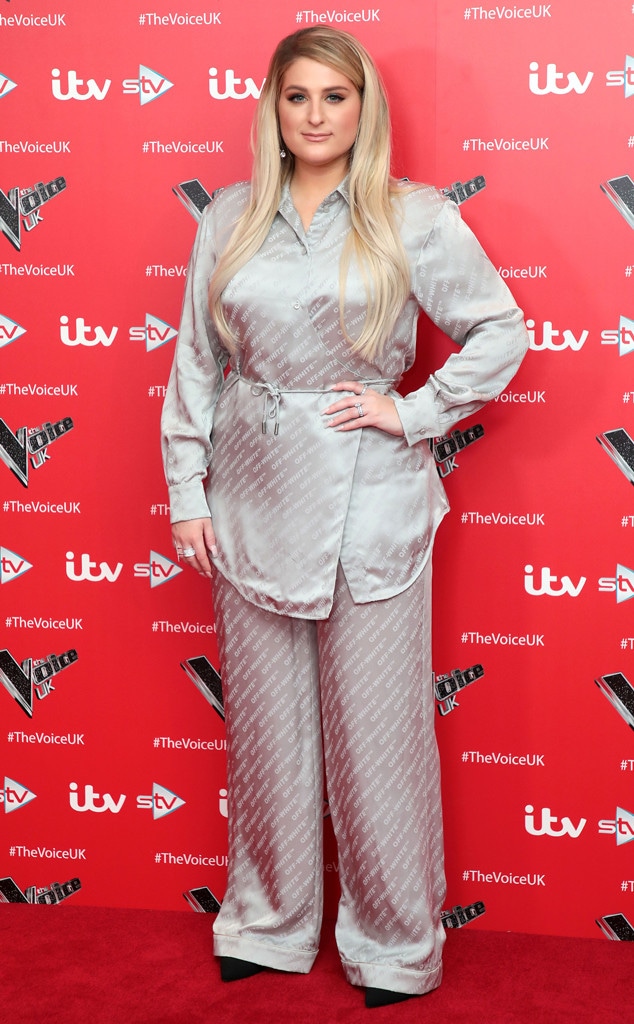 James Shaw/Shutterstock
She's pulling back the curtain. 
In a new interview with Zane Lowe on Apple Music's Beats 1 about her new album TREAT MYSELF, Meghan Trainor details the exciting and at times very difficult journey she's been through in the last few years since hitting it big in the music world. The musician remembers a time in her life when everything was going exactly how she wanted it to, but the pressure was almost too much for the young star to handle. 
The singer recalled an interview with Gayle King where things took a turn for the worse and she had a breakdown. "So, after Thank You, which, which was my last album, that was my thank you for all that, all my dreams coming true. Literally, every single one I ever had, thank you so much. And after that album I met the love of my life. Everything was great," she explained. "And I had vocal problems 'cause I was working too much. I finally collapsed physically and emotionally. I had like a mental breakdown and I had panic attacks live on television with Gayle King."
That was just the beginning. It took another big moment for Meghan to actually take time to rest and get the help she needed. "I was reading the nominees for the Grammy's the year after I won and I was shaking and I was like, please don't collapse on TV right now. We're live," she shared of the terrifying moment. "And as soon as they were like, cut, I fell and started scream crying and couldn't breathe. And later, they took me away."
She continued, "I was supposed to do more work and they were like, 'We're done. This is it.' It was because I had, I can't say who but I had a lot of people tell me like, if you cancel on this 30 minute set, we'll never play Meghan Trainor ever again. So I had everything. I had my Grammy, I had what people dream of for years. I had everything I ever wanted, and they were threatening to take it away." 
For Meghan, it took hitting rock bottom and being hospitalized for her to really come to terms with the exhaustion she was experiencing.
"So, my mind was like, no I'll keep going, I'll keep going. And my body was like, bye. And my body had to tell me, instead of me being able to take a break," she revealed. "Like the saddest thing is like, your whole team is in the hospital with you like, 'Everything's gonna be okay.' And you're like, like can't talk. You cannot speak. So I was alone with my thoughts for way too long and I blew up. I freaked out and I freaked out for a long time."
After getting through that dark period and creating this new album, she said the focus is on really helping herself and others remember the importance of loving yourself for who you are, exactly where you are. 
"Trust my gut. Believe in myself. Every message that I give when I'm trying, I, I try to write my songs that are like, treat yourself, remember to love yourself," she shared about the themes of her album. "It's all to me. It's also all to my fans but I keep listening to these songs and I keep having to remind myself. Like baby girl, love yourself."