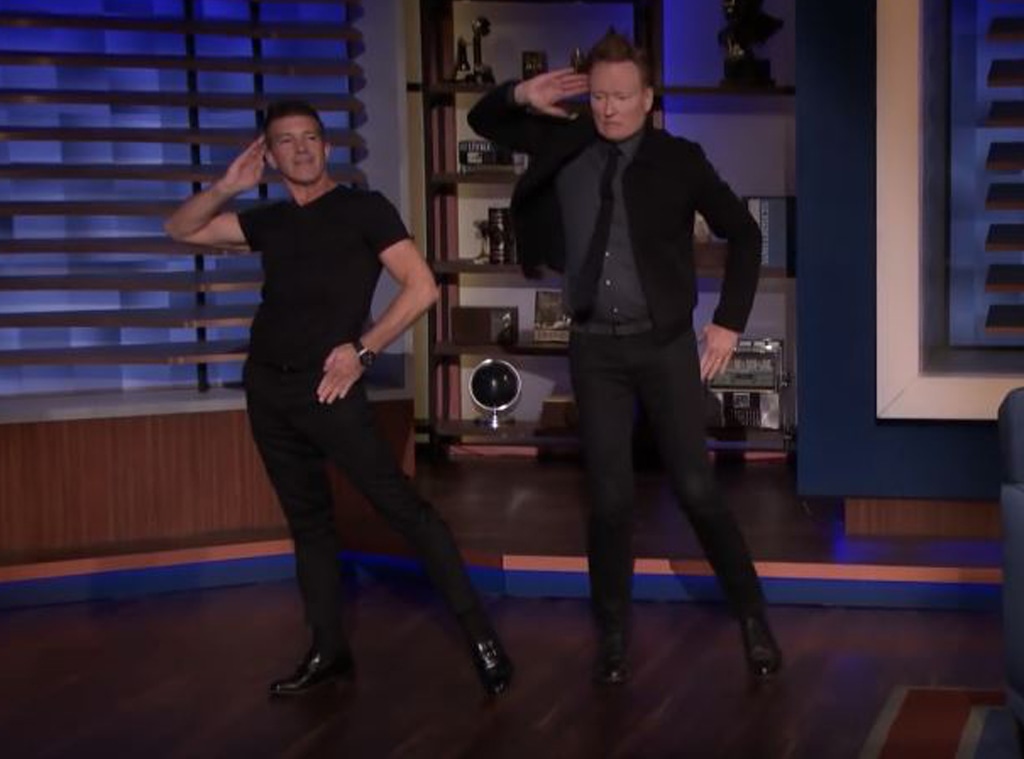 YouTube
Antonio Banderas is a multi-talent. He acts, he sings, he dances, he owns a theater!
During an appearance on Monday's Conan, the Pain & Glory star dished to host Conan O'Brien about the theater he bought in Málaga, Spain, and the first show he put up in it in 2019, the Broadway classic A Chorus Line.
Speaking of owning the theater, Banderas shared, "That's a dream that I had for 20 years. I am an actor because of theater. Movies became an accident—an accident of 112 movies, I will say—but an accident. Theater was my beginning as an actor."
The 2020 Oscar nominee went on to explain his love of the stage. As he said, "Theater is beautiful because no matter how technology advances in the future, it's just about you and them. There is nothing in the middle."
"It's just something that you see and it just belongs to your memories," the actor added.
Naturally, O'Brien wanted to know what kind of shows the theater will take on in the future.
To that end, Banderas dished about the first show they put up as an indicator of what's to come.
Speaking of the Tony and Pulitzer prize-winning musical, Banderas said, "We opened with an American production, A Chorus Line." The show is about a group of dancers auditioning to be cast in a Broadway show. The characters consist of the actors vying for a spot in the chorus line, along with the director/choreographer, Zack, whom Banderas played in addition to directing the actual show.
And don't think that just because he played a director that he didn't dance! Everyone in A Chorus Line does the iconic choreography at some point.
When asked if he danced in the show, the star excitedly replied, "Absolutely, I did!" Then, the Shrek alum suggested he teach the host some moves.
The pair got up and walked over to an open space on the stage, and that's when Banderas began to teach O'Brien the first two bits of choreo, which consisted of just two sharp poses. Banderas looked as stylish and confident as ever as he directed O'Brien, who found the moves a tad difficult.
After he and the actor did some high kicks (which Banderas noted the dancers do 60 of a night), the host joked, "I just tore my groin."
Watch:
Antonio Banderas Talks Portraying His Hero Pablo Picasso
The dancing in that show is no joke! And the rehearsal schedule is just as grueling.
As O'Brien noted, "You have to be in amazing shape to be able to do that!" Indeed. In fact, the 59-year-old revealed that the dancing workout was so intense, it resulted in him losing the equivalent of 20 lbs.
"We are obliged, by contract, to do an hour and a half of warming up every day before the performance," he said, "so when we get in the performance, we actually are getting there already sweaty. So, everybody is really, really fit. I've been working on this from June, and I lost 9 kg and a half. Excuse me very much."
Color us impressed!