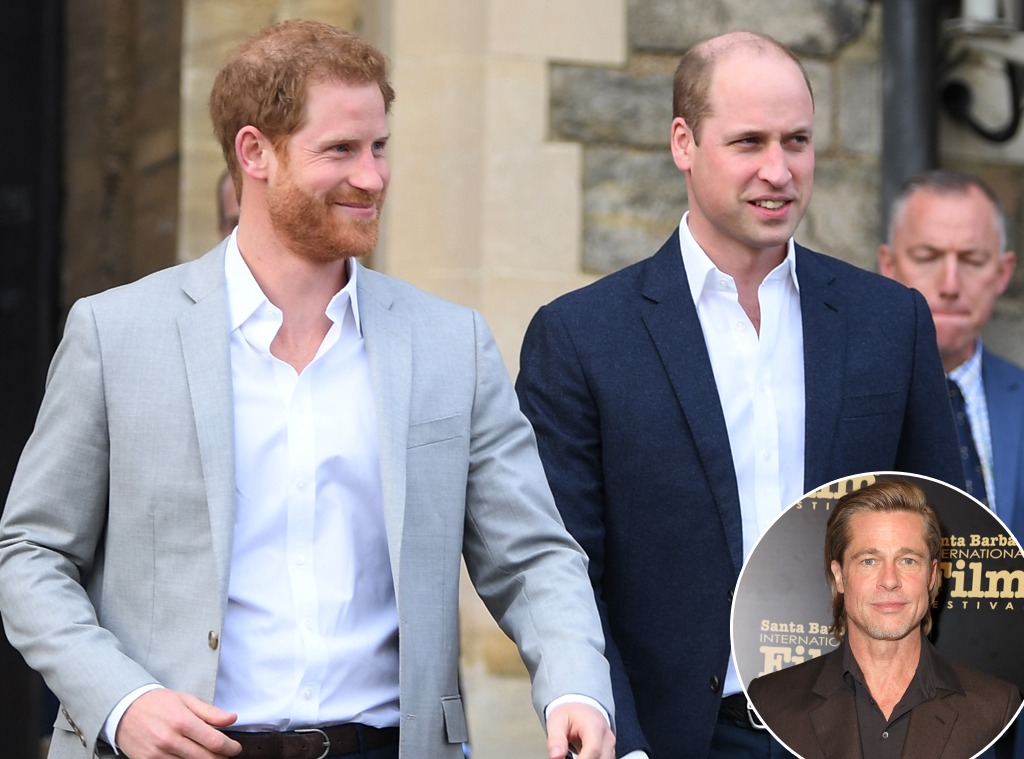 Shaun Botterill/Getty Images, Rebecca Sapp/Getty Images for SBIFF
Prince William and Kate Middleton have the best sense of humor. 
On Sunday, the Duke and Duchess of Cambridge attended the 2020 BAFTAs and enjoyed celebrating the year's accomplishments in film. But aside Kate's stunning Alexander McQueen dress and watching the couple be adorable together, the best moment of the night definitely went to their reaction to Brad Pitt's joke about Prince Harry and Meghan Markle during his acceptance speech. 
Unable to attend the award show due to family obligations, the Oscar-nominated actor's award for Best Supporting Actor was accepted on his behalf by his Once Upon A Time in Hollywood co-star Margot Robbie. After reading his speech, which thanked the OUATIH team and director Quentin Tarantino, Margot said, "Oh, and he says, um, he is going to name this Harry 'cuz he is really excited about bringing this back to the States with him…His words not mine!"
Brad's #Megxit joke was met with a roar of laughter from the crowd, including the Duke and Duchess. Once Margot finished reading the speech, cameras panned over to William and Kate, who were both seen laughing and giving the actress a round of applause.  
#Megxit wasn't the only pertinent topic that got a shout-out in his speech. To kick things off, he made a humorous Brexit reference, which he hilariously compared to his 2016 split from Angelina Jolie.
"He starts by saying, 'Hi Britain, heard you just became single. Welcome to the club. Wishing you the best with the divorce settlement.' Blah, blah, blah."
This isn't the first time that Brad has killed it with his acceptance speech this awards season. At the 2020 Golden Globes, he said, "I wanted to bring my mom, but I couldn't. 'Cause, any woman I stand next to they say I'm dating," he quipped. "It would just be awkward."
He also poked fun at his OUATIH co-star Leonardo DiCaprio by referencing his film Titanic: "I also have to thank my partner in crime, LDC…I wouldn't be here without you, man, I thank you still, I would have shared the raft oh, man."
For his 2020 SAG Awards speech, he made another epic reference to his dating life with a Tinder joke. Looking at his SAG Award, he said, "I gotta add this to my Tinder profile." After receiving tons of laughs with that joke, Brad continued, "Let's be honest. It was a difficult part. A guy who gets high, takes his shirt off and doesn't get on with his wife. It was a big stretch."
Later on in the evening, Brad won the Internet with an adorable backstage moment. He was spotted watching ex Jennifer Aniston receive her SAG Award for Outstanding Performance by a Female Actor in a Drama Series on a monitor. And, to make the moment even cuter, he had the biggest smile on his face and watched The Morning Show star's speech with the most adoring look on his face.
Fingers crossed we get another amazing Brad Pitt acceptance speech moment at the 2020 Oscars!