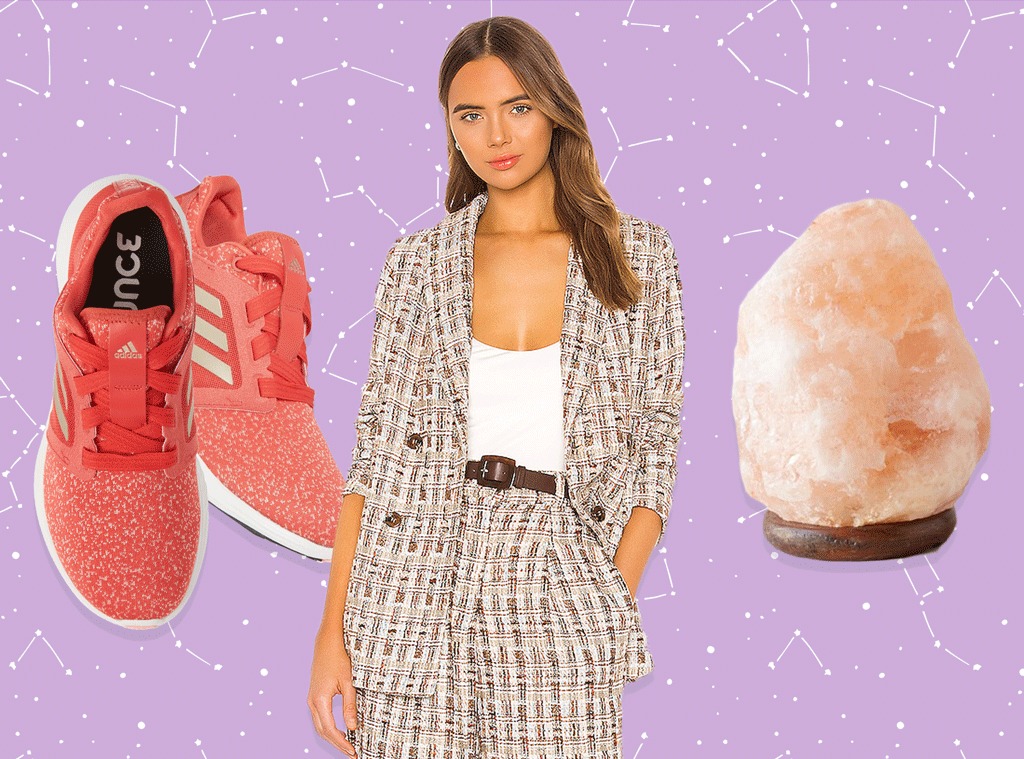 We love these products, and we hope you do too. E! has affiliate relationships, so we may get a small share of the revenue from your purchases. Items are sold by the retailer, not E!.
Welcome to February, friends, where Aquarius season is in full swing. And with this new month comes an amorous horoscope.
"With a little applied effort this month of love can offer you new heights of connection," forecasts our resident spiritual advisor Lisa Greenfield. "If you simply keep doing what you've done before, the results will likely disappoint. So the best thing to do is take some personal responsibility for whatever isn't working and use it as an opportunity to bring more of your creative bright side to the issue. There's an intriguing fresh solution just waiting for you to give it a glance. Once you do, you find any challenge can deepen your self-expression to connect you with love more fully. Curious and interested in life beats furious and judgmental every time. It feels SO much better. Let that be the valentine delivered to you."
Here are the items to help you be your most authentic self this month according to your astrological sign. Shop wisely and well.
Aquarius
"This month is yours, my water bearer. Transformation is the very heart of you and it affects all those around you. You benefit when you help loved ones appreciate that life unfolds at its own pace, regardless of our wishes. Add a window planter to give tangible proof that even when we can't see it, magical things happen as seeds take root and eventually flower with proper care."
Pisces
"No doubt about it, my sweet fish, time to suit up for the bigger stage waiting for you. Your intuitive communication meets success, in business and in love. So put on that power suit that showcases your strength and don't doubt that those who love you see the sweetness to go with that backbone. In fact the combination is irresistible."
Aries
"While peacemaking isn't your usual strength, you find yourself on higher ground there than usual. Generosity paired with loyalty makes you the first pick for friends and lovers alike. Which is why your fashion pick for the month is a perfect example of making beautiful what began life with a bang. Bullets made into jewelry show that feisty can be beautiful in the right setting."
Taurus
"With the shock change planet Uranus now direct in your sun sign, the urge to change things up won't be denied. Yes, fear come with change but these are needless worries, you're on much firmer ground than you feel. Put on a pair of fabulous heels when you can't see daylight and let the added view soothe your itchy mind in all things love-related."
Gemini
"Ah, my lightning minded twin, you could find yourself craving sugar as this month ramps up your nervous system with so many choices in love. Satisfy those desires with a top quality vegan and paleo-friendly chocolate to satisfy both your heart and your head. When your need is answered so efficiently, the questions practically solve themselves—deliciously."
Cancer
"It's time to leave those defensive shields at home, tender crustacean. You are ready for the world and the world is oh-so-ready for you. Grab an wellness planner to write down those pesky doubts and balance them with affirmations that overcome any fearful thinking. Before long you'll find love notes flowing from that boundlessly big heart."
Leo
"Patience is so necessary for you, my proud lion, as true love unfolds more slowly than your ego wants to allow. Instead of roaring when you feel less than appreciated, add a karaoke machine to your tool kit and sing, purr, do spoken word. When you have that this stage handy you share the spotlight with less struggle. Your loved one may be just the audience you always dreamed of when you communicate with a beat behind it."
Virgo
"Did you know that anger is a form of passion? This month you benefit from taking irritation out of a small box of criticism and into the realm of real heat. Grab boxing gloves and practice rolling all those little irritations into consolidated outbursts. You dial up your passion potential and the workout has a terrific effect on your abs that someone special is bound to appreciate."
Libra
"This is a good month to tend those home fires, my peace-loving Libra. Essential oils and a great diffuser are just the thing to soothe those jangled nerves and delight that special someone. The right combinations are potent aphrodisiacs or loving bliss baths. It's just the way to use your beautiful instincts to their best advantage."
Scorpio
"You shine like a diamond this month my deep dark one. Your strength in adversity has been proven, your devotion is unquestioned. There is a self command about you that inspires fear in the unworthy and admiration in all others. Diamonds are the perfect way to celebrate the brilliance that is you. You deserve the best, because you've given the best."
Sagittarius
"My archer wins the prize for the best integration of the Capricorn/Cancer eclipses. You can explain to others how to leave childish things behind and stand firm in your power as an adult. But here's a tip, they pay more attention to what you do than what you say. Walk your talk—rather than leave it to words—in a fashionable tennis shoe to prove that fitness in mind, body and spirit takes practice."
Capricorn
"The challenges you've been through lately have given you more wisdom than you realize, my sturdy goat. You are salt of the earth and bring flavor that might seem ordinary for those you love, until it isn't handy. Add a beautiful salt lamp to your bedside or desk to see and touch when you need reminding of how much you add to the world with your unique contributions."