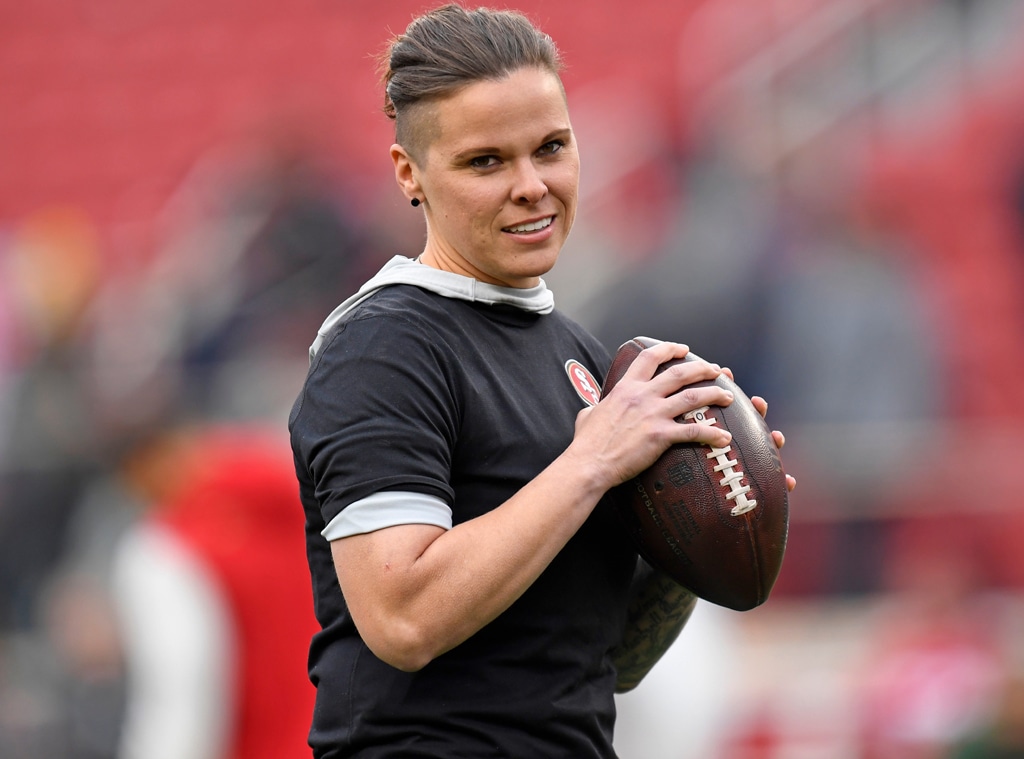 Jose Carlos Fajardo/Bay Area News Group
After trailblazing her way to become the NFL's first openly gay coach in 2017, Katie Sowers is about to make history again. 
As the San Francisco 49ers' offensive assistant coach, the 33-year-old is now the first openly gay and female coach to lead the team to a Super Bowl. She'll be on the sidelines this Sunday as the 49ers take on the Kansas City Chiefs, which coincidentally is Sowers' home state team. But before breaking down barriers in the predominantly male, outwardly straight NFL organization, Sowers overcame adversity on and off the field. 
Here's a glimpse into her journey to the nation's premiere sporting event. 
On Her Lifelong Love of Football: Born three hours outside Kansas City, Katie and her twin sister Liz Sowers (also a football player) were introduced to sports at an early age. Their father coached basketball at a local college, and the Sowers girls' earliest memories involve backyard games with neighborhood boys. Her early passion for the game is actually featured in Microsoft's Super Bowl ad, which shows Sowers reading childhood journal entries. 
"I remember loving football from day one," Sowers says. "I would walk home every day, and all I'd want to do is play football." In one entry, she reads, "I hope someday I will be on a real football team."
Her dream came true years later when she joined the Women's Football Alliance. In 2013, Sowers snagged a spot on the United States women's national American football team that won a world title and gold medal. 
On Grappling With the Backlash Against Her Sexuality: Before pursuing football professionally, Sowers played basketball at Goshen, a private liberal arts college outside of Indianapolis. Before graduating, she asked to continue working with the team as a volunteer coach but was denied because of her sexual identity.
As she described to Outsports, "I was told 'because of your lifestyle, we ask that you do not come around the team.' That moment really impacted me because it was the first time I truly felt judged because of my sexual orientation. I was so passionate about coaching and to feel like my opportunities were limited because of who I loved was hard to deal with. However, without that experience I would not be where I am today."
Watch:
Jennifer Lopez & Shakira Score the Super Bowl 54 Halftime Show
On Making It to the NFL: While working as fifth grade girls' basketball team coach, Sowers impressed NFL executive Scott Pioli—whose daughter played on her team—so much that he offered Sowers a job with the Atlanta Falcons through a coaching diversity fellowship. In 2017, Sowers followed Kyle Shanahan to the 49ers, where he became head coach and she settled into her role as the offensive assistant coach. 
"It's groundbreaking and all that stuff, but the more normalized it is, the better it is," she told The Mercury News following a successful first season with the 49ers. "As a female, the more someone can ask me what I do and I say 'I coach football,' the less shock on their faces will mean the better direction we're moving."
On Opening Doors for Women Like Her: Sowers' mission goes far beyond the final numbers on the scoreboard. "I have a job to do here," she told the Los Angeles Times. "As surreal as this is, I have to focus on that job. Being the first female and getting all this publicity... It's being visible to younger women and everybody, really. But the most important thing is making sure I'm not the last."