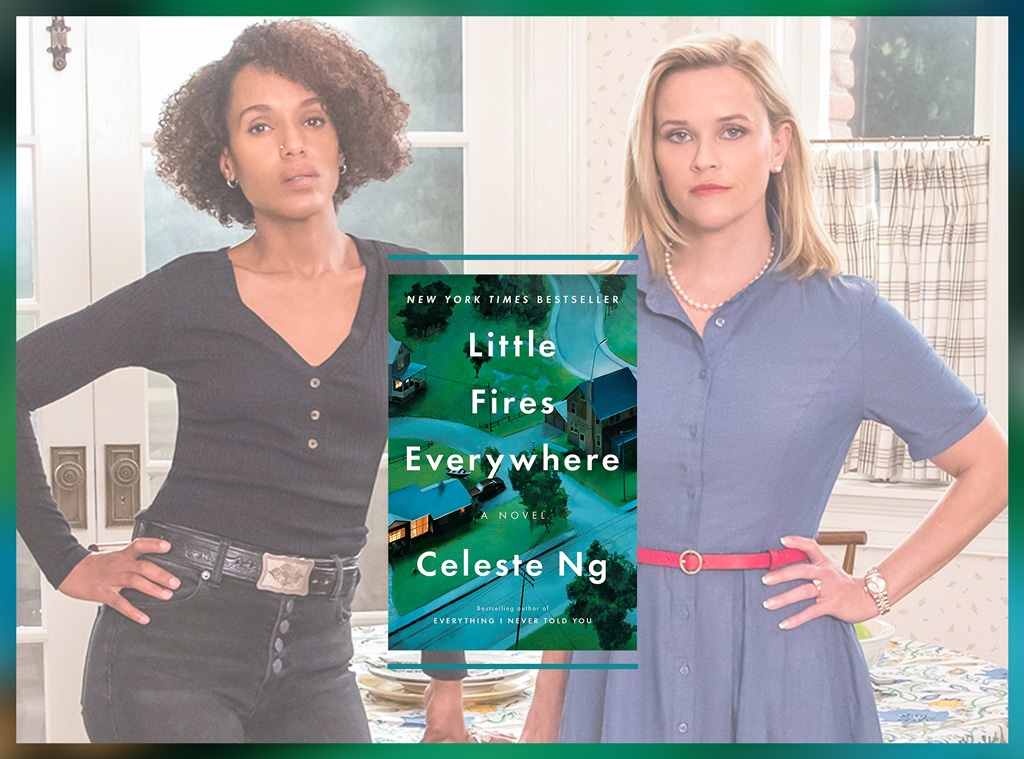 Hulu
We love these products, and we hope you do too. E! has affiliate relationships, so we may get a small share of the revenue from your purchases. Items are sold by the retailer, not E!.
The age-old debate of whether the book or the movie is better is about to kick into high gear in 2020—thanks in large part to a handful of the most celebrated books and stories being made into major films and TV shows this year.
From a sci-fi masterpiece Dune to a Charles Dickens classic to a Jane Austen revamp, we've collected an array of beloved characters (and the tales their attached to) before they hit the silver screen (or a TV) near you. 
From Hulu's highly anticipated adaptation of Little Fires Everywhere to Netflix's sophomore effort P.S. I Still Love You, you're going to want to keep that nose in the books so you can wow (and have amazing rebuttals) at your next date, brunch, or family gathering. 
Check out 16 of the best books coming to life on screen below. 
Little Fires Everywhere by Celeste Ng
Plot: Little Fires Everywhere follows the intertwined fates of the picture-perfect Richardson family and an enigmatic mother and daughter who upend their lives. The story explores the weight of secrets, the nature of art and identity, the ferocious pull of motherhood – and the danger in believing that following the rules can avert disaster.
Premieres: March 18 on Hulu.
Starring: Reese Witherspoon and Kerry Washington.
Dune by Frank Herbert
Plot: In the year 10191, a spice called melange is the most valuable substance known in the universe, and its only source is the desert planet Arrakis. A royal decree awards Arrakis to Duke Leto Atreides and ousts his bitter enemies, the Harkonnens. However, when the Harkonnens violently seize back their fiefdom, it is up to Paul, Leto's son, to lead the Fremen, the natives of Arrakis, in a battle for control of the planet and its spice.
Premiere: TBD. Watch trailer here.
Starring: Timothee Chalamet as Paul Atreides alongside Rebecca Ferguson, Oscar Isaac, Jason Momoa, Javier Bardem, and Zendaya.
P.S. I Still Love You (To All the Boys I've Loved Before) by Jenny Han
Plot: This story will focus on Lara Jean's new relationship with Peter Kavinsky. But wait! This is a high school romance movie, so it is required to feature a love triangle (and does).
Premieres: Feb. 12 on Netflix. 
Starring: Lana Condor and Noah Centineo.
The Personal History of David Copperfield by Charles Dickens
Plot: Follow the life of David Copperfield from childhood to maturity, with his own adventures and the web of friends and enemies he meets along his way.
Premieres: In theaters May 8.
Starring: Dev Patel, Tilda Swinton, Ben Wishaw, Hugh Laurie, Peter Capaldi and Gwendoline Christie.
The Woman in the Window by A.J. Finn
Plot: An agoraphobic woman drinks wine all day and spies on her neighbors. Nothing bad will come from that, right?
Premieres: In theaters May 15. Watch the trailer here.
Starring: Amy Adams.
Artemis Fowl by Eoin Colfer
Plot: Artemis Fowl follows 12-year-old genius Artemis Fowl, a descendant of a long line of criminal masterminds, as he finds himself in a battle of strength and cunning against a powerful, hidden race of fairies who may be behind his father's disappearance.
Premieres: In theaters May 29. Watch the trailer here.
Starring: Ferdia Shaw, Lara McDonnell, Tamara Smart, Nonzo Anozie, with Josh Gad, and Judi Dench.
The Secret Garden by Frances Hodgson Burnett
Plot: This 1911 novel is about an orphan, Mary Lennox, who has to live with her uncle on a country estate in Yorkshire.
Premieres: In theaters April 17. Watch the trailer here.
Starring: Colin Firth.
Two Kisses for Maddy: A Memoir of Loss & Love by Matt Logelin
Plot: This memoir is the definition of a tear-jerker. Logelin describes raising his daughter after his wife (and childhood sweetheart) died soon after childbirth. 
Premieres: The adaptation Fatherhood will hit theaters April 3. 
Starring: Kevin Hart, Alfre Woodard, DeWanda Wise and Lil Rel Howery.
Death on the Nile: A Hercule Poirot Mystery by Agatha Christie
Plot: Beloved detective Hercule Poirot embarks on a journey to Egypt along the tranquility of a cruise around the Nile when Linnet Ridgeway has been discovered to be found dead. But who did it? 
Premieres: In theaters Oct 9. 
Starring: Kenneth Branagh, Gal Gadot, Armie Hammer, Annette Bening, Rose Leslie and Letitia Wright.
The Witches by Roald Dahl
Plot: The Witches follows a young boy who accidentally stumbles into a conference of, well, witches. They turn the interloper into a mouse, and he has to figure out how to change himself back.
Premieres: In theaters Oct 16. 
Starring: Anne Hathaway, Octavia Spencer and Stanley Tucci.
News of the World by Paulette Jiles
Plot: Captain Jefferson Kyle Kidd volunteers to accompany a ten-year-old girl on a 400-mile journey back to her relatives. Years earlier, the girl had been taken captive by a Kiowa tribe. Now, she feels unmoored among her Texan family. Jefferson grapples with what's best for her.
Premieres: In theaters Dec 25.
Starring: Tom Hanks, Helena Zengel, Neil Sandilands and Chukwudi Iwuji.
The Devil All the Time by Donald Ray Pollock
Plot: Set in post-war West Virginia and Ohio, Donald Ray Pollock's book follows a preacher, a husband and wife duo who are serial killers, and more.
Premieres: TBD on Netflix.
Starring: Tom Holland, Sebastian Stan, Robert Pattinson, Bill Skarsgård, Mia Wasikowska and Eliza Scanlen.