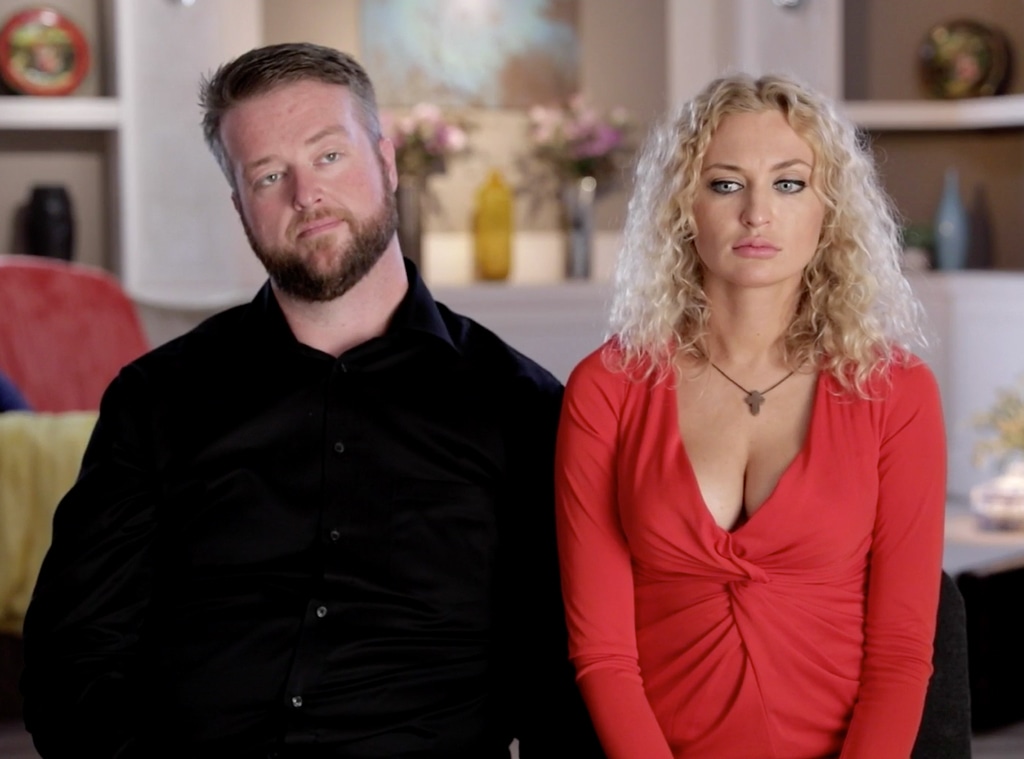 TLC
What happens when your fiancé tells producers she's not sure if she loves you? That's what 90 Day Fiancé season seven star Mike tried to figure out as he packed up and prepared to leave Ukraine.
As Mike prepared to return to America, he said he wasn't sure if this would be the last time they saw each other. Natalie gave him back his ring. But in a twist, this is a reality show after all, Natalie got in the car with him and accompanied him to the airport. In the car, after she tried to be kissy with him, Mike said she was acting childish. Natalie said in a perfect world Mike would apologize to her, then she would say it was her fault and things would be fine. "But it's not a perfect world," Mike said.
After bickering some more, Natalie told cameras she did indeed have feelings for him, but Mike still left the Ukraine upset.
So, where do they stand now? A producer asked Mike that question. "My status, right now, is unknown, I guess," Mike said. "I've got the ring and just…not engaged right now?"
Mike ended the episode saying he'd reach out to Natalie in a day or so.
Meanwhile…
Blake and Jasmin
What happens when you don't want to go to a birthday party? Throw a fit and don't go! After Jasmin convinced Blake to just get dinner with her instead of attending a friend's pre-party birthday party, she decided she wasn't going to go to the party either because he was drinking. "I don't kiss your alcohol lips," she told him. When Blake wanted a second drink, that's when she got testy. "You don't need alcohol to have fun," she said. After leaving the restaurant, she called her sister and relayed the story—from her point of view.
Tania and Syngin
After their giant fight in the car, they said they've moved on. Syngin said he forgave Tania, because why walk around with hate? He said he forgave, but not forgotten. Now, Tania said they had a good understanding and were trying to build a spiritual footing. They got an astrology reading via video call and that's where Tania said she wasn't sure Syngin was her soulmate. He said she was his. Tania said her first boyfriend was probably her soulmate. Yikes.
Angela and Michael
In Nigeria, Angela continued her quest to find out what happened to Michael's K-1 visa application. She walked into the American embassy and told everyone it was an emergency…and they told her to make an appointment. Before going to see Michael's mother, the couple got her a microwave and an electric kettle for his aunt. While with his family, Angela was put to task in the kitchen, which made her uncomfortable. And once she got out of the kitchen, Angela told Michael's mother about her botox for some reason, then Michael brought up his desire to go to America on the spousal visa, meaning they would get married in Nigeria. A This has been a sticking point for Angela and she was not happy.
Watch:
"90 Day Fiance" Stars Russ & Paola Talk Baby Axel
Emily and Sasha
A quick trip to Portland included Emily teaching Sasha what ASAP means. Back with sister Betsy in Indiana, Emily went wedding dress shopping. She acknowledged it would not be her dream wedding, but she wanted to do it quickly and get their lives on track.
Robert and Anny
A meeting with Robert's brother Kenny sparked all kinds of old arguments, from charges of cheapness to talk of Robert's kids. The brewery didn't know what hit it.
Michael and Juliana
Viewers saw the day before the wedding and it was nervousness all around. Michael acknowledged it was s a little scary, and if it weren't for the visa they wouldn't rush through it. Michael's young daughter CeCe said she nervous, mainly about people possibly judging them. Juliana said she was upset because she hadn't heard from many people in her life, but before walking down the aisle she was gifted with a video of her loved ones wishing her well.
90 Day Fiancé airs Sundays, 8 p.m. on TLC.