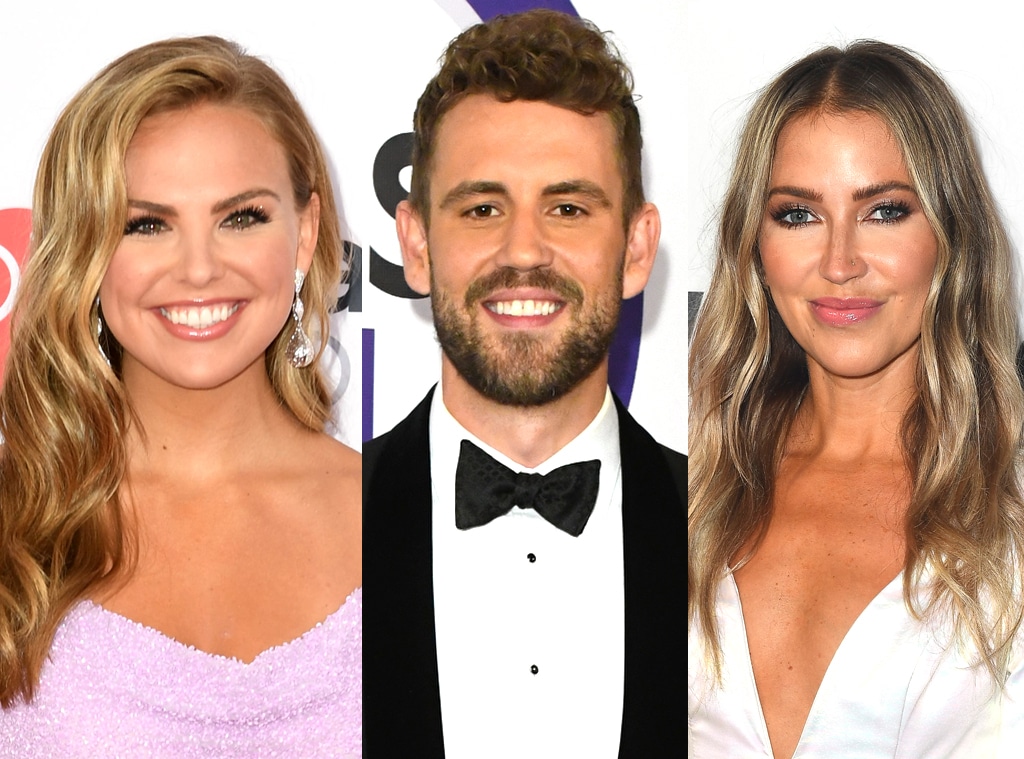 ABC
As fans may recall, Hannah Brown is back on The Bachelor and Bachelor Nation has been up in arms about what her return means for Peter Weber. 
But they're not the only ones with thoughts on what this latest season might have in store for all parties involved. 
During the 2020 iHeart Radio Podcast Awards, former Bachelor star and host of Off the Vine podcast, Kaitlyn Bristowe had some thoughts on Brown's return. When asked about whether she's part of the Bachelor Nation team that's shipping for these two lovebirds, Bristowe told E! News exclusively that, "I ship whatever makes people happy. I ship whatever they both want in their hearts. You're The Bachelor. You're on TV. You're supposed to date these women."
She added, "But if you don't follow your heart, you're a loser at the end. You're a winner no matter what if you pick what makes your heart happy." 
Her beau Jason Tartick also shared with E! News his thoughts on whether Brown and Weber will end up together at the end. 
"I think we saw the ships leave. I think we saw the ships come back. We saw them collide," the former Bachelor contestant said. "I think they're leaving and finding happiness in their own ways."
The couple also shared their thoughts on the theory going around that Brown might just end up being The Bachelorette again. "I personally could not go through that again, you have to be a bit naive to process, to really surrender yourself to it, so I would worry that she would be too much into her head what is for ratings and what is for true love and I think she deserves true love at this point," Bristowe explained. 
Watch:
Peter Weber on Hannah Brown Crashing "The Bachelor"
It was a Bachelor alum family affair at last night's iHeartRadio Podcast Awards and Bristowe's former flame Nick Viall, who has appeared on one season of The Bachelor and two of The Bachelorette also had some thoughts and theories on the show's current season. 
While Pilot Peter has said in the past that this season of The Bachelor won't be spoiled, Viall says he's a "little intrigued with him saying that."
He explains, "I don't know how that's possible. It makes me curious. He obviously knows what happens but he might be underestimating how many people are trying to figure it out. Who knows?" 
And in regards to whether he's rooting for a Brown and Weber happy ending, Viall tells E! News, "They are both great and if that's what Peter wants, I support it and if Hannah wants it, I support that. I'm not one of those people who are hoping that it happens but if that's what they want and that's what makes them happy, great."
"But I have a feeling that's the last we will see of those two. I don't really know," he adds. 
Bristowe, Viall and Tarick aren't the only former Bachelor stars with theories of their own, however. 
Earlier this month, Ben Higgins asked Ashley Laconetti on the Almost Famous podcast if she thought Brown and Weber were currently together. "I think there's a 50/50 chance that they are," she said. Ben agreed. "I really think Hannah Brown and Peter could be together, which again, as we talked about, not a bad thing, shocking though, for the world."
Of course, leading up to his season, Weber has also felt conflicted when it comes to reuniting with Brown onscreen. 
"Honestly, I did not expect for her to show up that first night," he said. "Maybe some time throughout the season, but not that first night. That was a complete shock to me. I can be honest... whether I should've or I shouldn't [have], I start getting a little more excited."