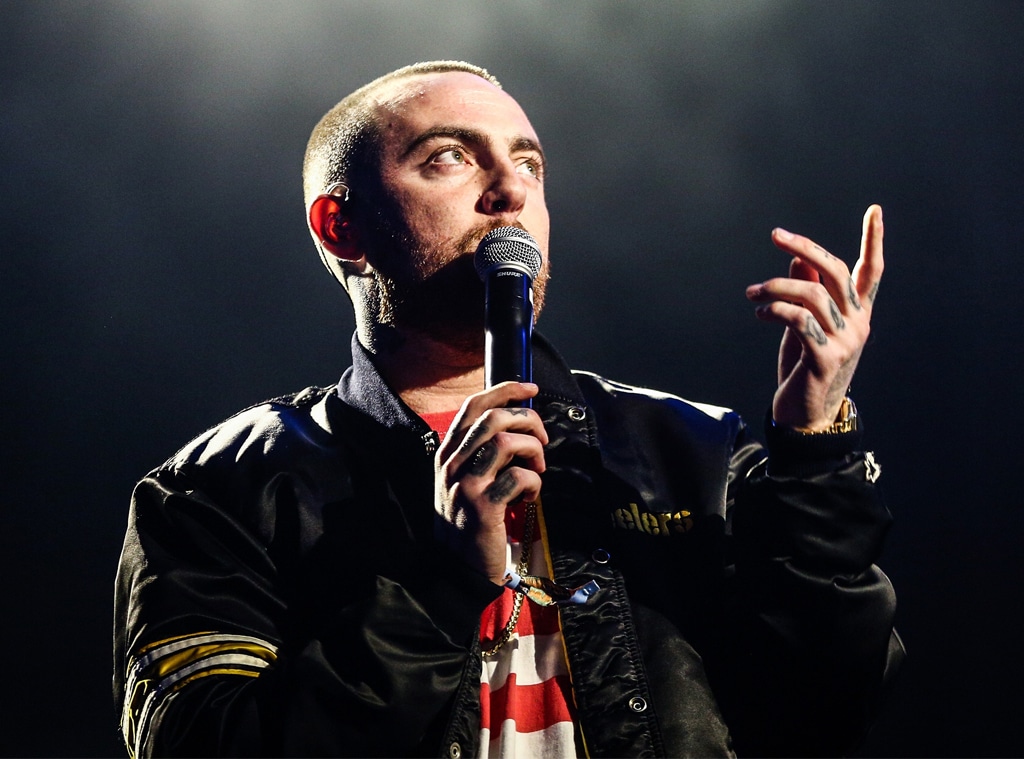 Rich Fury/Getty Images
While Mac Miller is no longer with us, his legacy continues on in his music.
In September 2018, the Grammy-nominated star died suddenly at 26 years old. His cause of death was later determined to be accidental mixed drug toxicity involving fentanyl, cocaine and ethanol. More than a year later, the late rapper's family announced earlier this month that his posthumous sixth studio album, Circles, was on its way. 
"At the time of his passing, Malcolm was well into the process of recording his companion album to Swimming, entitled Circles. Two different styles complementing each other, completing a circle—Swimming in Circles was the concept," his family explained in an Instagram statement. "He had been working with Jon Brion, who after hearing some early versions of songs, cleared his calendar to help Malcom fine-tune them. After his passing, Jon dedicated himself to finishing Circles based on his time and conversations with Malcolm. We are eternally grateful to Jon and to those who gave their best to the difficult and emotional task of putting out this body of work. This is a complicated process that has no right answer. No clear path. We simply know that it was important to Malcolm for the world to hear it."
And now, the world has. The album dropped on Friday, sending fans into the weekend with the final studio album from the beloved artist. 
Through the 12 tracks, Miller bares his soul as he raps about his inner conflicts, self-doubt and personal troubles. 
"Well, this is what it look like right before you fall/Stumblin' around, you've been guessing your direction/Next step, you can't see at all/And I don't have a name, I don't have a name, no/Who am I to blame? Who am I to blame though?/And I cannot be changed, I cannot be changed, no/Trust me, I've tried/I just end up right at the start of the line/Drawin' circles," he raps on "Circles."
On "Complicated," you hear Miller address what's going on in his mind. "Inside my head is getting pretty cluttered (Cluttered, cluttered)/I try, but can't clean up this mess I made/'Fore I start to think about the future/First, can I please get through a day?" he rhymes. 
Watch:
Mac Miller's Cause of Death Revealed
Miller brings fans inside his mental state on "Good News," rapping, "I spent the whole day in my head/Do a little spring cleanin'/I'm always too busy dreamin'/Well, maybe I should wake up instead/A lot of things I regret, but I just say, 'I forget'/Why can't it just be easy?/Why does everybody need me to stay?/Oh, I hate the feeling/When you're high but you're underneath the ceiling/Got the cards in my hand, I hate dealing, yeah."
The song continues, "I'm running out of gas, hardly anything left/Hope I make it home from work/Well, so tired of being so tired/Why I gotta build something beautiful just to go set it on fire?"
Then, in an eery turn, he addresses "the other side," though it's unclear whether he's talking of overcoming trouble or in a spiritual sense. "There's a whole lot more for me waitin' on the other side/I'm always wonderin' if it feel like summer/I know maybe I'm too late, I could make it there some other time/I'll finally discover/That there's a whole lot more for me waitin.'"
Robb D. Cohen/RobbsPhotos/Invision/AP
The performer seems to touch on anxiety on the track "Hands," rapping, "I'm busy trippin' 'bout some s&$t that still ain't even happen yet/I keep it honest as honesty gets/Don't know why I'm always talkin' if I'm not makin' sense/I've spent my life livin' with a lot of regrets/You throw me off my high horse, I'd probably fall to my death."
On the track "Hand Me Downs," he references needing someone to help him. "And all I ever needed was somebody with some reason who can keep me sane/Ever since I can remember I've been keeping it together but I'm feeling strange/Get away when it ain't really safe and it don't seem right/But what's new? You get used to the bulls&$t, the screws they go missing/It's likely they might be but...," he raps. 
Ariana Grande, his famous ex-girlfriend, also seems to be a topic on several tracks, including "Surf." "The whole world, they know it/They just waitin' for me and you/And she, just like I/Got her head in the clouds/Don't need to be lower/Before it's all over, I promise we'll figure it out/I ain't comin' down/Why would I need to?/So much of this world is above us, baby/They might tell you that I went crazy/I'm just tryna read you." The songstress has referenced clouds in her own work, including for her perfume. Their split was confirmed in May 2018, four months before Miller's passing. 
He brings her up again and the fact that they're both music stars on "Blue World," rapping, "See, I was in the whip, ridin', me and my bitch/We was listenin' to us, no one else, that's it/That's a flex, just a bit, let me talk my s$&t."
On "I Can See," the late star perhaps most heartbreakingly addresses his drive to accomplish his dreams paired with the finitude of life. 
"Yeah, don't tell me to stop/Let me keep goin' until I cannot/Life is a fantasy until you wake up in shock/Hittin' the ground, I'm hittin' the ground, I fell from the top/You never expect to drop, so hold on, but/That just the way it goes, your God don't wait for no one/And when that's all you know, it keep you on your toes/You got so far to go, but look at where you came from."
Circles is available to stream now.