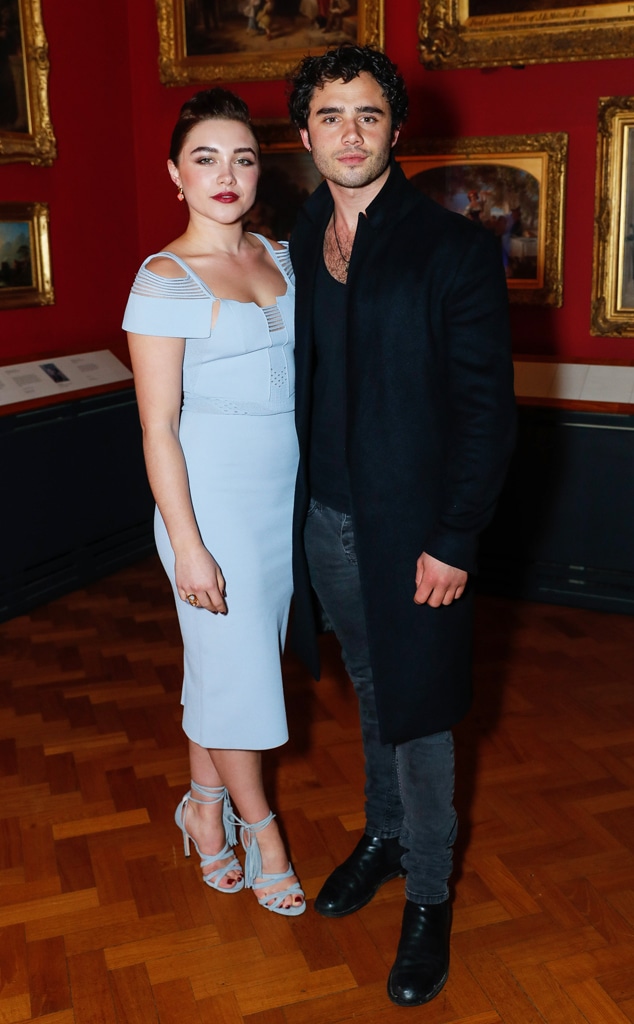 David M Benett/Dave Benett/WireImage
Talent runs in the Pugh family.
Following Florence Pugh's first ever Oscar nomination earlier this week (she's up for Best Supporting Actress for Greta Gerwig's Little Women), the internet has discovered that Pugh isn't the only person in her family they've seen on screen.
As it turns out, the star's older brother, Toby Sebastian, is an actor as well. The 27-year-old star played Trystane Martell, son of Oberyn Martell and heir to Dorne, on seasons five and six of the beloved HBO drama. As fans of the fantasy series will recall, the character was engaged to Myrcella Baratheon (aka Jaime and Cersei Lannister's daughter) before meeting his gruesome end.
Now that the internet has connected the dots between the two Pugh siblings, they can't stop fangirling over the handsome star.
One tweet in particular has Twitter in a frenzy. Sharing a photo of Sebastian wearing an unbottoned green shirt and sporting a small, gold hoop earring, one Twitter user said, "ladies and gentlemen.......... florence pugh's brother."
The response to Sebastian's good looks are peak internet culture.
Invoking the plot of Les Misérables, one user tweeted, "why does he look like he helped build a barricade for a failed socialist revolution and was rescued from death by a mystery man looking for redemption in his daughter after a life of misery."
As another joked, "He looks like the Mediterranean waiter that White women have sex with when they do their spiritual journey after divorce."
The Game of Thrones alum is also a musician and frequently posts a bunch of swoon-worthy videos of him singing and playing guitar on Instagram. Earlier this week, he took to Instagram to wish his 24-year-old sister a big congratulations in response to her Oscar nomination.
As he wrote in his caption, "4 years ago this girl was nominated for a Critics Choice Circle Award. 2 years later she was nominated for the @bafta Rising Star Award. Today my friends, she's been nominated for an Oscar. Yes, an OSCAR."
"You have worked your arse off and you've been exquisite in every single one of your performances," he continued. "Proud doesn't cover it. Congratulations fatso, I love you."
The sibling love is real here. Now, if you'll excuse us, we're going to spend the next hour watching every single one of Sebastian's dreamy Instagram videos.
Watch:
Oscar Nominee Florence Pugh Says Greta Gerwig Screamed Over Nod