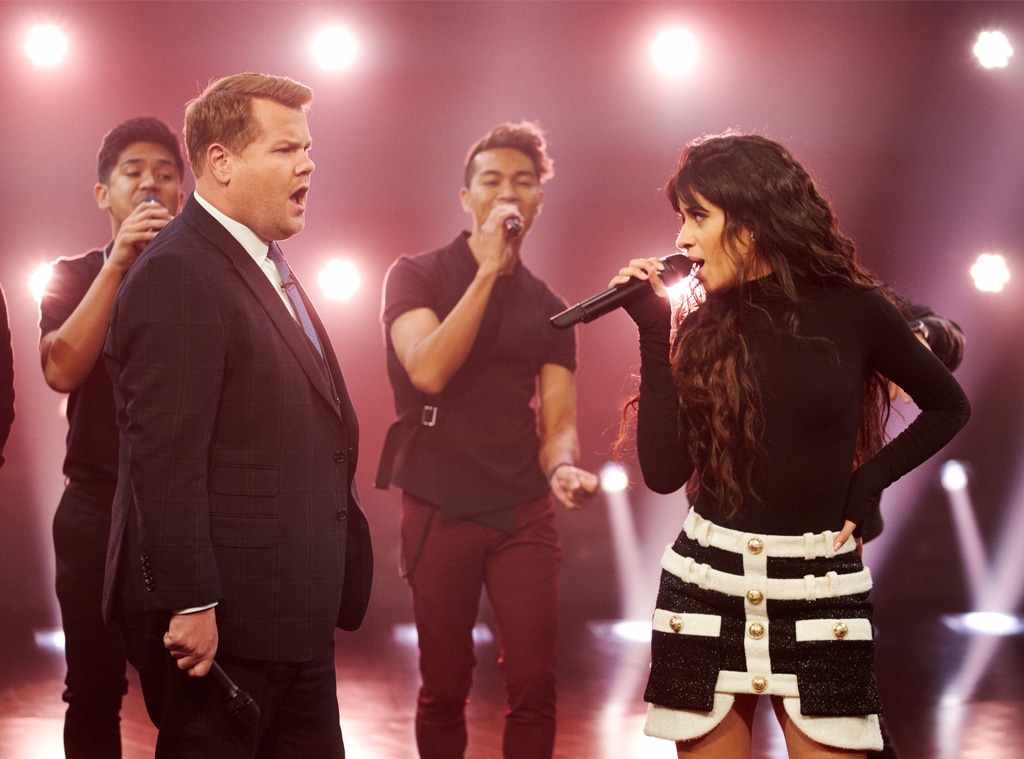 Terence Patrick/CBS
Pick your fighter!
On Thursday, James Corden and Camila Cabello went head-to-head for a throwback-styled "Riff-Off" on The Late Late Show. After sharing his opinion that songs from 1999 are better than the songs of today, the Fifth Harmony alum challenged the late night host to the fan-favorite musical competition game.
Backed by LA-based a capella group The Filharmonic, Camila started things off with a rendition of Lil Nas X's "Old Town Road." Squared off with James, she sang the Grammy-nominated song's catchy chorus and made it all the way to the pre-chorus, adding a clever little lyric change. Looking the Cats star in the straight in the eyes, she said, "You can't tell me nothin', James."
Once she presented her side, James took over by covering Ricky Martin's "Livin' La Vida Loca." Unable to resist the song's infectious beat, the "Romance" singer couldn't help but shimmy along as James sang the chorus.
Still in it to win it, Camila quipped, "Okay. Really impressive. Ricky Martin? Okay, Boomer!"
After declaring himself as a "Mature Millennial," James jumped back in with a different song. This time, it was "Smooth" by Santana featuring Rob Thomas.
Determined to prove that 2019 was the superior year for music, Camila took a page from boyfriend Shawn Mendes' songbook and sang "If I Can't Have You." Jumping in from the song's pre-chorus, Camila had the Late Late Show audience on their feet with her electric performance. It was so good that James gave her the win.
Watch:
Camila Cabello on BF Shawn Mendes: "We Collaborate in Life"
Upset by the loss and coming to terms with not being a true millennial, Camila called a truce and asked the funnyman to sing the next song with her. Together, they delivered an amazing rendition of her and Shawn's steamy single "Señorita."
Watch the duo battle it out in the epic video above!