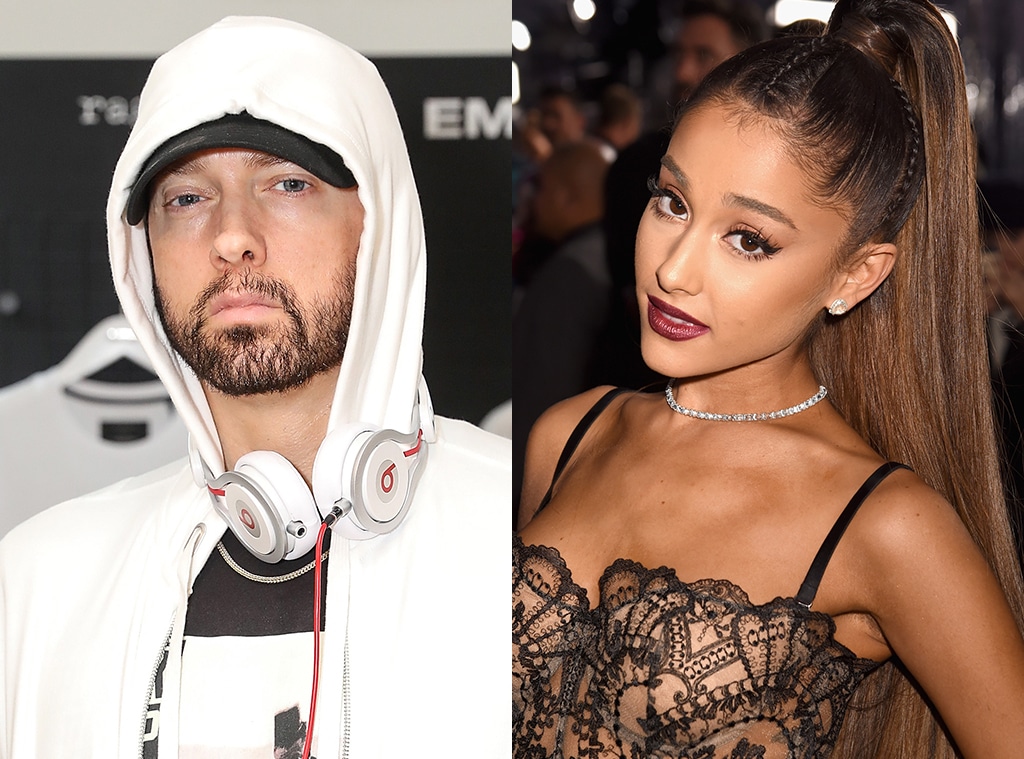 Getty Images, FilmMagic
Guess who's back…
Eminem is under fire for making light of the 2017 Manchester concert bombing. In his new song "Unaccommodating," which is featured on his surprise new album Music to be Murdered By, the rapper used an insensitive lyric in which he compares himself to the suicide bomber that killed 22 people after attending an Ariana Grande concert. 
He raps, "I'm contemplating yelling 'bombs away' on the game like I'm outside an Ariana Grande concert." The unapologetic rapper's controversial lyric is then followed by the sound of an explosion.
Fans were quick to condemn the lyrics on social media, which made the hashtag #EminemIsOverParty trend. "i wish i could unhear this. this is so low & disgusting. this isn't something to joke about for money & clout! i can't believe this would even cross his mind," one upset fan tweeted. Another chimed in, writing, "i don't see the need to use something that hurt so many to generate money and take it as a mockery, shit #EminemIsOverParty."
Even Eminem fans voiced their outrage: "I love Eminem but this guy really has a bar in his new song mocking the Ariana Grande concert bombing and then has a explosion noise straight after."
Grande has yet to comment on the "Without Me" rapper's lyric, but she's been very vocal about how the tragedy has affected her. One year after the devastating attack, she opened up about the aftermath in an emotional interview with TIME, saying, "There are so many people who have suffered such loss and pain. The processing part is going to take forever…Music is supposed to be the safest thing in the world. I think that's why it's still so heavy on my heart every single day."
Sobbing, Grande continued, "I wish there was more that I could fix. You think with time it'll become easier to talk about. Or you'll make peace with it. But every day I wait for that peace to come, and it's still very painful."
Watch:
Eminem's Rep Addresses Controversial Leaked Lyrics
While Eminem's lyric may seem uncalled for at first, it actually coincides with the theme for his 11th studio album, which was inspired by the 2017 Las Vegas shooting at the Route 91 Harvest Music Festival.
After dropping his new music without any notice, the "Slim Shady" rapper also released the music video for his song "Darkness." The video eerily alludes to the mass shooting, which killed 59 people, by depicting a shooting at a concert. It also features news broadcasts from other recent mass shootings and urges viewers to vote in favor of gun reform legislation.
"When will this end? When enough people care," the text at the end of the video reads. "Register to vote at vote.gov. Make your voice heard and help change gun laws in America." On his website, Eminem also encourages fans to visit gun violence prevention organizations like Everytown for Gun Safety and Sandy Hook Promise.