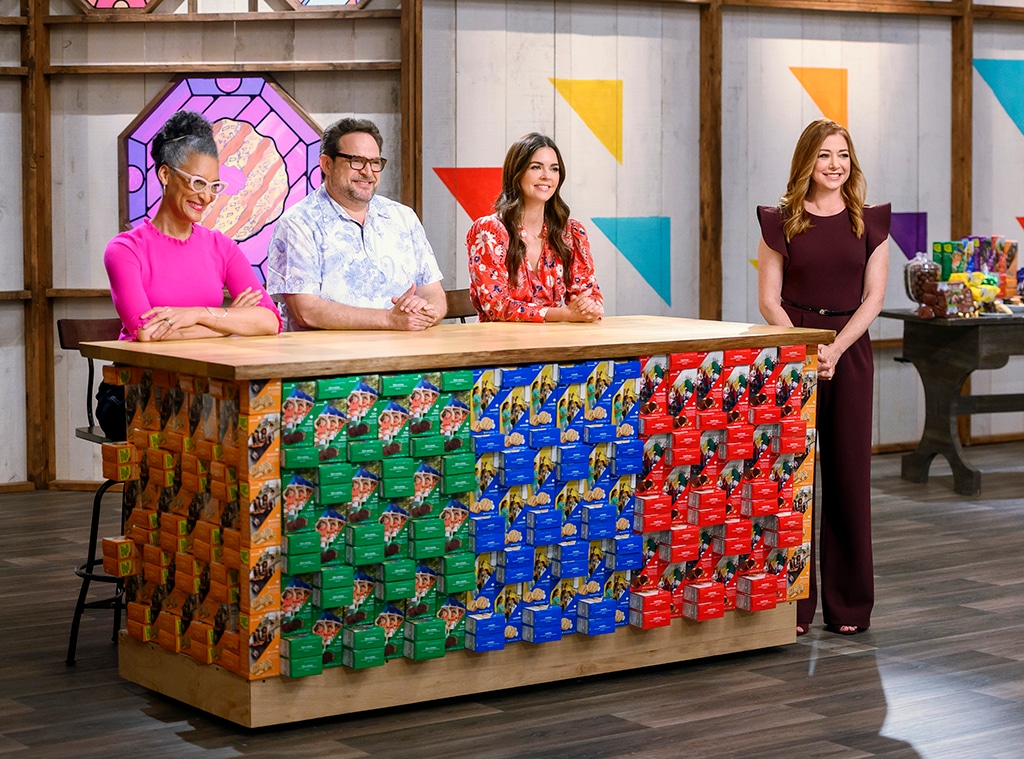 Food Network
Alyson Hannigan may be the host of the Food Network's Girl Scout Cookie Championship, but not because she was a successful Girl Scout Cookie saleswoman. 
In fact, Hannigan was basically traumatized by the one time she tried to sell cookies, as she shared with reporters at the TV Critics Association winter press tour on Thursday while promoting the new show, which has bakers compete to turn girl scout cookies into even more decadent desserts. 
"I was a very short-lived Girl Scout," she said. "I did not represent them very well, because I was super excited and I still remember getting my list of [orders]— and going to my neighbors and doing the whole thing. And I was so proud and so excited and then, my mom and I had a different opinion on who should hold the list while we wait for the cookies. And she got to hold the list. But then in her memory, she thought I held the list." 
"So when the Girl Scout Cookies came and arrived, we couldn't find the list," she continued. "And then I had to go to every neighbor and say, 'I'm so sorry. I lost the list. Could you tell me what cookies you ordered?' And then when we moved out to California, when she was packing up her office, she found the list, many years later. But that was pretty traumatic for me, and so that was the end of my Girl Scout Cookies." 
So why, a reporter asked, is she a good host for a show all about Girl Scout Cookies?
"Well, because it didn't end my love of the Girl Scout Cookies, and so I've been eating them every single year of my life," she said, and her costar, judge Nacho Aguirre, suggested it's because it's her chance for a redo. 
"So now, on national TV, she's gonna sell a lot of cookies then," he said. 
"I'm an expert at the cookies, just not the keeping track of who I sold cookies to," said Hannigan. 
"They took away her badge, her 'Where the List Goes' badge," Aguirre joked. "They just took it away."
The show starts with five contestants, and they start off in a pre-heat where they make something to sell, and they go to a public place where the public decides which two contestants are eliminated. The remaining three continue on to the final challenge, and the winner is decided by the judges. The prize is an outdoor adventure and a year's supply of Girl Scout Cookies, though no one was quite sure what that last part meant. 
"There was a lot of discussion of, like, how do you figure out what a year's supply of Girl Scout Cookies is?" Hannigan said. "Because, you know, it depends on how many people are in your family, if you're gonna binge watch some TV..." 
Whatever it means, we'll take it! 
Girl Scout Cookie Championship premieres Monday, February 3 on Food Network.