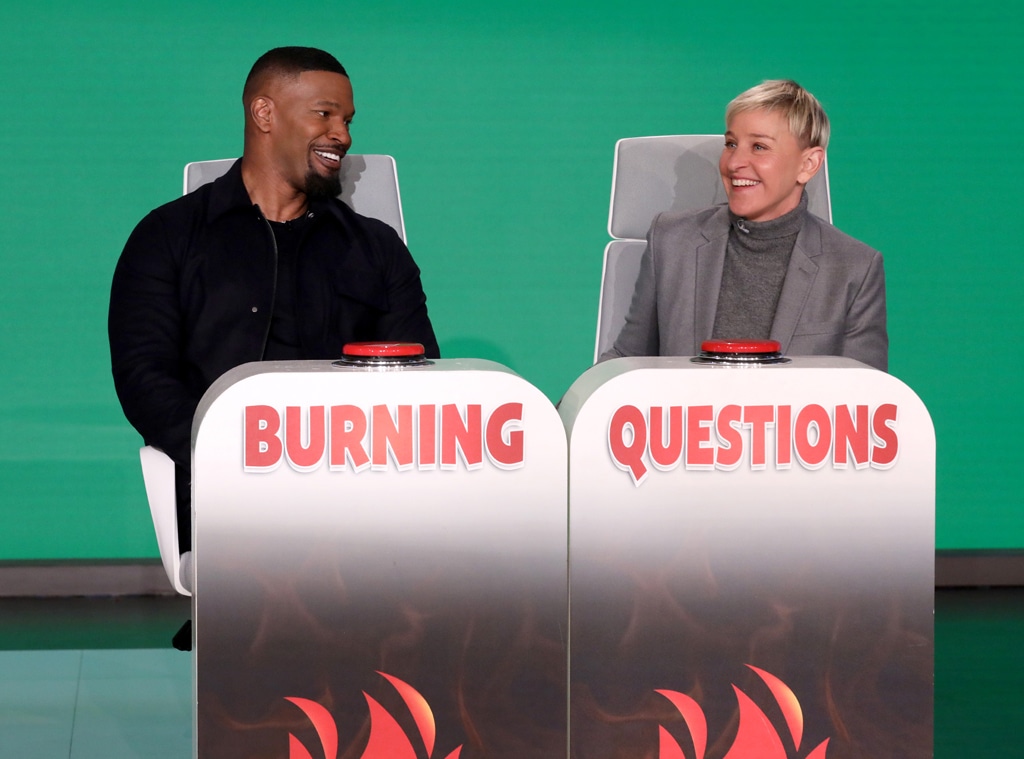 Michael Rozman/Warner Bros.
Jamie Foxx sure knows how to party.
During an appearance on The Ellen DeGeneres Show, the Just Mercy actor asked for no mercy as he played a round of "Burning Questions." The star held nothing back with his responses to host Ellen DeGeneres, making for one of the funniest installments of this game in a while.
The host's first question was about Foxx's social life. As she said, "When was the last time you partied all night long?"
Without missing a beat, Foxx replied, "I am still at the party. I partied all night long. My birthday was Dec. 13, I have been sleepy and slightly drunk since Dec. 13. Every night. I'm like Leonardo DiCaprio."
Foxx did have a blowout party for his 52nd birthday last month. As a source told E! News at the time, the star started his birthday celebrations by partying at the Warwick Nightclub in Los Angeles until around 2 a.m. And apparently, that party hasn't stopped.
Next up, DeGeneres asked, "What other celebrity, besides yourself, throws the best parties?"
Again, without missing a beat, Foxx responded, "Sean P. Diddy, Puff Daddy Combs." Diddy turned 50 on Nov. 4 and threw a massive, star-studded party for it on Dec. 14, so it's possible the rapper's shindig was part of Foxx's ongoing celebrations.
Things got juicy when DeGeneres started asking about Foxx's dating life.
When asked what his idea of a perfect date is, the star joked, "Oh, man. Reading scriptures. Just trying to get closer to the Lord. Hallelujah, Lord Jesus. Trying to be faith tonight, will you save me, Lord Jesus." 
Then the host asked if Foxx was a member of the mile high club, like so many celebrities are.
As Foxx teased, "Am I a member of the mile high club? That means you get high when you're in the plane? Yes, I smoke. I smoke it up."
Pushing for a real answer, DeGeneres replied, "That's not what that means, and you know it."
Finally, Foxx admitted, "Yes, I am."
Watch:
Jamie Foxx Reacts to Hostless 2020 Oscars: It's About the Films
One of the funniest moments of the game came when Foxx revealed what embarrasses his daughters—Corinne Foxx and Anelise Bishop—the most about him.
As the Oscar winner replied, "I don't wear underwear all the time. It's not a bad thing, I'm a natural person."
"And so, sometimes when I'm working on stuff, my kids," the star continued, before reacting to the audiences' response with, "Okay, let's just go to something else. You guys have a look of horror on your face."
In response, DeGeneres quipped, "Yeah, 'cause no kid wants to see their dad walking around with no underwear!"
For his part, Foxx joked back, "I know, I know. I'm just trying to be truthful and honest, and I'm being persecuted for it!"
Now, put your trays in their upright positions and watch the rest of the video to hear Foxx's epic impression of Jay-Z.