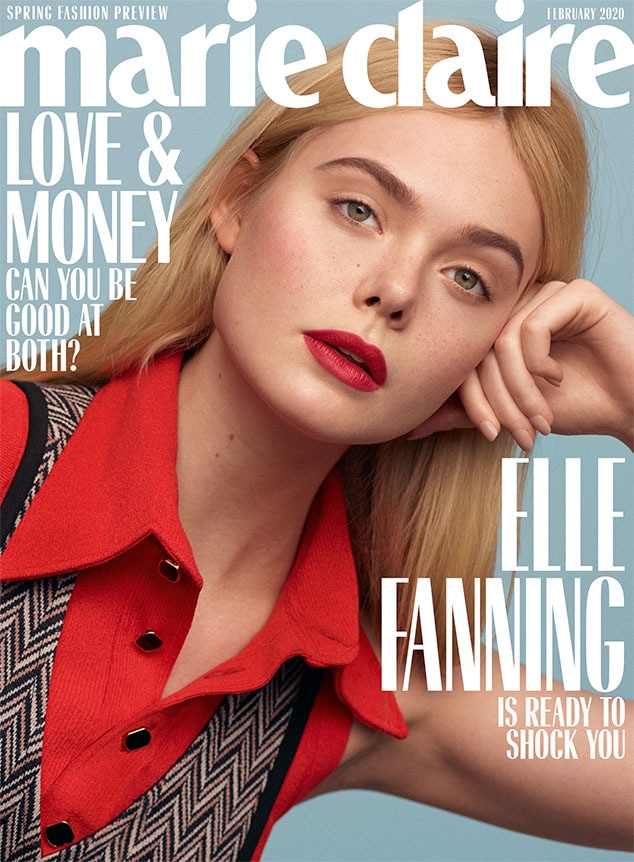 Thomas Whiteside
When it comes to Instagram comments, Elle Fanning is calling everyone's bluff. 
As the very familiar cover girl of Marie Claire's February 2020 issue, the Maleficent: Mistress of Evil actress got to talking about another public medium: social media. It's one she knows well. After all, the longtime star has amassed a following of millions—3.7 million to be exact. 
And, unlike Twitter, it's a platform she says she enjoys. 
"Twitter scares me! Oh my God, Twitter is so intense. Instagram I do enjoy; I have a private account and a public account," she revealed to the magazine.
However, Fanning is just as susceptible to the downsides of social media as the rest of us. "I do think there are dangers that I totally fall into, of looking down that rabbit hole, comparing yourself to everybody else and seeing, Oh, their life, that vacation," she said. "I try to keep it light and tell fans about movies that are coming out or about a photo shoot. That can get really intense too."
And, when it comes to the comments, Fanning's are overflowing. Her post about this magazine cover alone has drawn seemingly endless remarks from users, including dozens of compliments, at least two marriage proposals and a handful of bizarre remarks peppered in.  Yes, she reads them—just like everyone else. 
"People can say they don't read any comments, but...Mmm, yeah, you do! I do! Of course you look!" the All the Bright Places actress acknowledged. "'Oh, your ankles look huge.' What the heck?! It is bizarre, like, who is this person?" 
Watch:
Elle Fanning Takes the E!Q in 42!
As for the face she sees looking back at her in those pictures, it's very consistent. 
"I look at photos, and I looked the same when I was 11," Fanning too Marie Claire. "I'm told I have a very period face. I don't know what that means. I probably will be 35 and people will still go, Awww! My sister [Dakota Fanning] feels that way too because people feel like they've known you since you were the six-year-old kid in the film." 
Marie Claire's February 2020 issue hits newsstands on Jan. 21.