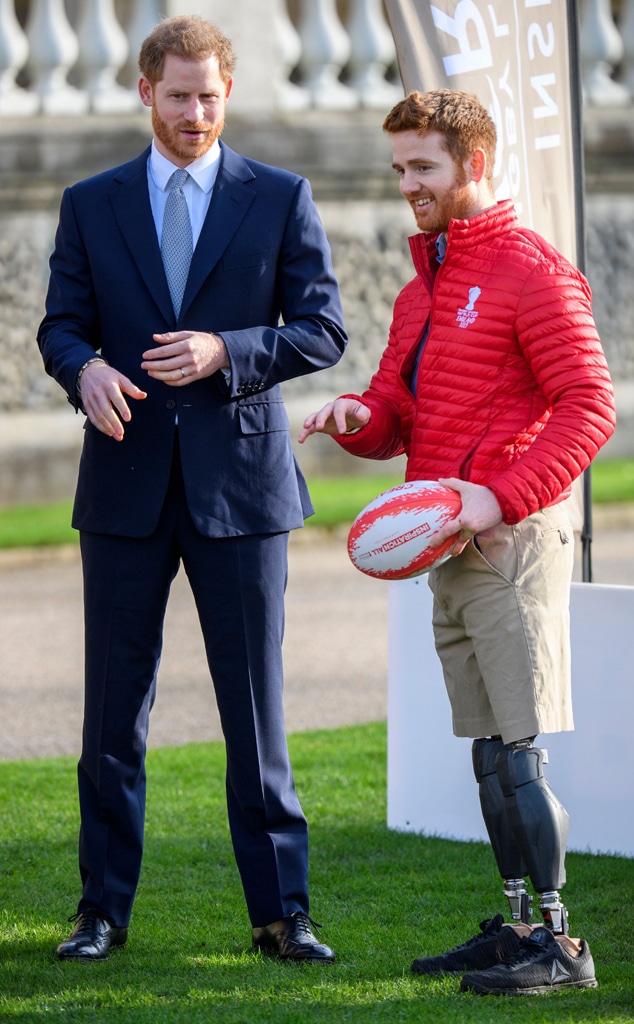 Tim Rooke/Shutterstock
It's back to business for Prince Harry. 
On Thursday, the Duke of Sussex hosted the Rugby League World Cup 2021 draws for the men's, women's and wheelchair tournaments, marking his first public outing since he and Meghan Markle announced their royal exit. Still fulfilling his royal duties, the new dad met with rugby players from St. Vincent de Paul Catholic Primary School in the Buckingham Palace gardens and cheered on the young athletes as they played a friendly pick-up game.   
Giving fans a sneak peek of the event, Harry shared clips from the World Cup draw on the official Duke and Duchess of Sussex Instagram account. Featuring clips of the royal making his grand entrance and conversing with team representatives, Harry appeared delighted as he celebrated the important day. 
Before heading back into of the palace, Harry was asked for a status update regarding his recent discussions with the royal family. The 35-year-old didn't respond to the reporter but gave a member of his entourage a smile instead. 
This outing comes days after Queen Elizabeth II called for a family summit to discuss the roles Harry and Meghan will have following their unprecedented decision to step back from their royal duties. Following her meeting with Harry, Prince William and Prince Charles, Her Majesty released a statement.
"Today my family had very constructive discussions on the future of my grandson and his family," she said. "My family and I are entirely supportive of Harry and Meghan's desire to create a new life as a young family."
Her message continued, "Although we would have preferred them to remain full-time working Members of the Royal Family, we respect and understand their wish to live a more independent life as a family while remaining a valued part of my family."
Watch:
Prince Harry & Meghan Markle to Step Back as Members of Royal Family
Thursday's engagement also celebrated the Rugby League World Cup 2021 Mental Fitness Charter, a new initiative that Harry created in collaboration with the organization to promote "good mental fitness and create sustainable legacy the sport can be proud of."
At the event, Harry said, "I think, from my perspective, certainly the experience that I've had in my younger years but also through Invictus, and all of the sporting events that I'm lucky enough to be able to go to or watch, the impact that it has, especially on young people, but the impact it has on the individuals playing with the community as a whole is remarkable."
He went on to say, "Not only do I continue to see sport actually changing lives, but it's saving lives as well, so I think for me and…everybody in this room, whether it's rugby league, or sports in general…it needs to be in everybody's life if possible."