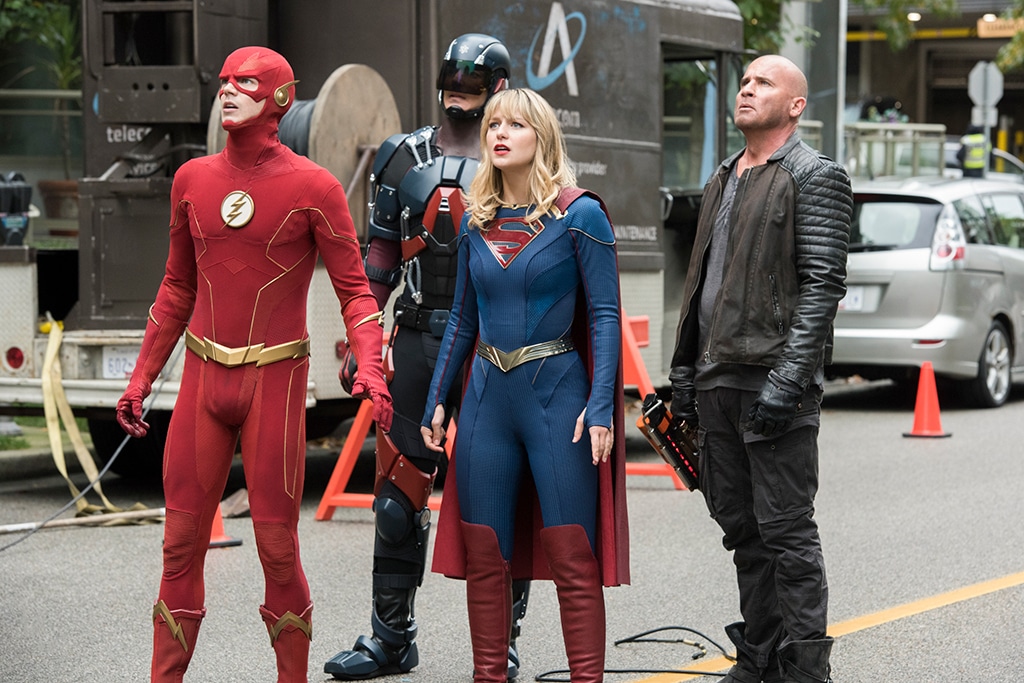 CW
Yep, The CW did that. Warning, spoilers follow for the network's epic crossover event Crisis on Infinite Earths.
In the wrap up of the multi-show crossover, The Flash met The Flash. Grant Gustin, star of TV's The Flash, came face-to-face with Ezra Miller, the movie Flash. Both actors play a version of Barry Allen. Miller appeared in Batman vs. Superman: Dawn of Justice and Justice League. He's expected to headline his own movie…eventually. Meanwhile, Gustin has played Barry Allen on the small screen since 2013 when he appeared in season two of Arrow. The CW's Flash TV series began in 2014.
The cameo was kept under tight wraps, apparently not even Melissa Benoist, star of Supergirl, knew. That is if her Instagram comment is to be taken at face value.
Gustin took to the social media platform to share images of him with Miller, both suited up as the Scarlet Speedster.
"How about that? Ezra is one of a kind. So glad we could make this happen and keep it a secret until today. Thank you to @dccomics," he wrote.
DC Comics replied, "Thank you for helping us keep one of the most epic secrets in the multiverse."
Beniost, whose show also took part in the crossover said, "YOU KEPT THIS SECRET SO WELL. NONE of us knew!!!! Or did they know?! Was I the only one that didn't know?!"
Watch:
Grant Gustin & Candice Patton Talk "The Flash" 100th Episode
Executive producer Marc Guggenheim credited DC Comics' Jim Lee for helping make the moment happen.
The CW's Arrowverse crossover has featured a number of cameo appearances from across DC Comics film and TV history. Tom Welling and Erica Durance from Smallville reprised their roles of Clark Kent and Lois Lane, Ashley Scott returned as Huntress from Birds of Prey, Batman: The Animated Series actor Kevin Conroy physically portrayed Bruce Wayne, Burt Ward from the 1960s Batman TV show appeared as Dick Grayson and Robert Wuhl appeared as his character from the 1989 Batman movie. The extensive list of cameos also included Lucifer's Tom Ellis, Titans stars Alan Ritchson, Curran Walters and Minka Kelly, Dina Meyer, John Wesley Shipp, Derek Mears and Diane Guerrero.
The Flash airs Tuesdays, 8 p.m. on The CW.