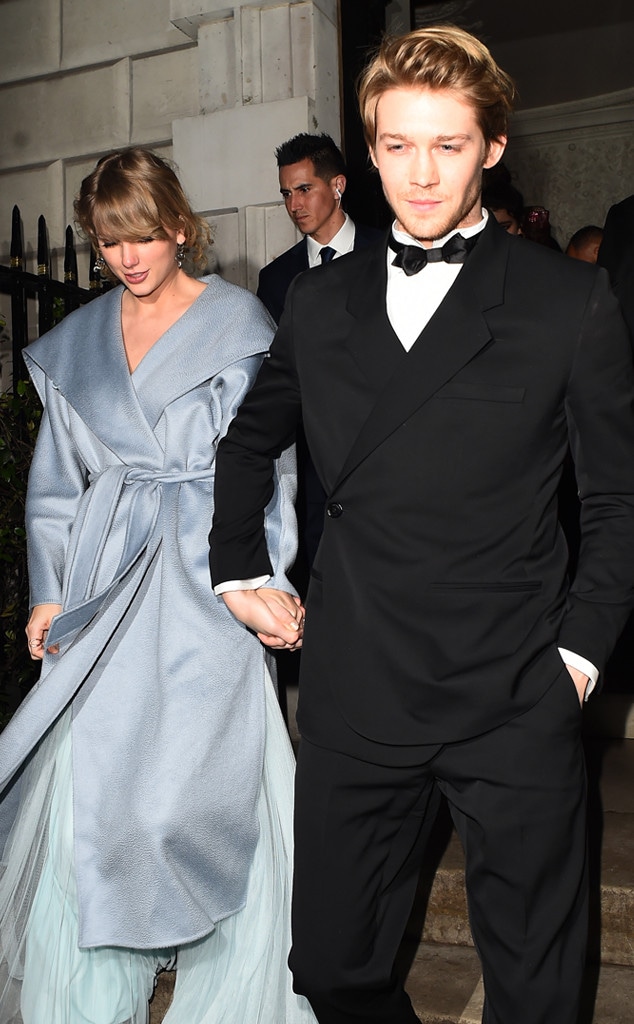 Splash News
Sparks are still flying high for Taylor Swift and Joe Alwyn.
It was just two weeks ago that the dynamic duo lit up the room at the 2020 Golden Globes.
Not only did the Lover singer steal the show with her larger-than-life floral gown by Etro and her nomination, but she and the actor were the definition of relationship goals that night. E! News insiders noticed how happy they were at the annual event, as they sat closely together and couldn't stop smiling.
And it appears the couple enjoyed an even more magical time together just days prior to the star-studded ceremony.
For New Year's Eve, the famous couple took a romantic getaway to the Maldives, where they spent some time on the beach, listened to live music and had a low-key night.
According to Matthew Crane, who performed in front of the celebrity pair during the holiday (and is a major Swiftie!) shared his special experience with E! News.
The 27-year-old singer also dished on Joe and Taylor's fun and festive time on the island. To get all the deets from the couple's romantic evening on New Year's Eve, keep reading through our interview below!
Watch:
Taylor Swift & Joe Alwyn Show PDA After 2020 Golden Globes
E! News: Tell us about your night and what it was like being in the same room as Taylor Swift and Joe Alwyn.
Matthew Crane: It was a fantastic night, and there were many different guests there throughout the event. I sang at the front of the beach, on the jetty, where the guests arrived for about an hour and a half there. Later on, all the guests left for the main event that was on the other side of the island. There was a big stage and it had lots of different food. That's where the guests were for the party area, and I sang on the main stage for another 15-20 minutes from there.
E! News: When did you realize you were singing for the famous couple?
MC: They were the last group to arrive, so there was no one else on the jetty. I saw this pretty, pretty couple and their friends, and as she walked up from where she got off the boat, I realized who she was—it was Taylor Swift and Joe Alwyn. She was in a really pretty black sequins dress that went down to her knees. Joe was wearing a nice collared shirt with shorts or trousers, because they were on an island, there was a lot of people wearing smart-casual clothes.
E! News: You mentioned they arrived with their friends...
MC: Yeah, they were on holiday with their friends, on a private holiday.
E! News: Can you share your experience with us and what it was like performing in front of the pair?
MC: I sang a lot of different songs when they heard me, but it was when I finished singing that they actually stood up and clapped. And they both said simultaneously, "You've got an amazing voice, that was really good. Well done to you." And then they walked off to the main event, which was on the other part of the island. And sang a bit later, and Taylor's best friend, Abigail [Anderson Lucier], came up to me said, "How does that voice come out of that small, young body of yours." She told me I was brilliant and she shook my hand.
E! News: What was it like performing for just them, since they were the last group to arrive?
MC: It was just so intimate. It was me, a dancer and them, so it was strange singing to one of the biggest pop stars in the world right now.
E! News: Is there anything else you'd like to share with our readers about your experience?
MC: Being in the Maldives, for one thing, it's an opportunity to sing there. But the most thing was singing to Taylor Swift, and actually getting some sort of praise and recognition. That was really nice.
This interview has been condensed and edited for clarity.