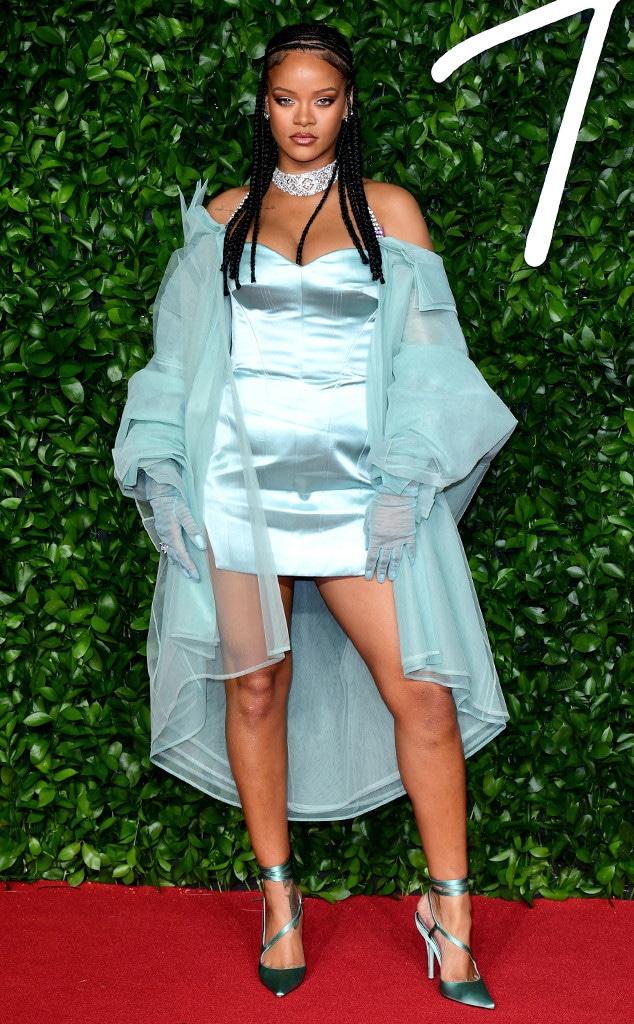 Ian West/PA Wire
It's a known fact that Rihanna slays at everything she does.
Whether she has her hand at fashion, beauty or music, the certified Bad Gal is at the top of her game and raising the bar very high while doing so.
Case in point: When the 31-year-old star debuted Fenty Beauty in September 2017, she shook the cosmetics industry to its core.
After coming out with 40 foundation shades (which was shockingly unheard of at the time), brands scrambled to produce the same amount. And because Rihanna has a flair for setting trends, "The Fenty Effect" was born.
Now, the beauty mogul is ready to shake things up again. This time, with the release of two products that are new to the Fenty Beauty line-up: The Full Frontal Volume, Lift & Curl Mascara and Flypencil Longwear Pencil Eyeliner.
Luckily, Priscilla Ono, the Global Makeup Artist for Fenty Beauty and Rihanna's go-to for all things glam, spoke to E! News about the brand's new goodies, RiRi's genius makeup tricks and more.
"I think this is the thing people are excited about, because I think they thought we were going to launch with it first," Ono shared about the mascara. "This is something that usually comes at the get-go. But it was something we were working on at the very beginning. And Rihanna was working on this way at the beginning. But she's so particular that it took a long time for her to develop."
Aside from the formula meeting RiRi's standards, it also happens to be the "blackest black" on the market. "She's very much into mascaras that don't look grey and she hates when they turn grey. So this is actually the blackest it can get, and it has a really nice shine to it, so it makes your lashes look healthy and pretty."
Watch:
Exclusive: Rihanna Praises LVHM for Believing in Fenty Collection
Additionally, the wand is unique compared to what's already on the beauty shelves.
"The most unique thing about this is the brush. It's fat on one side and flat on the other side. The flat side is meant so that you can push up and give your lashes volume and be more precise with it," Priscilla explained. "The fat side is meant so that you can keep adding product and go thicker, thicker, thicker."
"That's Rihanna's number one thing, she likes mascaras that give you volume and life. She actually always does her own mascara when I do her makeup," Priscilla revealed. "She likes to take the flat side and she gets really, really close to the lash line and she wiggles her way up and separates all the lashes. Sometimes, she'll use the tip to merge two pieces together and make them spiky."
As for the new eyeliner pencils, Ono said the products are not only versatile but fun to use since they come in many colors! With 20 shades launching in total (11 matte and 9 shimmers), you can get creative with it. In fact, Rihanna typically uses the grey shimmer liner for a special reason.
"If you notice, when I do her makeup, I use a lot of these tones on her eyes. It makes her hazel eyes look really green," Priscilla explained. "In her waterline, instead of doing brown or black, she likes the grey. Almost every look, it's that in her waterline."
"The great thing about them is that you can use them as an eyeliner pencil or you can smudge them out as a shadow," she continued. "It gives you enough play time to smudge it out, but when they dry, they're not going anywhere."
Simone Comi/IPA/REX/Shutterstock
And in true Fenty Beauty fashion, the products aren't just meant to be used for one purpose. If anything, the Ocean's 8 actress hates limiting herself.
"For her, she doesn't use products based on what they're used for. She doesn't go, 'This shadow is only for your eyes.' No, she'll use it as a highlighter, she'll use it anywhere," Ono said. "That's how she wants her makeup to be. She wants you to have fun and explore and be your own artist. We are always trying and inventing new things."
Actually, one of Ono's favorite looks that she's done for the 31-year-old star is when she broke the beauty rules.
"For the Milan, Italy launch that we did, and that's when we were launching Body Lava, we did a full gold look. Rihanna was wearing this black leather tube dress and we put Rum on her lips, it's a Match Stix that's for the cheeks. But we used it as a lip color," Priscilla explained. "Oh my gosh, it was stunning and everyone wanted to know what was on her lips. We were like, 'It's a Match Stix.' And people couldn't believe it."
Along with the two releases from the superstar's beauty brand, fans can expect to shop more unique goodies in the near future. And best believe, it will be a fun and fresh addition to the market.
"Fenty is only gonna get better, cooler and easier for you to do your makeup," Ono shared. "Because, for Rihanna, she just wants you to have a good time while you're doing your makeup. It shouldn't be complicated either, it should be fun."
This interview has been condensed and edited for clarity.