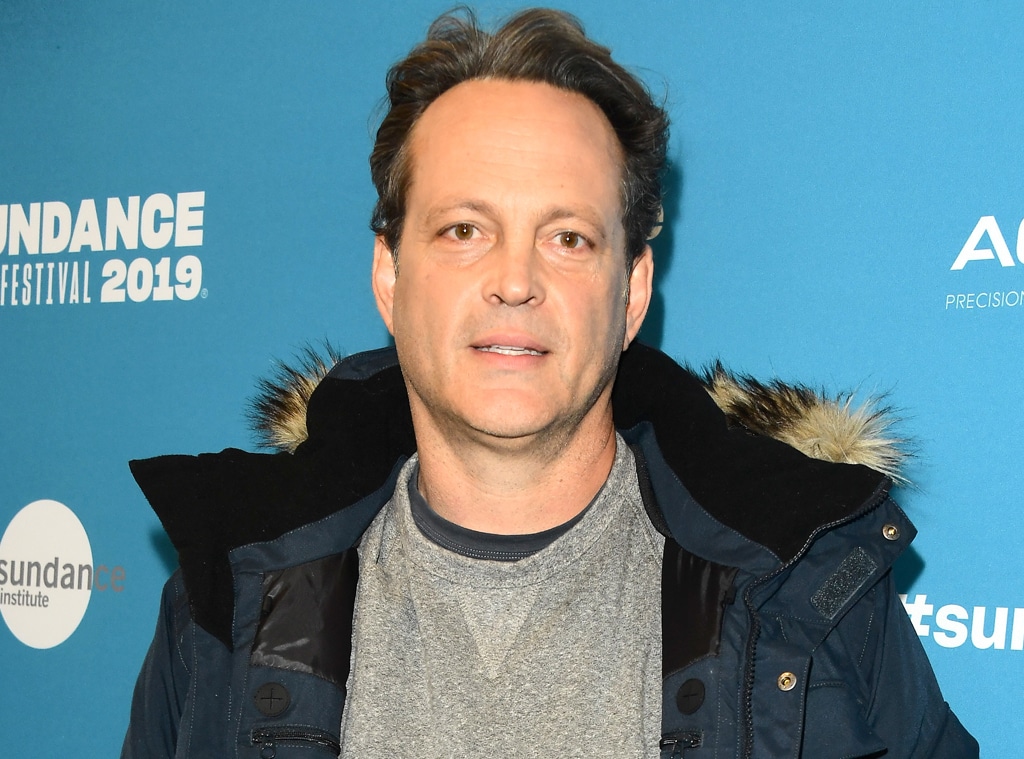 George Pimentel/Getty Images
The Internet can't stop talking about..Vince Vaughn's handshake with President Donald Trump. 
On Monday, the actor of Wedding Crashers and The Break-Up fame was spotted in New Orleans at the College Football Playoff National Championship game, where the president and First Lady Melania Trump were also in attendance. In footage making the rounds on Twitter, you can see the star chatting with Trump while Melania sits in between them. Then, the two shake hands and Trump taps the top of Vaughn's hand before the actor gets up to leave. 
The brief exchange has not gone unnoticed online, spurring a flurry of social media reactions online. So much digital chatter and debate erupted over their interaction, over the fact that people were talking about their interaction and over which political party members were making it a bigger deal that #VinceVaughn has since begun trending on Twitter. 
"I'm very sorry to have to share this video with you. All of it, every part of it," Timothy Burke tweeted as he shared a clip of the moment that has been circulating on Twitter. 
"Thanks so much for sharing it! It makes me like Vince Vaughn even more!!," one Twitter user responded. 
"Why does this matter? Anyone who gets upset over this is the reason we are so politically divided," Fox News contributor Lisa Boothe tweeted.  
"Vince Vaughn is cancelled TO ME. Y'all however can watch Wedding Crashers until you're eyes bleed. Not my eyeballs," a tweet read. 
"I'm not angry about Vince Vaughn, just profoundly disappointed," another person tweeted in reaction. "And I want nothing more to do with him. Once upon a time I found him quite entertaining. Not anymore."
"People need to grow up and be adults. The fact that Vince Vaughn is getting any backlash for being respectful is embarrassing," another Twitter user wrote in defense. 
Mark J. Rebilas-USA TODAY Sports/Sipa USA
Of course, as is the nature of the Internet, some also turned the moment into a meme.
"Side note, Wedding Crashers 2 looks LIT y'all...," someone quipped in a tweet. 
Back in October 2019, Ellen DeGeneres responded to criticism over sitting next to former president George W. Bush at a football game.
Watch:
Vince Vaughn on Being the Veteran Actor in "Hacksaw Ridge"
"When we were invited, I was aware I was going to be surrounded with people from very different views and beliefs—I'm not talking about politics. I was rooting for the Packers and get this—everybody in the Cowboys suite was rooting for the cowboys. I had to hide my cheese hat in Portia's purse," the comedian joked on her daytime show. "During the game, they showed a shot of George and me laughing together and, so, people were upset. They thought, 'Why is a gay Hollywood liberal sitting next to a conservative Republican president? Didn't even notice I'm holding the brand new iPhone 11."
"I'm friends with George Bush. In fact, I'm friends with a lot of people who don't share the same beliefs that I have. We're all different and I think that we've forgotten that that's ok that we're all different," she told her audience. "I wish people wouldn't wear fur. I don't like it, but I'm friends with people who wear fur...Just because I don't agree with someone on everything doesn't mean that I'm not gonna be friends with them."
The host continued, "When I say, 'Be kind to one another,' I don't mean only the people that think the same way that you do. I mean be kind to everyone—doesn't matter."