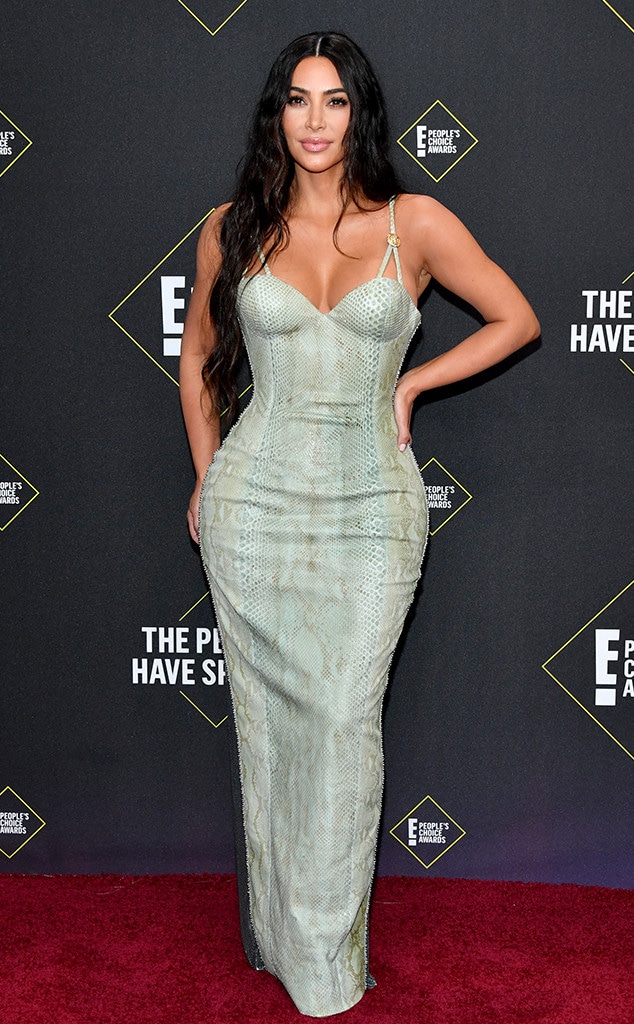 Amy Sussman/E! Entertainment/NBCU Photo Bank
'Tis the season to shine bright and glow!
Kim Kardashian and Khloe Kardashian's go-to spray tanner is breaking down all of her best-kept secrets, so you can achieve the famous family's signature glow. From E!'s People's Choice Awards to Sean "Diddy" Combs' lavish 50th birthday bash, the Kardashian sisters were glistening for the gods all thanks to celebrity tan artist, Isabel Alysa.
Isabel, who also runs her own studio in Los Angeles called Dolce Glow, spoke to E! News about all things beauty, including her tips and tricks for getting a spray tan.
First and foremost, "exfoliation is key."
"I always recommend my clients to get a full body scrub a few days prior to their in home spray tan," Isabel shared. "Benefits of a full body scrub include removal of dead skin cells, skin hydration and so much more. If they can't do this, exfoliation 24 hours before with a basic wash rag will do."
"Exfoliation is key," she continued. "This will help remove any dead skin cells, refresh skin appearance, and promote hydration. Along with exfoliation, shaving, waxing, threading, etc. is a big part of the process." 
However, Isabel pointed out that removing hair after getting a tan can mess things up, and it's best to go into your appointment without any lotion or oils on the skin. And while both Kim and Khloe always dress to impress in gasp-worthy fashion, it's best to keep the form-fitting clothes at home.
Watch:
Kim Kardashian West's Evolving Style Over the Years
"Make sure to also have loose-fitted clothes after your tan is complete," she said, adding, "Always schedule your tan 48 hours prior to any event, photo shoot, etc. Most places don't tell you this, but after your first shower, your spray tan can take anywhere from 24 to 48 hours to fully develop. Most spray tan artists will tell you day two and three are always the best and this is why."
Isabel also recommends taking a shower with lukewarm water for a special reason.
Instagram / Khloe Kardashian
"This is another big part in the perfect tan. You want to make sure you are removing any excess bronzer off the skin," she explained. "If the bronzer is not rinsed off properly it can cause streaks. So a good rinse with no soap will do the job."
Another big tip? "Wait 12 after your first rinse to apply any lotion," she shared. "Most places tell you to hydrate right after, but the key is to wait 12 hours. During the hours after your first rinse, the spray tan is still developing, so I like to allow time for it to continue to develop before I apply anything else on the skin."
However, once the 12 hours are up, hydration is essential for your skin. "Hydration is key. Not just applying lotion, but also drinking water," Isabel pointed out. "The more hydrated you are, the longer your tan will last and the nicer it'll fade."
When it comes to figuring out the kind of glow you're looking for, Isabel stressed the importance of research.
"Choose your spray tan company and solution carefully. Look at pictures, ask questions, [because] not all solutions are made for all," she stated. "So finding the right color, shade and person applying it is so important. This can make or break any spray tan. Everyone is always so scared of looking 'orange,' [but] the key is knowing what your spray tan artist is applying on you."
Watch:
Khloe Kardashian's Glam Team Gives Ashley a Bold Makeover
Staying away from tanning solutions that are heavy with alcohol and fragrances are also essential. She explained that her company uses natural and organic ingredients, which are also good for the skin.
"Dolce Glow spray tan solution is one of the best solutions out on the market because of the ingredients that it is made with," she said. "The more natural and organically made the products are, the better for your skin and the nicer and more natural it'll look."
Isabel also pointed out that if you plan to be onstage or will be under stage lighting, like most Kardashian-Jenners are, make sure to let your spray tan artist know. "People may think [you need] to go darker with the solution before an event, but you actually need to go lighter if you will be under stage lighting."
Now that you have Isabel's tips and tricks for getting a spray tan, the last thing to do is sprinkle on some sparkle for an extra dazzling effect.
When it comes to the final touches on her celebrity clients, Isabel likes to apply Kim's KKW Beauty Body Shimmer in the gold shade. Not only does it make your skin pop, but "it's a beautiful accent on top of any tan."