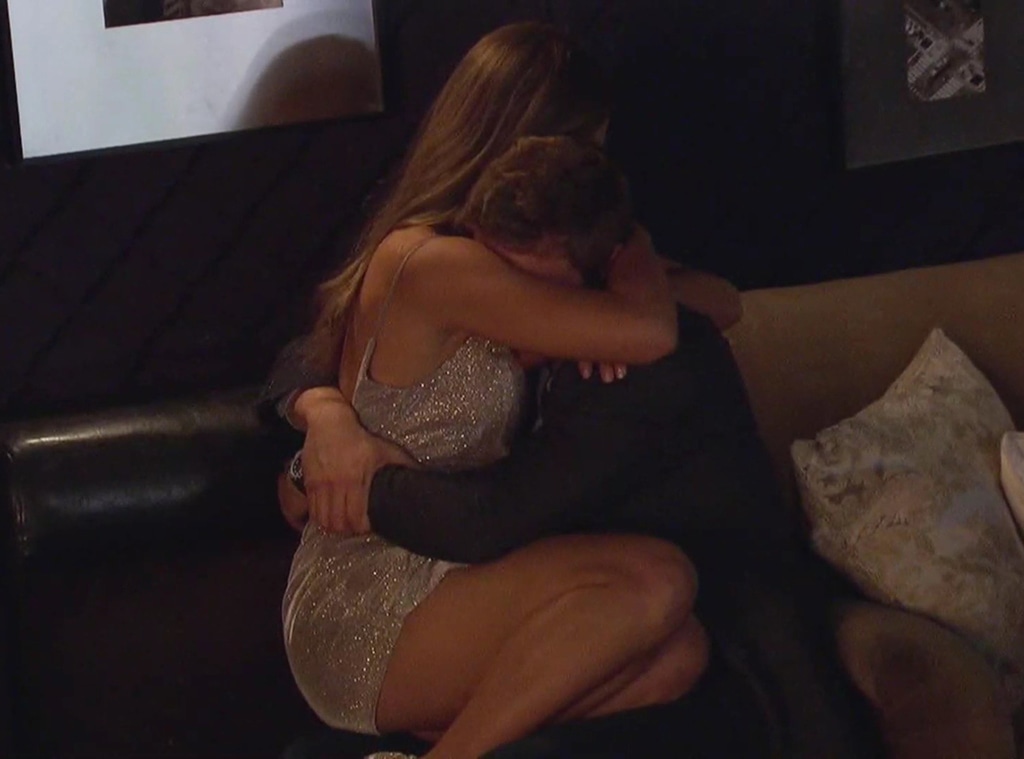 ABC
Anyone hoping for a big either romantic or dramatic conclusion to the Peter Weber and Hannah Brown saga might be left feeling a little disappointed right now. 
Tonight's episode of The Bachelor picked up where last week's episode left off, in the middle of the unexpectedly emotional conversation between current Bachelor Peter and reigning Bachelorette Hannah, after Peter had asked if Hannah would think about joining the show, and Hannah had admitted she regretted sending him home when she did. 
They continued their chat, but nothing was resolved. Peter said he worried that Hannah was just focusing on "what if" and not actually focusing on him, and she said it was a mixture of both things. Both just continued to say they didn't know, even as she climbed into his lap and they stared into each other's eyes, until eventually he just said "I can't do this." 
Then he said, "You're doing that lip thing," and concerned himself with how many of her dress's sparkles had ended up on his jeans. 
"This was not supposed to happen this way, so I don't know," Hannah said as they hugged, and continued hugging. 
"I wanted to kiss her," Peter said in an interview. "It wasn't that long ago I know that we broke up, so I guess this is OK to feel this way..." 
He didn't know if he had to find someone else to move on, or move on before he could find someone else. He was distraught! 
Meanwhile, the other women wondered where Peter had gone, and worried about the connection he very clearly still had with Hannah. They were right to be worried of course, because then Peter gathered them up, told them that he wasn't in the right headspace to continue the date, and said he'd see them later for the afterparty. 
The ladies were pissed, understandably. They're there to date Peter, not root for a beautiful love story with Hannah Brown, and that's what they all told him when they finally got to talk to him. 
However non-final the end of his convo with Hannah seemed, he told everyone she was in the past, and he was ready to move forward. It's hard to believe him after what we all just watched, but easy to believe he wants it to be true. 
In the end, it was the girl who chose not to talk about Hannah and instead opened up about growing up in a typical southern town and being biracial who got the rose for that non-date, so congrats to Sydney. Sorry your attempts to line dance without music didn't work, Mykenna. 
Watch:
Will Hannah Brown Get Peter Weber's Final Rose?
Cool red Corvette girl took a different tactic, saying that yeah, if her ex showed up, she'd be freaked out too. This resulted in a kiss after they compared hair colors, and we sure wish we remembered more than the fact that she showed up on night one in a red Corvette, because she's clearly very cool. 
Finally, it was time to move on, and over to #ChampagneGate, meaning it's truly time for this show to start, with the past in the past, for now. 
The Bachelor airs Mondays at 8 p.m. on ABC.