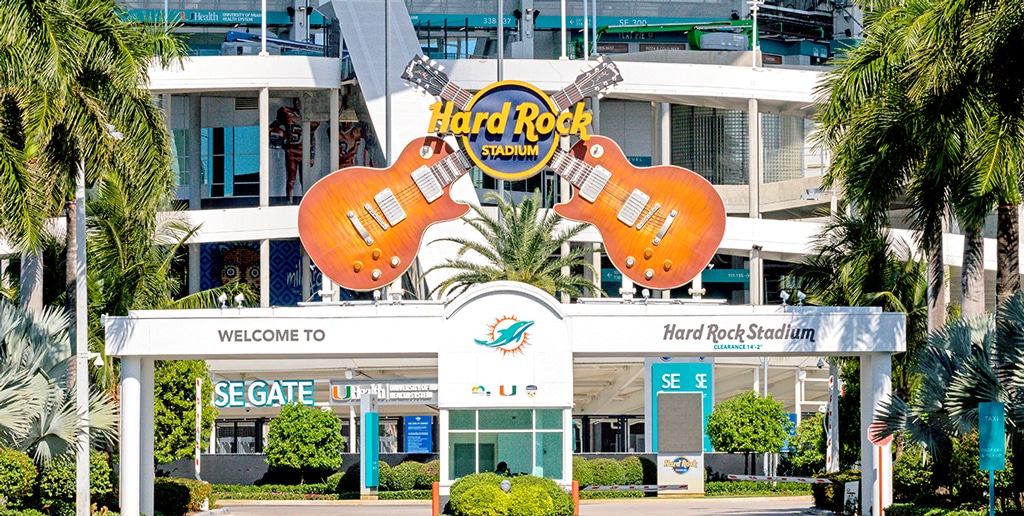 Getty Images
NFL Super Bowl LIV Tickets
First things first: Do you have your tickets? Live the ultimate football experience with official game tickets plus access to NFL On Location's pregame parties.
Regency Hotel Miami
Distance from Hard Rock Stadium: 2 miles! With a distinctive boutique ambiance, the Regency Hotel is a leading choice among Miami hotels where you can take full advantage of their wide range of services and amenities, including a newly renovated pool area, cocktails at The Lounge, and a multi-lingual staff.
Icon Brickell Residences
Distance from Hard Rock Stadium: 2 miles! Experience the ultimate luxury of Downtown Miami in this world-class suite. Located right in the prestigious area of Brickell at the W Miami Hotel this luxuriously decorated unit includes porcelain floors, a fully equipped kitchen with top of the line sub-zero appliances including an island, dining area, washer/dryer, free WIFI, cable and amenities with a gym and heavenly looking Turkish spa.
Hampton Inn & Suites
Distance from Hard Rock Stadium: 3 miles! See why so many travelers make Hampton Inn & Suites Ft Lauderdale / Miramar their hotel of choice when visiting Miami! Providing an ideal mix of value, comfort and convenience, it offers a family-friendly setting with an array of amenities designed for travelers like you. 
AC Hotel by Marriott Miami Beach
Distance from Hard Rock Stadium: 3 miles!  Embrace the urban spirit at AC Hotel by Marriott Miami Beach, one of the newest boutique hotels in Miami Beach, Florida. Their friendly staff invites you to experience an effortless blend of contemporary style and cosmopolitan sophistication in the heart of it all - across from the beach and minutes from Lincoln Road and South Beach's Ocean Drive.
Springhill Suites Fort Lauderdale Miramar
Distance from Hard Rock Stadium: 3 miles!  Travel in style at SpringHill Suites by Marriott, the all-suite hotel that seamlessly blends design and functionality offering the modern amenities you need to stay refreshed and focused - all at an affordable price. 
Miami Lakes Hotel and Golf
Distance from Hard Rock Stadium: 4 miles! Imagine a sophisticated boutique hotel, whose focus is delivering a unique guest experience. Quite deliberately the Miami Lakes Hotel and Golf have been designed as an urban oasis for travelers who look to escape from the common hotel, offering the convenience of a 24-hour fitness center, pool, Phi Restaurant and are located on a Don Shula s Golf Course and right next door.
Speedboat Sightseeing Tour of Miami
Experience thrills during a 45-minute speedboat ride across Floridian waters with Miami's only off-shore, speedboat tour. Soar along the Miami coastline in a comfortable speedboat with ample plush seating, taking in views of the city's spectacular skyline, Star Island's multi-million dollar mansions, and the stunning Art Deco designs of Miami's South Beach District. Tours depart hourly!
Wynwood Cycle Party Bar Crawl
Miami's best mode of transportation takes you on a two-hour bar crawl to three bars in the Wynwood neighborhood. A souvenir cup is included so you can bring your drink from the bars back onto the party bike. Each Party Bike comes with a pilot who plays music and keeps the fun going. Through the miracles of science this amazing vehicle is powered by pedaling. Don't worry though! It's super easy to pedal. Book now for an unforgettable adventure!
Miami South Beach Art Deco Walking Tour
Transport to the 1920s, 30s and beyond while your small VIP group tour guide enlightens and entertains you with fascinating history of the pioneers, unlikely heroes, the rollercoaster boom-bust-boom periods, the rise of Art Deco architecture, the influence of the mob and Hollywood, and the transformation of this swampland to a tropical paradise. Tour lasts two hours.
The Bazaar by Jose Andres
This world-renowned restaurant is a vibrant mix of sophisticated cuisine and playful indoor and outdoor lounge spaces. Dining transcends into fête extraordinaire as guests enjoy a collection of imaginative culinary experiences that offer pioneering delicacies and delicious libations. The Bazaar menu blends tradition and ingenuity in true Spanish style and mixes them with influences from South Beach's local Latin flavors and rich history. Reserve a table today! 
Pane & Vino
If you're craving perfectly hand made pasta, delicious wine, and excellent service, this cozy gem on Sobe makes you feel so comfortable and feeds your soul. Reserve a table today! 
Santorini by Georgios
Enjoy a delicious fusion of Mediterranean and Greek flavors, from this award-winning Miami restaurant hotspot! If you're looking for hospitality and food is always superb, grab a reservation poolside and get to snacking! Reserve a table today!
Nikki Beach Miami Beach
Nikki Beach Miami Beach has established itself as a quintessential South Beach landmark since its inception in 1998. The brand's flagship location is comprised of a large oceanfront complex that features the brand's signature beach club, an award-winning restaurant, cabana bar and a second floor nightclub. Time to get your drink and dancing on!