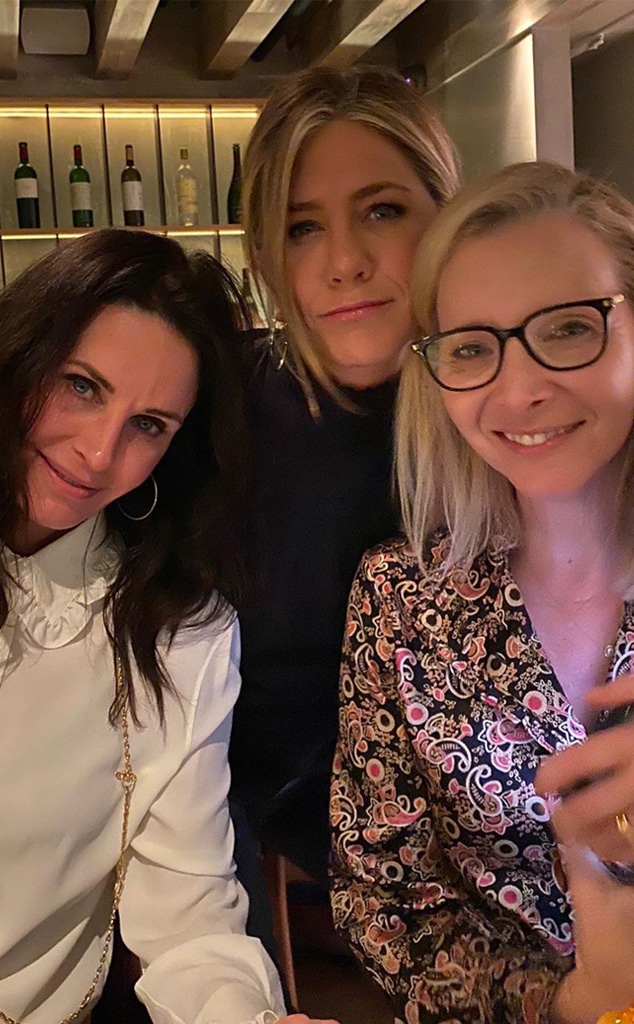 Instagram/Jennifer Aniston
Friends may no longer be streaming on Netflix, but have no fear: there's something even better going on off the screen.
Late Sunday night—rather than attend the 2020 Critics' Choice Awards—Jennifer Aniston reunited with co-stars-turned-family Courteney Cox and Lisa Kudrow for an enviable night out. "Hi from the girls across the hall," the Morning Show star captioned a shot of the trio together at dinner. Taking to her feed, Kudrow also shared snaps from the enviable meal, posting a shot of Cox kissing her and another of Aniston planting a peck on her forehead. "Bliss," the Comeback actress captioned the picture. "And more bliss #goodgirlfriends."
Naturally, the Internet couldn't be any more excited about this clique. "Love you all!!!" commented Rita Wilson. Isla Fisher wrote, "Sisters" while Juliette Lewis chimed in with, "I love these pictures so much. Sigh."
For now, pictures may be all we are getting from the beloved cast, which also includes David Schwimmer, Matt LeBlanc and Matthew Perry.
Back in October, Aniston teased something in the works as far as reviving the '90s sitcom, which signed off air in May 2004. "Listen we would love for there to be something, but we don't know what that something is," she told Ellen DeGeneres. "So, we're just trying. We're working on something."
"We don't know," she added. "I don't want to lead people on."
Watch:
Jennifer Aniston Pays Tribute to "Friends" in Iconic PCAs Speech
But fast forward three months and that "something" still seems TBD.
"All I will say is, we're talking about it," chairman of WarnerMedia Entertainment Robert Greenblatt recently revealed. "We've been drilling down on what it could be and trying to see if everybody's really on board and interested. And if so, can we make the right deals for everybody. We're starting it as a special. It's possible there could be something ongoing, but it would be in steps. We're far from that."
Until that amazing day happens, pivot ahead to relive the cast's greatest reunions off the screen.