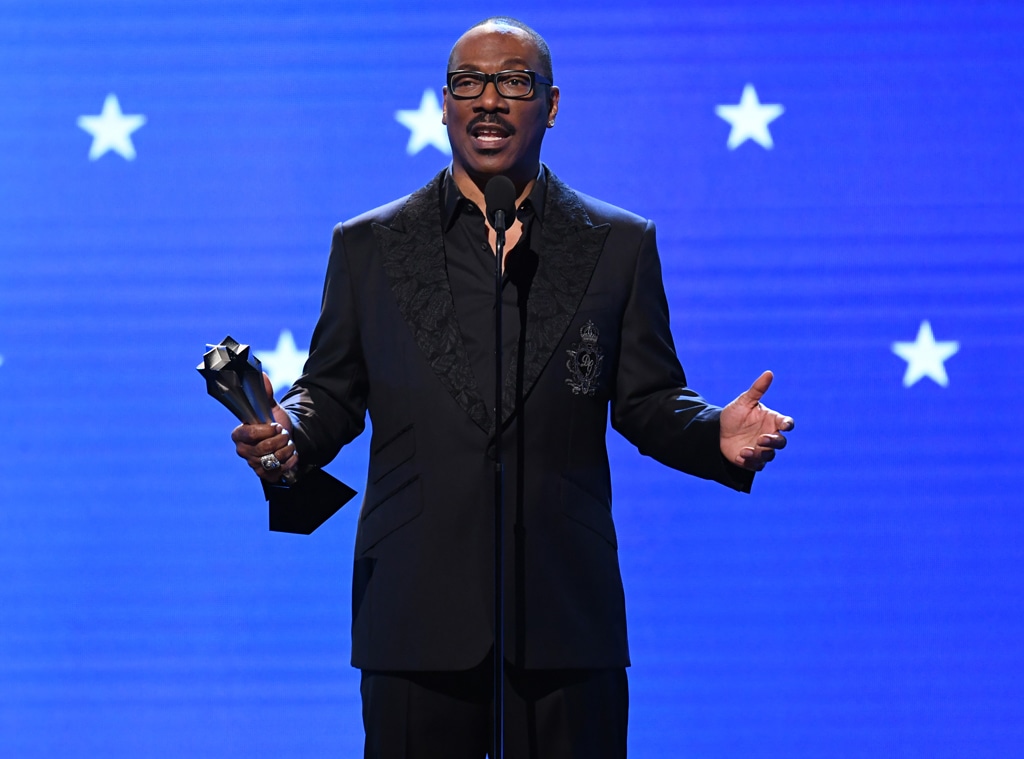 Jeff Kravitz/FilmMagic
Eddie Murphy is going home a winner!
The legendary comedian took home the prestigious Lifetime Achievement Award at the 2020 Critics' Choice Awards. While up on stage, the Dolemite Is My Name actor reflected on his decades-long career and the many amazing opportunities he's received during his time in the spotlight.
"Being able to make a living as an actor is a privilege and a blessing," the legendary star began his acceptance speech. "And to make a living making people laugh, there's no higher—you're the luckiest person on Earth to be able to do that."
"And I've gotten to do so many different types of things. I've played everything," he shared, before making a few jokes. "I've been a cop and a robber and a doctor and a professor. And different ethnicities. I've been animals; I've been a donkey. I even played a spaceship once!"
But unlike most celebrities accepting an award, Murphy kept his speech short and sweet.
"I had a really great year," he said, right before stepping off the stage. "This is a great way to top the year off."
Watch:
Giuliana Rancic Gushes Over "E! News" 2019 Critics' Choice Nom
"Eddie Murphy is the most commercially successful African American actor in the history of the motion picture business and is one of the industry's top-five box-office performers overall," a press release for the awards ceremony read, earlier this year. "Murphy is on the very short list of actors who have starred in multiple $100 million pictures over the past three decades, from Beverly Hills Cop to Daddy Day Care. Some of his other most beloved hits include 48 Hours, Trading Places, Coming to America, Harlem Nights, The Distinguished Gentleman, Bowfinger, The Nutty Professor and Shrek."
While Murphy didn't take home the award for Best Actor for his role in Dolemite Is My Name, the film did win in the category Best Comedy.
The night isn't over yet, and Murphy's latest film is still nominated in two more categories.