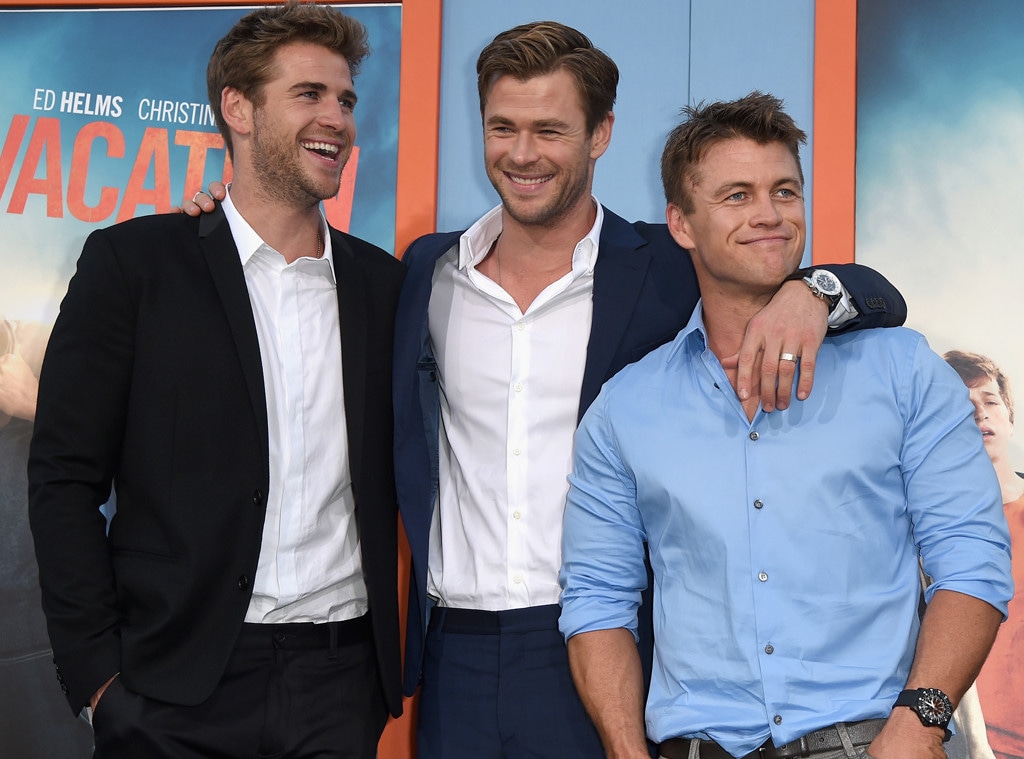 Kevin Winter/Getty Images
When Liam Hemsworth and Miley Cyrus split up in 2019, it wasn't hard to guess where Liam was going to go for support.
He went to his native Australia and stayed with brother Chris Hemsworth and the Thor star's family, naturally.
Liam and Chris were out getting frozen yogurt together, in fact, when the Daily Mail Australia approached the newly single star for a comment and he simply said he didn't want to talk about it. Too soon. 
But realizing that home is where the heart and the merciless teasing only family can provide is, Liam ended up buying a house near the one Chris shares with wife Elsa Pataky and their three children in Byron Bay, where their parents, Craig and Leonie, also are living these days. (Chris and Elsa are currently living in Sydney, where he's shooting Thor: Love and Thunder and she's working on the film Interceptor, which Chris is also producing, but Elsa told the Sydney Morning Herald last month that they hope to be spending weekends in Byron Bay.)   
Being all together in their home country, through, is certainly a lot easier than having to hop on a 14-hour flight to Los Angeles.
When the brothers are on the same continent, let alone the same city, they like to hit the gym and go surfing—basically any activity in which they can rib each other, such as when Chris appraised Liam's physique in an Instagram video while they were out at the beach, saying, "Look at the body on that." 
Media-Mode / SplashNews.com
This past October, the whole clan—mom and dad, Liam, Chris and Elsa, their daughter India and twin sons Sasha and Tristan, Luke Hemsworth and his wife Samantha and their three daughters—vacationed on Lord Howe Island, located in the Tasman Sea between Australia and New Zealand. Needless to say, it was the perfect locale for family, water sports—and for a sweet PSA on behalf of their COVID-stressed homeland.
"2020 has been incredibly hard for communities who depend on tourism," Chris captioned his enviably scenic snaps. "Obviously not everyone is able to travel at the moment but once it's safe to do so let's support our fellow Aussies by taking a holiday at home in @Australia @visitlordhoweisland is one of the most sustainable destinations in the world with only a few hundred visitors allowed at any one time. This paradise is home to one of the most unique ecosystems in the world, but like many small communities, it relies on tourism."
We're guessing that whoever could flocked there immediately, though it's likely the Hemsworths had cleared out by then.
"We're coming out of the woodwork," Luke joked on Jimmy Kimmel Live in 2016 when asked just how many Hemsworth brothers there were.
The eldest Hemsworth brother, once a star of the long-running Australian soap opera Neighbors and then owner of a flooring company, eventually became a regular on Westworld and he moved his family to California, though they spend as much time Down Under as possible.
For awhile he was a five-minute drive away from where Liam lived with Miley in Malibu before that house burned down in 2018, hastening both their marriage and their breakup after more than a decade together. Luke's home gym quickly became a regular hangout for him and his brother, and obviously they did their share of surfing.
"Happy 40th birthday @hemsworthluke !" Liam offered when his brother hit the big 4-0 Nov. 5. "You've been a wonderful brother all these years. I've taught you well...the rest is up to u. Love ya Luke!"
The Hemsworth brothers were born to dad Craig and mom Leonie in Melbourne, but when Liam was little they moved to the Northern Territory of the Australian Outback, where their parents worked at a cattle station and the family had two camp dogs named Mack and Tosh. Then they settled on Phillip Island, south of Melbourne, where the boys first got the acting bug doing school plays.
Asked if it was true that they were raised "basically like a pack of wild dingoes," Luke smiled and attested to their rowdiness. "Yeah, the Hemsworth house of horrors," he told Jimmy Kimmel.
He explained, "We'd wake up in the morning and literally say, 'See ya, mum,' and just disappear into the bush. I think as we got older, parents of kids we knew would gradually drop their kids off further and further away from our house." They were all riding motorbikes at an early age, and would just pick up friends and drive them back up the dirt path and steep driveway that led to their house.
And did he beat up on his little brothers, Chris, who's two years younger, and Liam, eight years younger?
"Every chance I could," Luke quipped. "And I still do. They're really tall, but they're actually quite soft—and they cry a lot. I take great joy in making them cry."
So Liam—whose uncles used to call him "Triple-6" ("the devil's number, yeah—they said they tried to exorcise me at one point but it didn't work")—wasn't exactly joking when he told Conan O'Brien in 2012, "I feel like that's when you really get to know each other, when you give someone a good punch in the face. It's one way of expressing love. That was how we did it in our house—'hey, man, good to see you, here's a punch in the face for you.'"
It got "pretty bad," he acknowledged, but added that he and Luke weren't the ones who fought. "Me and Chris used to fight nonstop, to the point where I remember my mum and dad went away to Europe for three months, and me and my oldest brother, Luke, stayed at our grandma's house, and Chris had to stay at my uncle's house because we were too much trouble to be together."
"We would have a fist fight about who was going to sit in the front seat of the car," the youngest Hemsworth brother continued. "I threw a knife—I don't know why my grandpa thought it was a good idea to give little kids a proper throwing knife, but he gave it to us...I threw it at [Chris'] head when I was about 8 and the handle hit him in the head.
"It was just a warning!" Liam insisted. "Like, if you mess with me, I'll throw a knife at your head."
Another time, "we were having a really bad fistfight and my mum tried to break it up and she got her finger broken, so... That was kind of the low point of our fighting."
So the story of Australia's Hemsworth brothers could have really taken a turn in the 1990s, but eventually they matured enough so that they could be around each other without fear of mortal injury, and here we all are.
Now it's mainly psychological warfare, with the only casualty being their egos.
Such as when Chris doodled on a Men's Health cover featuring Liam and took a picture with it, which Liam responded to by scribbling on his brother's Vanity Fair cover and sharing that. 
"Really great cover bro!" he wrote.
"He's a sweetheart," Chris said of Liam on The Tonight Show, right after he referred to Liam's Men's Health pose, in which one hand was on his chest, as "the breast-cupping workout." He thought his doodles, which included a unibrow and larger ears, were "a bit of an improvement. Kind of looks like the BFG now, with the big ears."
When Liam visited The Tonight Show in 2016, host Jimmy Fallon informed the Hunger Games star that Chris always talked about him when he was on the show. Liam replied with a knowing smile, "Oh, what a sweet angel."
But really, they've come quite far.
Media-Mode / SplashNews.com
"He's my hero," Liam told GQ about Chris in 2019. "I look up to him. He's honestly my last call, when I find myself in a position where I'm 50-50 about a script, then I call Chris. And his opinion, I trust more than anyone in my team."
And they never really considered themselves rivals for roles because of their six-year age difference. Well, except that one...
That's right, Liam auditioned for the role of Thor, too, back in the day.
"I never really wanted to do it," he recalled. "I always felt I was too young for it—I was screen testing when I was 18. The other guys in it were all late twenties or early thirties. I didn't feel Thor-ish."
And the rest is Marvel Universe history.
The premiere of Avengers: Endgame in April 2019, more than a decade after those early auditions to play the God of Thunder, was a family affair, with both Liam and Luke—who had a cameo in Thor: Ragnarok spoofing Asgard's finest—there to support Chris.
And while Liam hasn't embarked on having a family of his own yet, he does keep busy as "a great uncle" of six, as he put it to Fallon.
"I'm the kind of guy that just lets them do whatever they want—candy, loads of candy, have candy. Beer, if you want one, I'll give you a beer." He was joking, obviously, but he will let his nieces polish his toenails and he's happy to have his face painted.
And along with the four nieces and two nephews, Liam has two very supportive sisters-in-law, one of whom—Chris' wife, Elsa—pointedly said that she felt her brother-in-law deserved "much better" following his breakup with Miley.
Chris Hemsworth/Instagram
"You always find support in your family, and he's joined at the hip with his brother, who has been there to give all the strength he needed," Elsa told reporters (translated from Spanish) at an event for lingerie brand Women's Secret.
Liam "needed to get out of town and away from it all to be able to get some perspective," an insider told E! News about Liam's decision to be in Australia as the breakup story unfolded. "He is with the people he loves and just taking each day as it comes. Everyone has been very supportive and trying to take his mind off of things. He's not in a rush to figure out where to go next."
His girlfriend of more than a year, Gabriella Brooks, obviously got the extended Hemsworth family's seal of approval, because she was there for the Roaring '20s-themed party they had for Luke's 40th in November. Flapper costumes, yes. Prohibition, no.
"She wants to be in Australia just as much as he does and they both really enjoy being there and spending time with family and friends," a source told E! News as their relationship was heating up last March.
Kind of a prerequisite if you want to hang with the Hemsworths.
(Originally published Jan. 13, 2020, at 3 a.m. PT)