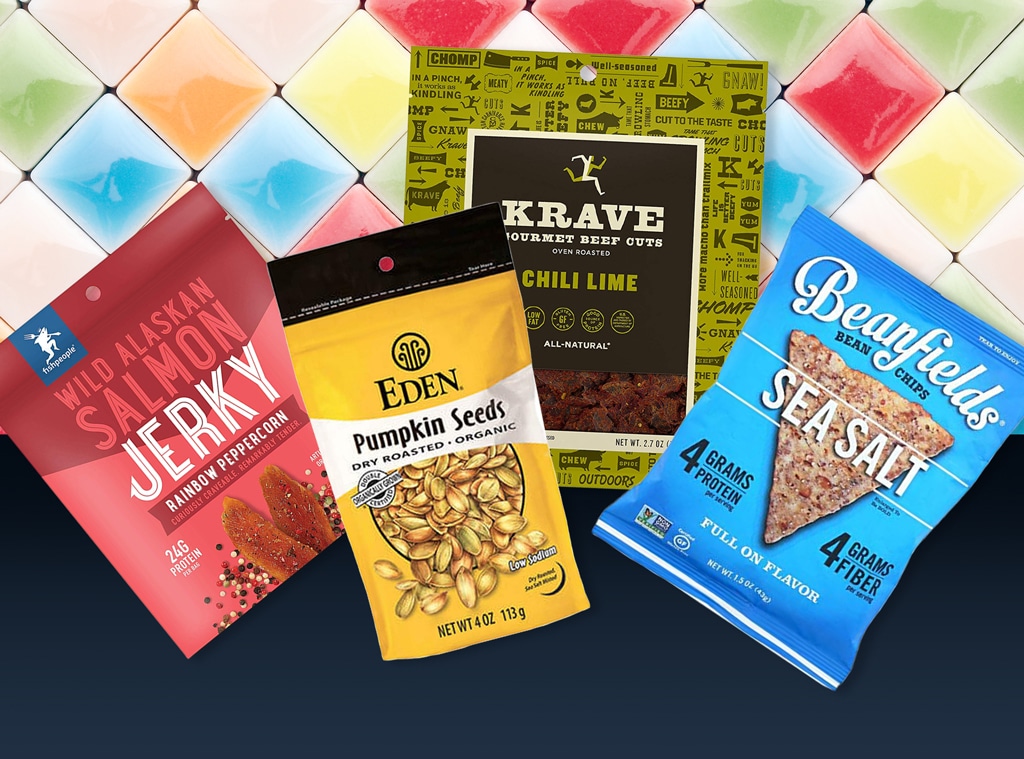 We love these products, and we hope you do too. E! has affiliate relationships, so we may get a small share of the revenue from your purchases. Items are sold by the retailer, not E!.
Of all the dietary trends that have come and gone, low-carb stands the test of time! Whether you're looking to loose a little weight or you just want to make some lifestyle modifications, going low-carb can be one of the quickest and easiest ways to create change.
And because going low-carb has been A Thing for so long, there are tons of options for low-carb snacking, and tons of companies that make munchies that are perfect for a low-carb diet. There's tons of tasty snacks like beef jerky, moon cheese and nut butters galore... so no, you definitely won't starve, even though there may be days where your body says otherwise!
But to stave off that internal chatter, we found 11 low-carb snacks that will fill you up, tantalize your taste buds, and satisfy your sweet tooth. Shop below for the snacks that can help make your low-carb diet a success!
Quest Nutrition Tortilla Style Protein Chips (12 Pack)
True, you can no longer mow down a bag of Cool Ranch Doritos, but you can have the next best thing, Quest Chips. Not only do they offer 19 grams of protein and four grams of net carbs, but they're baked, gluten free, potato free, soy free and all natural. Grab this pack of eight so you can keep snacking to your tummy's content.
Justin's Classic Peanut Butter Squeeze Packs (10 Pack)
Sometimes you just need a simple snack that's good for on-the-go. Justin's Classic Peanut Butter fits the bill, and these individual squeeze packs make it far more convenient than carrying a jar of the stuff with you everywhere you go. Each pack features just two ingredients that are gluten free and non-GMO: peanuts and responsibly-sourced palm oil. Plus, each pack features eight grams of protein, two grams of fiber, two grams of sugar, and zero trans fats. Yay!
Annie Chun's Organic Seaweed Snacks (12 pack)
Annie Chun's organic salty sea treats are just 20 calories per serving and non-GMO, gluten-free, vegan and dairy-free, with no trans fat, no cholesterol, and no preservatives. There's four yummy flavors to choose from: sea salt, sea salt and vinegar, sesame and our favorite, wasabi. Watch out for that spicy kick!
Epic Chicken Sriracha Protein Bars (12 Pack)
In a world full of sweet protein bars, this one featuring 100% natural chicken and a custom sriracha spice blend is the perfect alternative. The Epic Chicken Sriracha Protein Bar offers 13 grams of protein per serving, and it's certified gluten free...plus, it's also keto, paleo and Whole30-friendly. Grab this 12-count box so you always have a stash on hand when the munchies strike. 
No Cow Protein Bar (12 Pack)
Speaking of the sweet protein bars, No Cow has 21 grams of plant-based protein and comes in a variety of flavors, but we love the Chocolate Fudge Brownie. It checks a lot of boxes on the healthy list, including being keto friendly, low carb, super low sugar (from stevia extract and monk fruit), dairy free, gluten free, vegan, high fiber and non-GMO. This box of 12 will keep you powered up through your day, and satisfy your sweet tooth.
Moon Cheese (5 Pack)
Grab a five-pack of these 100% natural cheese snacks, with only two grams of carbs and a yummy crunch. Moon Cheese flavors are great, including Cheddar, Gouda, and Garlic Parmesan, but the names are even better (for example? "Cheddar Believe It). And not only do you not have to worry about keeping them in the fridge, they're versatile. Eat 'em by the handful, or toss them into salads and such.
Eden Pumpkin Seeds (5 Pack)
When it comes to snacking, sometimes simple is best. What's in this pouch is just roasted pumpkin seeds and a little bit of sea salt. There's no need to mess with perfection, after all. Each package offers four ounces of seeds, and five packages per order so you're all stocked up.
4505 Meats Cracklins Fried Pork Curly Qs
Pork rinds are going upscale courtesy of chef and butcher Ryan Farr, who makes these with all natural, real and simple ingredients. All that exists in a bag of 4505 Meats Cracklins Fried Pork Curly Qs is humanely and sustainably-raised pork fried in rendered pork fat, and sea salt. 
Beanfields Bean Chips (4 pack)
Get your crunch on guilt-free with these chips, made from black beans, navy beans, brown rice, safflower or sunflower oil, and sea salt. They're top-eight allergen free, non-GMO and certified gluten-free, and they offer four grams of protein and four grams of fiber per serving. Dip these in some guac, and you'll never miss your corn chips ever again.
Krave Jerky Gourmet Beef Cuts (8 Pack)
Low fat, gluten-free, high protein and made with only 100% lean cuts, this is the way beef jerky was meant to be. Krave Jerky is tender and moist, and this flavor offers just the right amount of heat thanks to a mix of spices, garlic, paprika and onion powder, perfectly balanced with zesty lime for a flavor you'd never expect, but will totally love. Take it with you when you're on the run, or save it for a good afternoon snack when you hit the 3 p.m. bonk at your desk.
Kay's Naturals Protein Puffs (6 Pack)
With only three grams of sugar and a good source of fiber, these protein puffs also give you up to 12 grams of plant protein per serving and a satisfying crunch. Although the brand offers some savory treats, this Almond Delight flavor tastes like churros, so your sweet tooth will be happy, but so will you 'cause you won't be blowing your diet by snacking on a bag of these goodies. And one order comes with six bags, so you'll have back-ups as needed.
Whisps Tangy Ranch Cheese Crisps (6 Pack)
—Originally published Jan. 12, 2020, at 4:00 a.m. PT