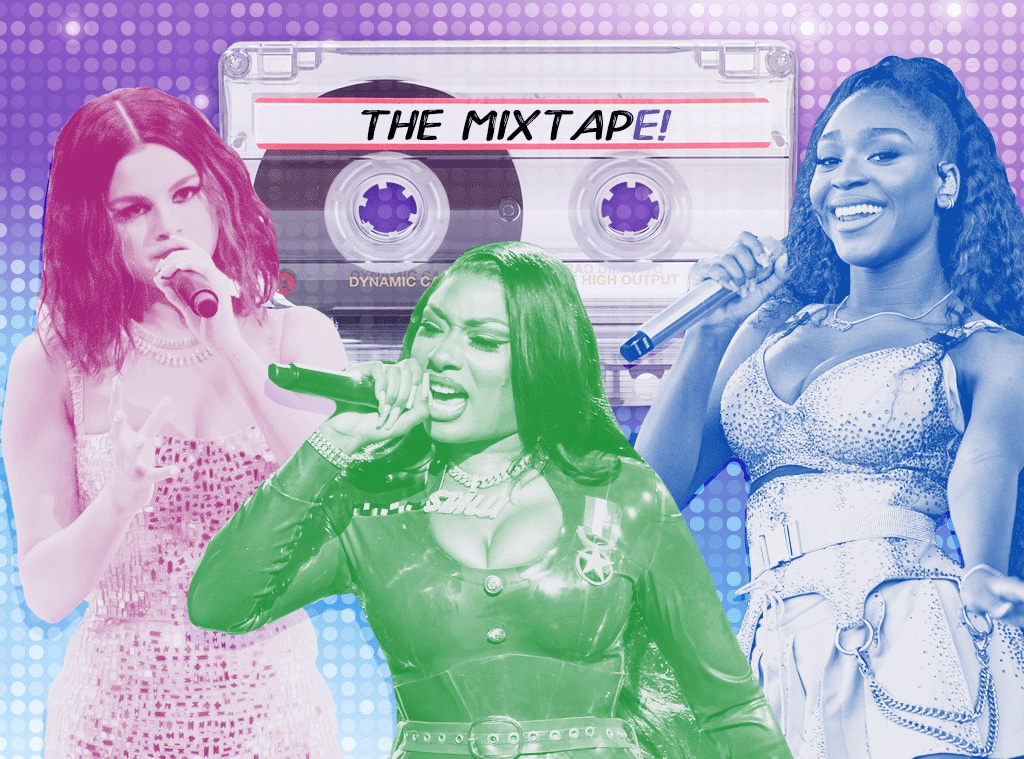 ABC/Getty Images/E! Illustration
New music Fridays are a thrilling, yet daunting prospect for any music lover. 
It's essentially a weekly holiday where fan-favorite artists and fresh faces alike drop their latest offerings for all the world to hear, flooding streaming services and digital retailers with an onslaught of aural goodies. But who has the time to sit there and listen to everything before updating their playlists? There's just too much good stuff! (And, if we're being honest, usually a few stinkers, too.)
As it turns out, we do. Welcome to The MixtapE!
Boy, 2020 wasted no time to get the new music flowing. By now, you're probably already given Selena Gomez's long-awaited new album Rare a listen or five, decoding the lyrics for any and all mention of ex Justin Bieber. And maybe you've checked out Halsey's new breakup banger "You should be sad," found solace in Alicia Keys' new power anthem "Underdog," and begun to prepare yourself for the emotional roller coaster that's sure to ensue with next week's posthumous release of Mac Miller's Circles with by giving new single "Good News" a spin. But that's merely the tip of the iceberg on this very busy New Music Friday.
As always, we've listened to (nearly) everything in the hopes of separating the wheat from the chaff. And we do it all for you. What follows are our picks for the best of this week's best. You're welcome.
Selena Gomez — "Vulnerable"/"Crowded Room" feat. 6LACK: SelGo's new album Rare has been a long time coming, and now that it's finally here, we're thrilled to report that the entire collection is excellent. Leaning on close frequent collaborators Julia Michaels and Justin Tranter to shape the sound of her first album in nearly five years, Selena's delivered an LP teeming with pristine pop. While you'd be wise to simply listen in full from the beginning, there are a couple of immediate standouts for us: "Vulnerable," a lush trop-pop moment courtesy of producers The Monsters and the Strangerz and Jon Bellion that's a whole damn vibe, and "Crowded Room," a slinky R&B-influenced bop that benefits both from a slick interpolation of Cassie's "Me & U" and an excellent feature from 6LACK. With tracks this good, the wait was more than worth it.
Megan Thee Stallion & Normani — "Diamonds": The powerhouses behind two of music's biggest moments last summer ("Hot Girl Summer" and "Motivation," respectively) link up for this fiery lead single from the soundtrack to Margot Robbie's Birds of Prey. Between Meg's take-no-prisoners flow, there to remind why she's one of the most exciting new MCs in the game, and Normani's sultry and silky vocals, the banger is officially 2020's first major female empowerment moment. Turn this one up loud. And the video? Between the lewks and Normani's unbelievable choreo, it's not to be missed. 
Halsey — "You should be sad": We'd hate to be the man who inspired Halsey to write this breakup anthem, a country-fried withering takedown of a good-for-nothing ex that leaves the earth fully scorched. The production, courtesy of Adele and Sia hitmaker Greg Kurstin, is a delicious dichotomy, bouncing between tender guitar picking and crunchy distortion while letting Halsey's fiery lyrics and vocals steal the show. And the video, with its references to Christina Aguilera, Lady Gaga, Shania Twain and Carrie Underwood is something else. With six singles now released, Manic, finally dropping next week, is shaping up to be something truly special. 
J Balvin — "Morado": The Colombian reggaeton legend continues unveiling his Colores era with this second chapter from the forthcoming collection—"morado" means "purple" in Spanish, if that wasn't obvious enough by the eye-popping visuals in the music video—his first release of 2020 that comes on the heels of the excellent "Blanco" released last fall. The groovy midtempo track, produced by frequent collaborator Sky, finds the singer lost under the spell of a woman who's losing control. "I ordered a drink, and she ordered the whole bottle," he sings in the chorus. "She always abuses when she's with me/Pay attention to her, if you don't, you'll crash/If there's any problem, it's her fault." Yikes. 
Khalid — "Eleven": It may be 2020, but Khalid's kicking off the year with a track that wouldn't feel out of place in the early '00s. The smooth R&B song feels like something that Timbaland produced for Aaliyah back in the day, a reference point we wouldn't mind hearing more of in this new decade. "My mom lives, breathes, sleeps R&B music, so I really feel like this is the ode to just people who came before," the "Talk" crooner told Zane Lowe during an interview on Apple Music's Beats 1. It's spot-on, a perfect track for late-night cruising when you've got someone special on your mind.
Conan Gray — "The Story": We've been impatiently awaiting word on Conan's debut LP ever since we first stumbled upon his winsome brand of confessional pop back in 2018 with the release of "Generation Why." While we've still got a few months to wait for Kid Krow, out March 20, the 21-year-old up-and-comer has given us the first taste of what's to come with this stunning and heartbreaking track, produced by Dan Nigro, about moving on from our painful pasts. 2020's going to be a big year for Conan, so secure your bragging rights by getting into him now.
Tame Impala — "Lost In Yesterday": With a month to go before the release of his fourth studio album, The Slow Rush, on Valentine's Day, Kevin Parker has released his fourth—and dare we say best?—single yet. Over an undeniably groovy production, the Australian one-man band employs his ethereal and breathy falsetto to ruminate on the passing of time and its effect on our memories of the past. It's all such a vibe that has us dreaming about sipping something cold poolside in warmer weather. Expect to hear this one pouring out of backyards well into summer.
Amindi feat. Kari Faux — "Love Em Leave Em": Let the sunny vibes continue with this excellent track. The up-and-coming Amindi teamed with severely slept-on rapper Kari Faux to deliver this dancehall-influenced delight about prioritizing dinero over dudes. If there's any justice, this will be the one that gives both ladies their breakthrough moment. It's that good.
Celeste — "Stop This Flame": The second we heard the simple piano plunking that kicks off this song from the BRITs Rising Star award-winner, we were hooked. From her full-throated jazzy vocals to the soaring production that builds on that simple melody to just burst wide open in the chorus, this is the perfect introduction to an artist who deserves the world in 2020. Bring on the debut album.
NEZ feat. ScHoolboy Q — "Wild Youngster": After years spent building a name for himself as a producer for the likes of A$AP Rocky, Chance the Rapper and the very rapper featured on this track, Chicago musician NEZ drops an astonishingly self-assured debut single that celebrates the very house music his hometown gave birth to. This is the sort of track you turn on at 2 a.m. not when you want the party to wind down, but when you want to make sure it never stops. It's a thrilling introduction to an artist we can't wait to hear more from.
Bonus Tracks:
Mura Masa with Ellie Roswell — "Teenage Headache Dreams": Ahead of the release of his second studio album, R.Y.C., next week, the British producer teams with the Wolf Alice frontwoman for this crunchy, lo-fi duet about suburban malaise that harkens back to early '00s alternative before seguing into a beguiling spoken word outro that suddenly erupts into a wall of sound. A delightful oddity.
Georgia — "24 Hours": The British musician calls on the spirit of Robyn for this excellent slice of electropop, an ode to the nightlife of Berlin off her new album Seeking Thrills.
Moses Sumney — "Me in 20 Years": Between the L.A.-based singer's lithe falsetto, the unpredictable and ethereal production he's singing over, and the heady lyric, this song off his forthcoming sophomore album græ is an experience.
Tenille Arts — "Everybody Knows Everybody": Hot off he heels of her latest appearance on The Bachelor, the Canadian country singer dropped her sophomore album Love, Heartbreak, & Everything, which features this beer-soaked small town-celebrating sing-along.
Caitlyn Smith — "Long Time Coming": There's something so undeniably cinematic about this single off the singer-songwriter's forthcoming sophomore album Supernova. If there's any justice, it'll have music supervisors across Los Angeles fighting to secure it as the needle drop they've been waiting for. Grey's Anatomy, we're talking to you.
Happy listening!