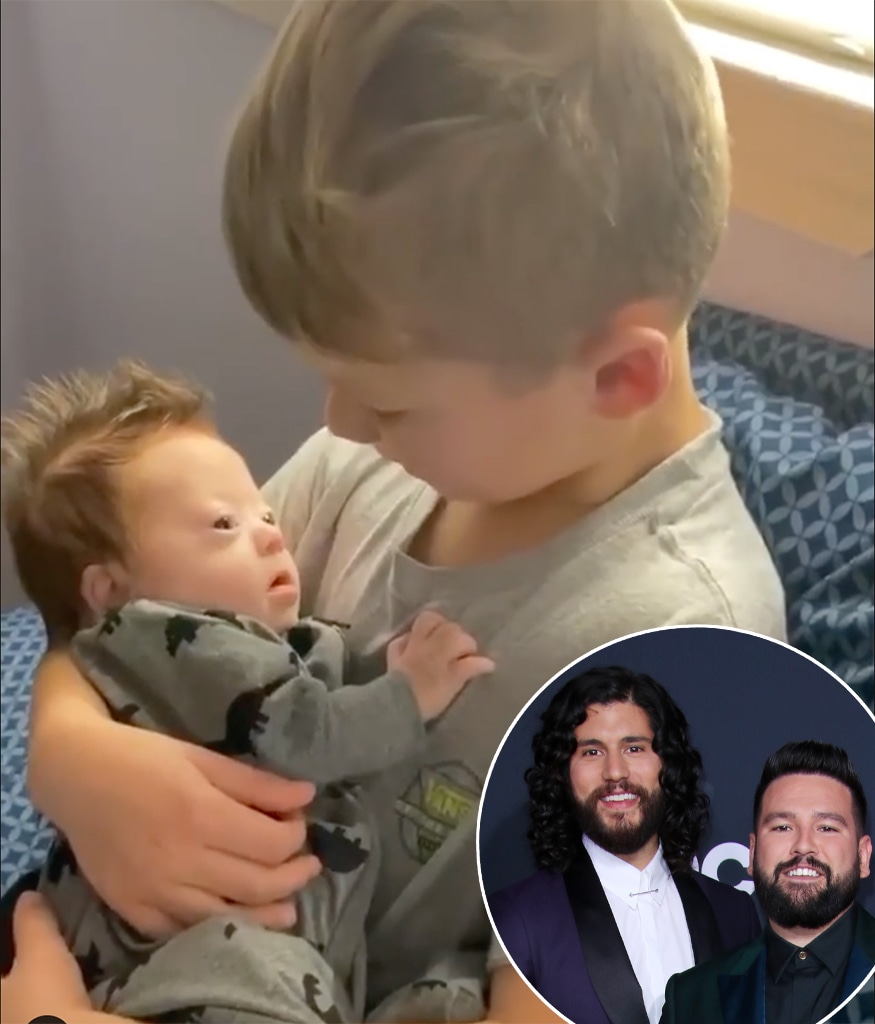 Matt Baron/Shutterstock; Instagram
Grab the tissues!
On Friday, Rayce Powell went viral for serenading his newborn brother Tripp Powell with Dan + Shay's "1000 Hours," which his mom Nicole Powell documented and shared on Facebook. In the adorable video, Rayce can be seen cradling his little brother, who has Down syndrome, as he sings the chorus to the fan-favorite country duo's hit song that features Justin Bieber. It's no wonder that a video this precious caught the attention of Dan Smyers and Shay Mooney, who re-posted it on their Instagram account along with the video's original caption.
"This is how Rayce bonds with Tripp," Nicole wrote on Facebook, according to the band's caption. "He sings to him all the time. He swear this song is about him and his brother. He's singing, 'I'd spend 10,000 hours, and 10,000 more if that's what it takes to learn that sweet heart of yours. I might never get there but I'm going to try if it's 10,000 hours or the rest of my life, I'm going to love you.' Love doesn't count chromosomes, or as Rayce says, 'Aren't we all different?'"
After watching the sweet brother bonding moment, Dan + Shay wrote, "This is just the sweetest, most heartwarming video ever. Thanks to everyone who has tagged us in it, we've been watching on repeat and smiling every time."
"Couldn't find nicole powell's instagram handle, but if anyone knows the family, please tag them in this post, or dm us their info. would love to meet them, or at the very least make a video for rayce + tripp."
Shortly after sharing, Dan and Shay took to Instagram to make an amazing announcement to the Powell family with a video message.
"To the powell family: thank you for sharing such a sweet video of your sons rayce + tripp," the post's caption read. "It warmed our hearts to know that 10,000 Hours was the soundtrack to this wonderful moment. we want to invite your family to our show in little rock on september 17th, and we'd love the chance to meet you. it's almost a year away, but just know that you'll have tickets with your names on them waiting for you at the box office.
 
Dan and Shay added, "And thank you to our fans, and everyone who shared their beautiful video. we're proud to be a small part of it."
Watch:
Hailey & Justin Bieber Get Married Again in Lavish Southern Ceremony
As fans of the band know, the song carries a deeper meaning for them. The Grammy winners wrote the love ballad for their wives Abby Law and Hannah Billingsley, who star in the music video. Also making an appearance is Justin's leading lady Hailey Bieber.
In fact, "10,000 Hours" debuted shortly after the Biebers tied the knot (again) in a fairy-tale celebration in October. "They both looked so genuinely happy," an insider told E! News at the time of their South Carolina nuptials. "They had smiles on their faces the entire night and didn't really leave each other's sides. They both made it a point to say hi to every guest and chat with everyone. It was a pretty intimate reception and they were happy they could catch up with their friends and family and really enjoy the night."