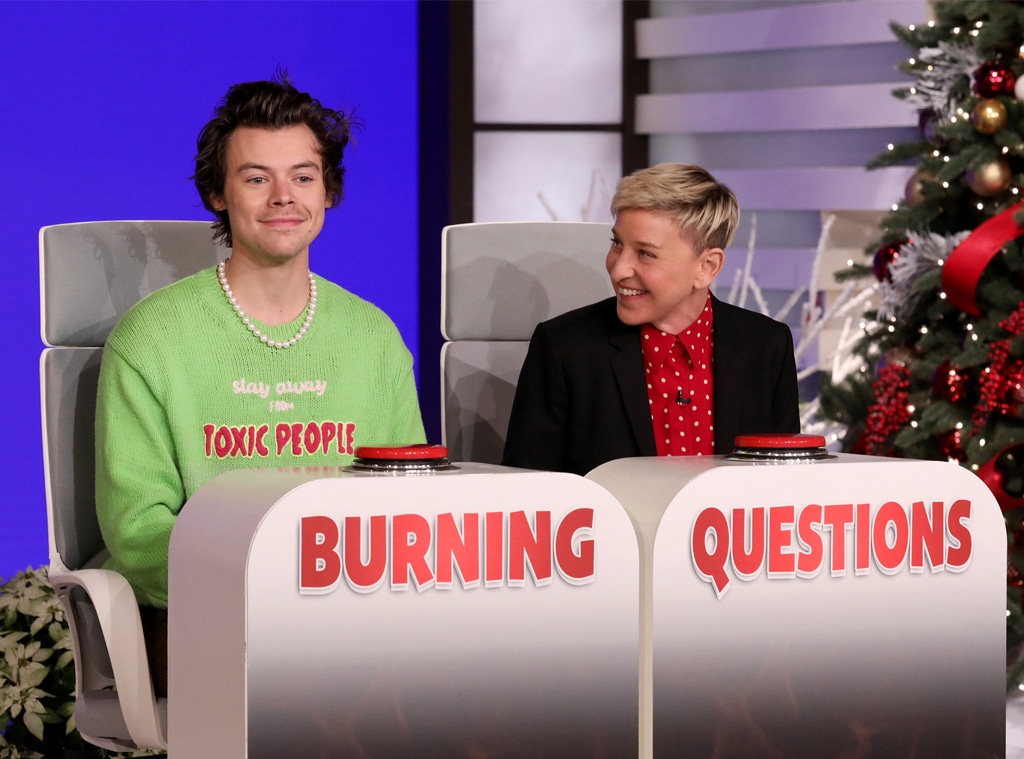 Michael Rozman/Warner Bros.
Harry Styles just stole our hearts once again.
On Friday, the "Lights Up" singer played a round of "Burning Questions" on The Ellen DeGeneres Show, where he revealed something that One Direction fans are going to love. Sitting down with Ellen DeGeneres for the rapid-fire game, the daytime host asked Harry to share his guilty pleasures.
Puzzled for a second, the former boybander finally thought of a response: "Working out to One Direction."  
Much to our dismay, Harry didn't specify which 1D song he breaks a sweat to, but just hearing him mutter the band's name was still fulfilling on its own.
Ellen's "Burning Questions" are always super revealing, but this one definitely took a spicy turn for the "Fine Line" singer—especially when it came time for him to list his favorite three body parts on a woman. Taking a moment to craft his answer, Harry said, "Eyes, smile…and character."
He was then asked to confess a lie that he recently told, to which he joked, "Playing this game."
Keeping things intimate, the Ellen's Game of Games host asked the One Direction alum if he preferred boxers to briefs and how old he was when he had his first kiss. Next, she asked him to define his relationship status, which he said is currently single.
But then Harry took a sad turn when he was asked to name his biggest fear. "Dying," he replied. "That was dark." Thankfully, the mood quickly lifted when Ellen pressed Harry on who his first celebrity crush was. "Jennifer Aniston," he answered.  
"Burning Questions" wasn't the only game that the duo played. Before being interviewed by the Ellen's Greatest Night of Giveaways host, Ellen and Harry pulled off an epic prank backstage. 
Watch:
Liam Payne Calls Himself the "Antichrist Version" of Harry Styles
For the hidden camera earpiece prank, Ellen ordered a pizza to Harry's dressing room and had the "Adore You" singer do outrageous things like crying over the pizza and fitting several pieces in his mouth.
But, our favorite part was when Ellen told Harry to share an fun fact with the unsuspecting delivery man. "Oh, listen to this, bro," he said. "The other day, I heard the most interesting fact about cheese." After an awkward silence, the host made him say he'd forgotten it. 
Watch Harry navigate his way through Ellen's burning questions in the hilarious video above!