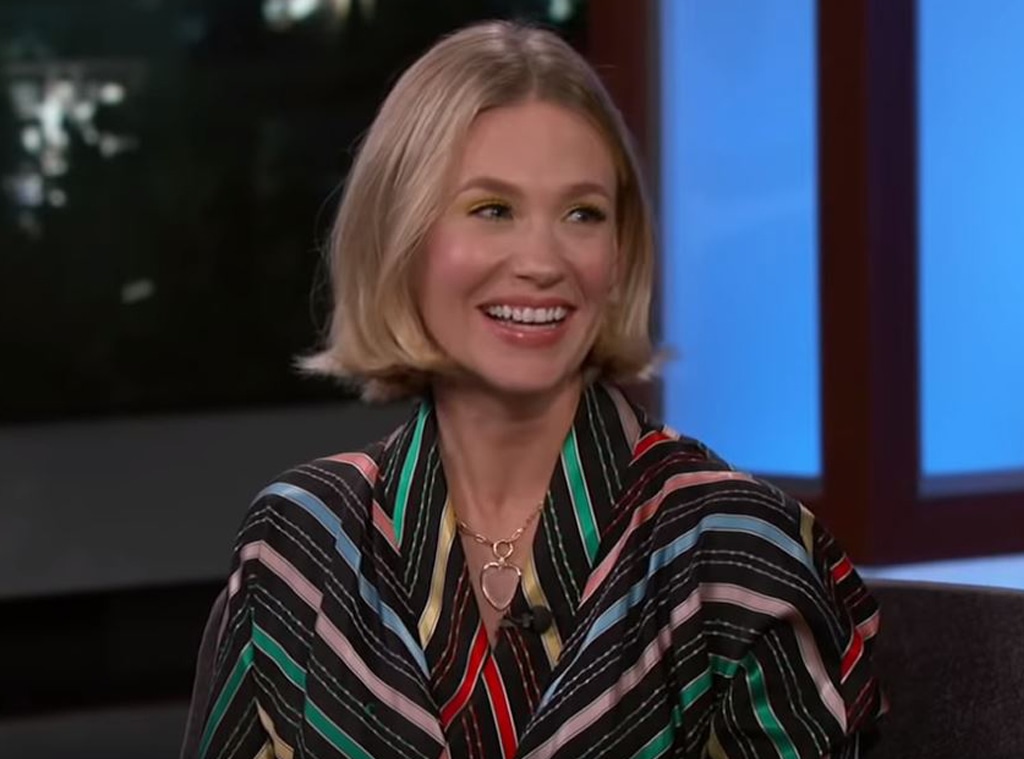 YouTube
January Jones doesn't need much to have a good time. Give her some Bingo cards and some alcohol, and she's set.
During an appearance on Thursday's Jimmy Kimmel Live, the Mad Men alum dished on the wild birthday party she threw on Sunday. And by wild, we mean she stayed at home and watched TV. A mood.
After host Jimmy Kimmel asked if she had a big birthday party this year (she turned 42 on Jan. 5), the star replied, "No, not this year. We just watched the Globes and the playoffs."
That wasn't her original plan for her birthday, though. As Jones explained, "Usually, I do a party and I was gonna do a party. A Bingo-themed party. And then, I felt like it was a lot of work and it makes me sound really old."
Imagine, if you will, a bunch of celebrities hanging out in a church basement playing Bingo instead of attending the 2020 Golden Globes. That would be a sight to see. And as for why Jones wanted a Bingo-themed party so badly, she simply explained, "It's really fun, though! And easy."
So, when was the last time she played the game most beloved by senior citizens? The star cleared her throat and awkwardly admitted to Kimmel, "Like, four or five days ago."
As it turns out, The Last Man On Earth actress couldn't get the party together because she couldn't find the right venue.
As she shared, "I wanted to do it in a church basement, or something legit. And I couldn't find a church to house my booze-themed."
Joking about the wine given out in some church services, Jones added, "I could have found a Catholic church."
But enough about the party, what about her birthday gifts? Jones revealed to the host that the best birthday gift she ever received was a very niche present from none other than Jim Carrey.
"I'm not huge into autographs," Jones shared, "but I got a signed autograph of Robert Stack from Jim Carrey." Stack was the host of Unsolved Mysteries, a show Jones apparently grew up loving.
As she said of the gift, "[Carrey] knew that I was a big fan. I had dreams as a little girl to be Robert Stack. Is that so weird?"
As Kimmel teased back, "No, I think most little girls have that dream."
Speaking of childhood dreams, Jones' newest acting project is Netflix's Spinning Out—a show about competitive figure skating.
As Jones described her stage mom-like character, "I have two daughters who are now competitive figure skaters, and I'm their mom. And I'm like a skating mom, like I'm very competitive for them and I want them to live out my dreams that I didn't get to."
Teasing about her iconic Mad Men character, Betty Draper, Jones added, "She's also very mentally unstable. This is a theme in my career."
Now, check out out the rest of the video to hear Jones and Kimmel swap UFO sighting stories.