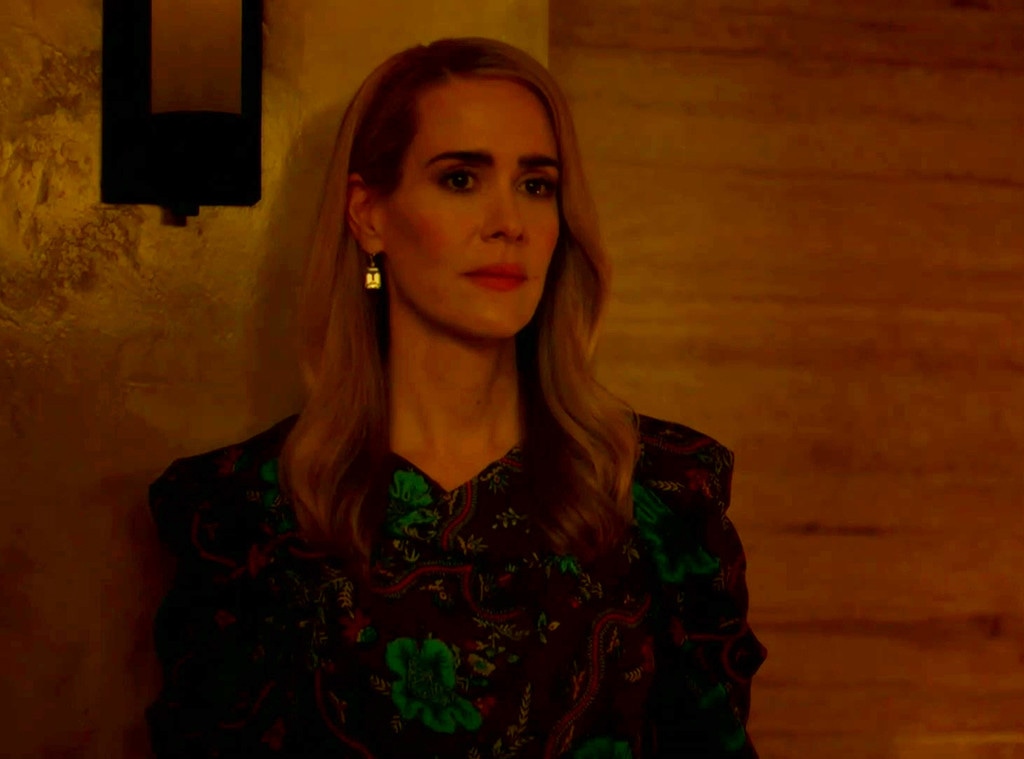 FX
American Horror Story will be back, and so will Sarah Paulson. 
After sitting out season nine this past fall, Paulson confirmed that yes, she will return to the series for season 10 and, "God willing," beyond. The show was just renewed through season 13, meaning we have another four seasons to look forward to, and Paulson's hoping to continue to be a part of the show (though she's currently extremely busy, which we'll get to in a minute). 
"I do know that I did ask [Ryan Murphy] if the question was asked me, could I say that I was coming back, and he said yes you can say. So yes I will be back on American Horror Story," she told a small group of reporters, including E! News, after a TV Critics Association panel for her new FX on Hulu show Mrs. America. 
And will she be a series regular? 
"I should hope so!" she said, with emphasis. "I have no idea what it will be, but I guess what I'm saying is, so as not to be teasey, I'm not coming back in a guest part. I will be a central character." 
Paulson is not only preparing for more American Horror Story and promoting Mrs. America, but she's also finished production on the Netflix Ryan Murphy series Ratched, and is about to take on the role of Linda Tripp in Impeachment: American Crime Story. 
Tripp is currently who Paulson is preparing for, as production for that will start in March. She'll have to wear prosthetics, and possibly contacts since Linda Tripp has blue eyes. 
"My eyes are very dark brown, and it's often hard to get that non-Wolverine effect of like, you know, a sort of superhero eye. It's debatable. Olivia Colman did not wear contacts playing the Queen, I may not wear contacts playing Linda. We don't know yet how far we're going to go," she said, and then patted her stomach as she added, "I have begun to eat some food to begin my portion...I have committed to doing that. I think it's important to not just allow the costume to do everything, but to do what I can physically, vocally to try to evoke who she was at the time." 
Jamie McCarthy/Getty Images
Paulson says she has met and spoken to Monica Lewinsky, who is producing the season of Crime Story, and appreciates having her there to highlight the responsibility of telling the story correctly. 
"It's like anything, anytime you're playing a real person, even if you're playing a person who could arguably be considered a villain in a story, you still feel the responsibility to get it right for the piece as a whole. You can't soft-pedal anything just because you as an actor want to be liked, so having Monica around just further implements that feeling and responsibility and need to get it as accurately told as possible," she said. 
Watch:
Does Sarah Paulson Know If "Ocean's 9" Is Happening?
Paulson's Mrs. America character is a fictional one, in a show filled with real people, and she said it's definitely nice to have a break from playing real people or even known fictional characters, as she's playing in Netflix's Ratched (a new take on the nurse character from One Flew Over the Cuckoo's Nest), though it's not really much of a break at all. 
"On the one hand, every part I've ever played on American Horror Story was a fictional character, but of late, I have been and I'm about to embark on a sort of iconic figure in our country's history in the mid '90s, and who was responsible for helping to bring down a president, and also arguably destroying some lives along the way. So that's a big responsibility, so there's a weight that you carry that I'm grateful to have. It's a great privilege to have the opportunity to inhabit any person when that comes your way, but there was something sort of liberating...I had finished Ratched 72 hours before I flew to Canada to start Mrs. America, so it was a bit of a schizophrenic situation where I felt a little bit like this is sort of like the character I played in season four of American Horror Story with two heads, but now I'm just playing two different characters within minutes of each other. I was still in the head of 1947 in the Ratched world, who, although not a real person, is a historical sort of iconic character that people have attachments to, so there was that responsibility, too. So it was a bit of an unburdening to take this on, even though you'll see as the story progresses, my character becomes a bit more of the forefront of the story." 
After hearing that you may have the same question we had, which was "Are you tired?" 
"I am tired, thanks for asking!" she said, promising she's just about to head off on vacation. 
Mrs. America premieres Wednesday, April 15 on FX on Hulu, and American Horror Story and Impeachment: American Crime Story will likely premiere late this year on FX.