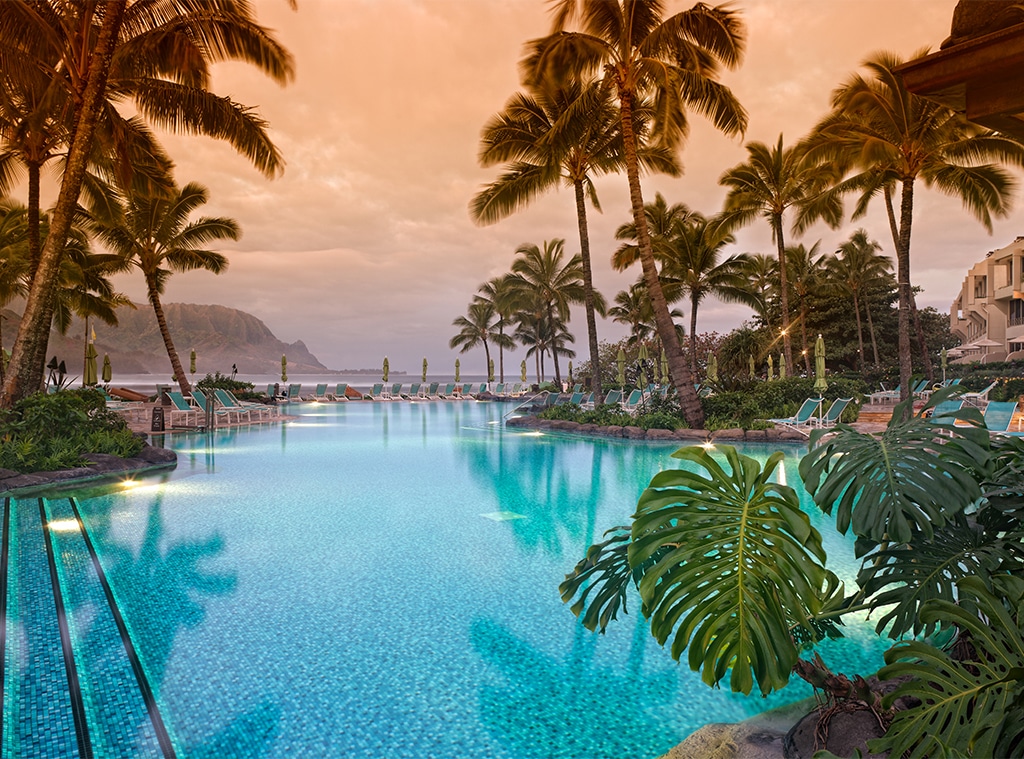 iStock
We love these products, and we hope you do too. E! has affiliate relationships, so we may get a small share of the revenue from your purchases. Items are sold by the retailer, not E!.
The holidays may officially be over, but that doesn't mean there's nothing to look forward to. In fact, we've got some long weekends coming up...and that means it's time for a winter getaway!
If you live somewhere snowy, or just somewhere where it's bone-chillingly cold, you might want to take a quick jaunt somewhere warm to remind yourself that the summer months are on their way. Maybe that means a trip to South Beach for some nightlife, sun and sand, or a sojourn to Volcanoes National Park for a warm trip with a little action added in. Feeling fancy? You could jet off to Cabos San Lucas and stay at the stunning hotel where Lili Reinhart and Cole Sprouse kicked off their New Year. The possibilities are endless.
Want some inspiration to help you decide where to go? Check out our favorite warm weather travel spots below!
Kimpton Rowan Palm Springs Hotel
Palm Springs may not be warm if you're from SoCal, but it's an oven if you live anywhere buried in snow. Escape the deep freeze at this gorgeous hotel in the heart of downtown Palm Springs, giving you stunning views of the desert mountains and the kind of peace and quiet you dream about. There's only 153 super stylish rooms, and the hotel has Palm Spring's only rooftop hotel, bar and restaurant atop its seven-story structure, so you can spend the night stargazing with cocktails by the pool. Plus, Kimpton hotels are pet friendly.
Mondrian South Beach Hotel
Miami is always amazing, but it's even more fantastic when you swap out white snow for white sandy beaches in the middle of winter. While you can't just sleep on the beach, so we recommend the Mondrian. Not only does the hotel give you amazing views of the Atlantic, Biscayne Bay and downtown Miami, your hotel room will be undeniably chic and have an equally awesome view. And when you're not at the beach or in your room, more than 25 hot restaurants are within walking distance of your accomodations.
Volcano House
If you're not down with the beach but you still want some heat, may we humbly recommend Hawaii's Big Island? This is where you'll find Volcanoes National Park and Volcano House, the only hotel situated within the park on the rim of Kilauea's Halemaumau crater. Imagine waking up in this historic hotel (it dates back to 1846!), having breakfast overlooking the park, and then heading out for a day of hiking. Sounds like bliss to us.
Capri Laguna on the Beach
A hotel right on the beach in sunny So Cal? Yes please. Here, you'll be halfway between Los Angeles and San Diego, so there's plenty of opportunity to hit up all the shopping and attractions your heart desires. Or, you could just chill in this quaint seaside town, and enjoy the fact that when you step out of your hotel, you're stepping directly onto the beach... and into the brisk Pacific Ocean, if you're daring! And did we mention breakfast is included for guests? 'Cause it is.
Waldorf Astoria Los Cabos Pedregal
Wanna spend your vacation at the spot where Lili Reinhart and Cole Sprouse kicked off their New Year? This is it, and it's stunning. Your arrival is punctuated by a trip through the Dos mares Tunnel, which was carved through a solid mountain, and your check-in happens at an open-air concierge. From there, you'll check into one of 115 rooms or suites, which each boast a private plunge pool and ocean views...not to mention, your own personal assistant service, a fireplace, and the usual TV and WiFi offerings. This is heaven on earth.
Fiesta Americana Cancun Villas
A Traveler's Choice hotel for 2019, this hotel puts you right in the middle of all the action, with easy access to main shopping plazas, restaurants and bars, and just a quick jaunt to theme parks and archaeological sites. But there's peace and quiet to be had, too, with loads of privacy and the joy that comes with sinking your toes into the sand beneath the turquoise sea. Be forewarned that this hotel is family friendly, so if that's not your jam, ask for a room that's further away from the hustle and bustle.
Impressive Resort & Spa Punta Cana
Head to the Dominican Republic to experience this four-star getaway on a private beach, with 24/7 access to whatever you need. Lush tropical grounds frame the hotel, which is situated mere steps from the sea, but there's a pool area that's ideal for chilling, too. There's also a fitness center, a casino and free internet, but why would you want any of that when you could spend your time sunning yourself on the beach as you doze off to the sounds of ocean waves breaking against the shore? This place offers free breakfast, too.