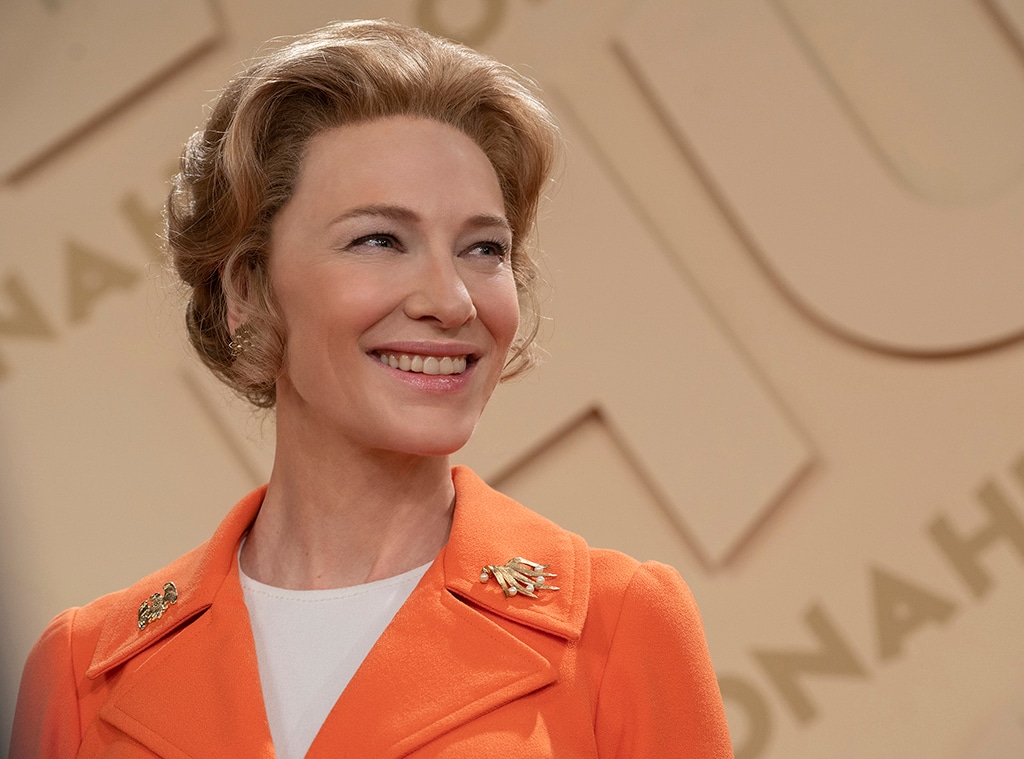 FX
FX truly went all out when it came to casting its upcoming drama, Mrs. America. 
The show, which tells the story of Phyllis Schlafly going up against the Women's Liberation Movement and the Equal Rights Amendment in the 1970s, stars Cate Blanchett as Schlafly, and she's accompanied by Rose Byrne, Elizabeth Banks, Sarah Paulson, Tracey Ullman, Uzo Aduba, Margo Martindale, John Slattery, James Marsden, Niecy Nash, and more. 
That's a hell of a cast list to tell a hell of a story, and while it's easy to assume Blanchett is playing the villain, creator Dahvi Waller says that's not exactly the case. Or at least that's not exactly what they tried to portray. 
"It was very intentional to create a series with shades of grey," she said on a panel for the show at the TV Critics Association Press Tour. "I don't think we benefit from painting the other side that we don't agree with as monsters. I don't think there's any benefit to portraying heroes as perfect." 
"What really struck me about all the women from this period was how messy they were," she continued. "They're complex, their contradictory nature. They quarrel and there's joy, there's love and there's hate, and I wanted to have all the characters contain multitudes, so that was very intentional." 
The show also takes care to address other things that were happening at the time. It was the birth of intersectional feminism and LGBTQ rights, and both are part of the show's portrayal of what women and the country were going through. 
"These are stories that are often painted in broad strokes, because they're not the centerpiece...I wanted to bring them into the forefront," Waller said. 
Even with the shades of grey, it's easy to hate Schlafly, and one reporter asked Blanchett how she played the humanity in such a character. 
"I'm really nice!" Blanchett promised, or joked, going on to explain how she looked at the character, without her own personal political opinions. "I don't believe in demonizing anybody, and my agreement or disagreement or my political personal political persuasions, I couldn't be less interested in folding into a character....The way you create in ambiguity and juxtaposition and character is to simply borrow two very contradictory thoughts or actions, button them together, and then present them to an audience. And we're all full of contradictions and hypocrisies, and nobody's perfect, including Phyllis, although her hair was mostly always perfect." 
You can see the trailer for the series below. 
Most of the characters are real-life figures, most of whom have written books which allowed the writers to tell the story from all sides. Byrne plays famous feminist Gloria Steinem, who has written many books, and Aduba plays New York Congresswoman Shirley Chisholm, who wrote two memoirs (and was also the first woman to run for president). Schlafly also wrote or co-wrote multiple books, so there was a lot to pull from without access to most of the actual people involved. 
"We really wanted to make sure that the piece was not skewed from any one person's point of view and I think Bobby and the writers and the researchers worked so hard to craft this highly researched and and very clear-eyed version of this time period," Waller said. 
Watch:
"Charlie's Angels" Stars Gush Over Director Elizabeth Banks
Some characters, however, had to be invented. Paulson plays Alice Macray, who is a fictional character based on the people around Phyllis. She's a homemaker and a Catholic, and very unlike Paulson herself. 
"She is a composite character, so I got all the research material I could find. But mostly, which I think it's always significant when it's possible to do this, the text itself gave me a lot of the information. The wonderful writers have created somebody who is very different from myself. She's sort of innocent and a bit of an open-hearted person. She's a devoted Catholic and very dedicated homemaker. And I myself am not a dedicated homemaker, so I thought it was sort of interesting to put my toe in that water and see what it would be like to be a person for whom their entire world was their family life and their home life, and to feel that threatened, and to feel that sense that somehow she didn't matter, because her desire was to be in the home and to support her husband and to raise her children. That that was being devalued by this movement was very scary for her." 
Mrs. America will premiere its first three episodes on Wednesday, April 15 on FX on Hulu, with a new episode going up each week afterwards.