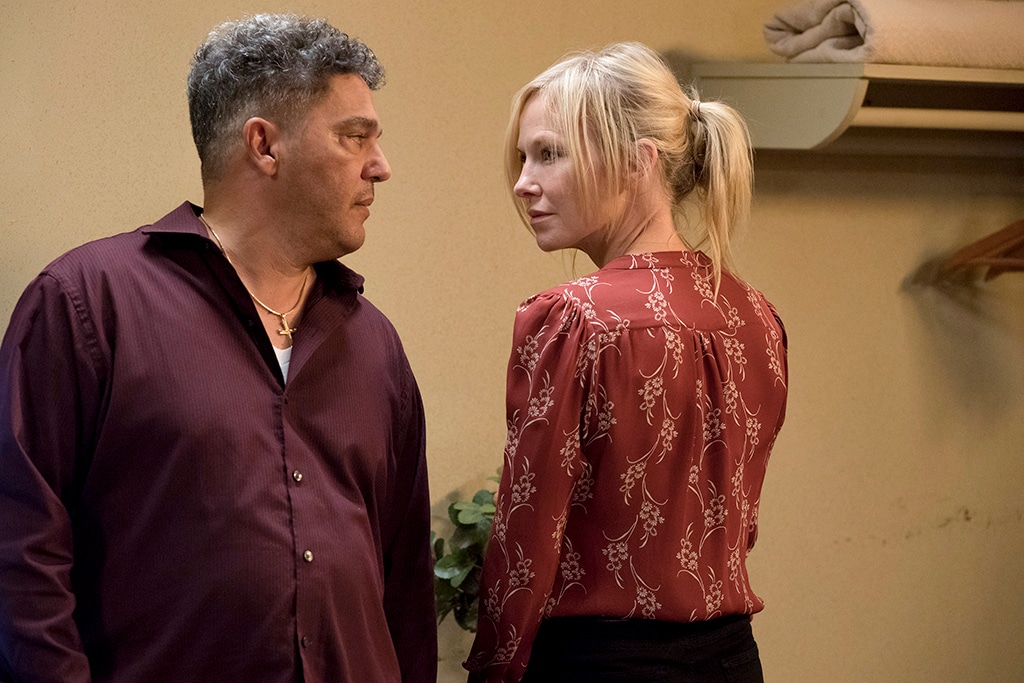 NBC
To say Law & Order: SVU's Detective Amanda Rollins (Kelli Giddish) is in a bit of a pickle in the season 21 midseason premiere is an understatement. When viewers last checked in with this member of an elite squad, her therapy session was interrupted by former cop Frank Bucci (Nicholas Turturro) and she was taken hostage.
In the 2019 midseason finale, Bucci was desperate for the SVU squad to bring Getz (Vincent Kratheiser) to justice and get his two daughters out of the billionaire predator's clutches. So, he grabbed Rollins in hopes of forcing the police to act and make an arrest. What follows is an intense ordeal for Rollins and her coworkers as they are tasked with working against the clock to end the hostage situation and nail Getz.
Giddish said while filming the episode, she tried to remain in the moment as much as possible so her feelings came off on screen.
"Whatever is happening in the moment you let it affect you and having a gun pointed at your head—it affects you. [Laughs.] It really makes you feel how close the four walls are around you, and how being handcuffed makes you feel not in control. They're just desperate to grab any leg up. Also, it's a strange situation because I think she feels sympathetic towards Bucci's cause. Rollins is known to do some rogue stuff too. I don't think she would ever go this far, but if you're protecting your two daughters there is some sense—I understand how far you're willing to go to help them, to save them," Giddish told E! News.
Giddish has two children of her own and said she "absolutely" thought about them while filming scenes where Rollins was in distress.
"I think there was a line, 'I have a have a 3-year-old that gets up in the middle of the night. If I'm not there, she's going to be...'—You can't help but go [shudders]. I would hate for my now 4-year-old to wake up and not know where I am. So, certainly, if you let any kind of real life enter in, I'd be a puddle on the floor," she said.
Watch:
Mariska Hargitay Chokes Up Imagining Life Without "Law & Order: SVU"
If you were watching the first part and got shades of Jeffrey Epstein, well, you know SVU likes to rip from the headlines. Executive producer Warren Leight said he wanted viewers to really see the insidiousness of serial—and privileged—predators.
"The one thing that I enjoy about this episode is there's not a moment where our guys relax, we don't want people to know that we're investigating, we're afraid of our own DA. Maybe Ms. Hadid will say the wrong thing to the people above her, who will maybe shut it down. We get to a point of complete paranoia when you're dealing with these guys," Leight said.
When plotting the two-parter, Leight consulted a real member of the special victims unit and that's where they got the title of the episodes. "He goes, 'Warren, they just know they can't be held accountable. Doesn't matter what you throw at them, they know they will never be held accountable,'" Leight said. "And that's a tough guy to go after."
The midseason premiere also flips some scripts for SVU. The hostage cop story is one they've done before, but what happens when the character is sympathetic? Over 21 seasons, SVU has told countless stories from the survivor's point of view, but what about family dealing with the circumstances? Bucci is desperate to nail Getz and save his family.
"I thought the interesting thing we did was to tell a story from the point of view of the father of one of the girls...it's a little disheartening to show over and over again what happens to the girls who get caught up in it," Leight said. To accomplish this, SVU used a cold open to show Bucci's daughter getting "corrupted" and assaulted over the course of 10 days. "To understand what the other perspective of what does it like for father's point of view to see this guy get away with it and see him walk," he said.
Does Bucci accomplish his goal? Tune in to find out. 
Law & Order: SVU airs Thursdays, 10 p.m. on NBC.
(E! and NBC are both part of the NBCUniversal family.)