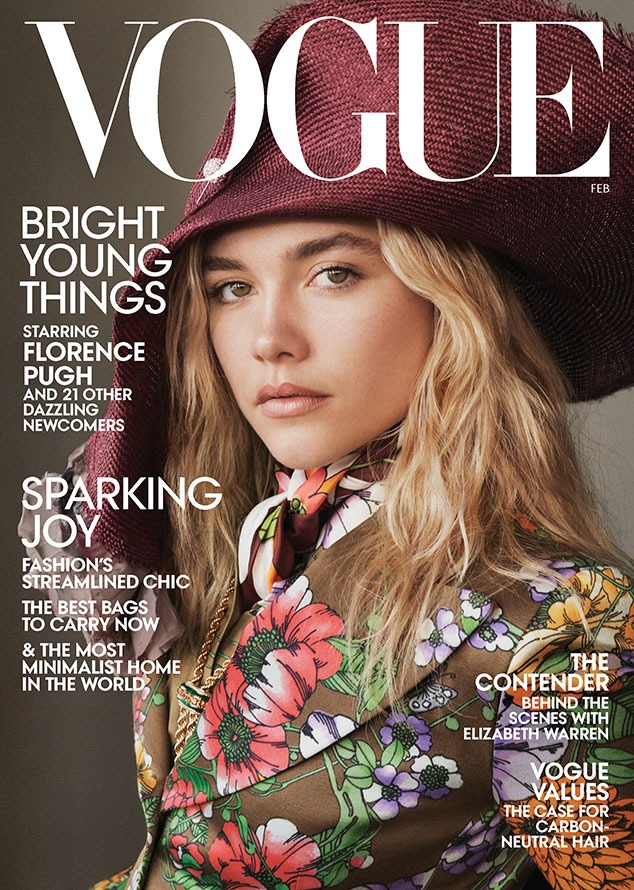 Daniel Jackson//Vogue
From 14 to BAFTA nominee, the past decade has been quite the ride for Florence Pugh. 
The 24-year-old actress closed out the final year of the decade in a way only a select few can say—as a star of Greta Gerwig's Little Women. Having been in one of the most anticipated films of the year, Pugh's profile has naturally reached new heights with more award nominations and a newly published Vogue cover. But, her story is not that of an overnight success. Instead, her acting career began six years ago when she co-starred with Game of Thrones' Maisie Williams in the 2014 mystery drama, The Falling. 
At the time of its release, she was an 18-year-old newcomer, though was already used to putting on a show as a babysitter-entertainer for her family. As Vogue described, Pugh handled costumes and made up dramas for their Sunday visitors—which she also starred in. "I'd be like: 'No, that's my part. I play the weeping woman who's lost her husband,'" Pugh told Vogue. 
"I've always been a very loud personality," she recalled. "Like, when I was younger I would always wear the brightest thing. I loved painting my face. And because I was good at it, I don't think my parents found it offensive."
It's no surprise Pugh and her siblings, children of a restauranteur and dance teacher, blossomed into performers. All three of her siblings act with brother Toby Sebastian appearing in Game of Thrones. Like her older sister Arabella, Pugh also sings, as evidenced by the years-old YouTube videos Vogue flagged of the then-unknown talent. 
The England native is not unknown anymore, with lead roles in 2019's Fighting With My Family and the horror hit, Midsommar, propelling her to mainstream fame as of late. After Little Women, she's set to join the Marvel Universe as Yelena alongside Scarlett Johansson's Black Widow in the character's upcoming origin film, due out in May.
And, if that's not impressive enough, according to Vogue, she did a lot of stunts herself. 
Watch:
Kirsten Dunst Loves Saoirse Ronan in the "Little Women" Remake
"She is bloody scary. Steely. Absolutely will not back down," director Cate Shortland told Vogue of Pugh. "She has a healthy amount of anger in her as a person, at the injustices she sees around her."
With such a blockbuster year in the bag and more already ahead, there's no telling how much the horizon holds for this bright star. As Pugh put it on social media on the heels of her recent BAFTA nomination for Supporting Actress in Little Women, "2020 has already outdone itself."
Vogue's February 2020 issue hits newsstands nationwide on Jan. 21.