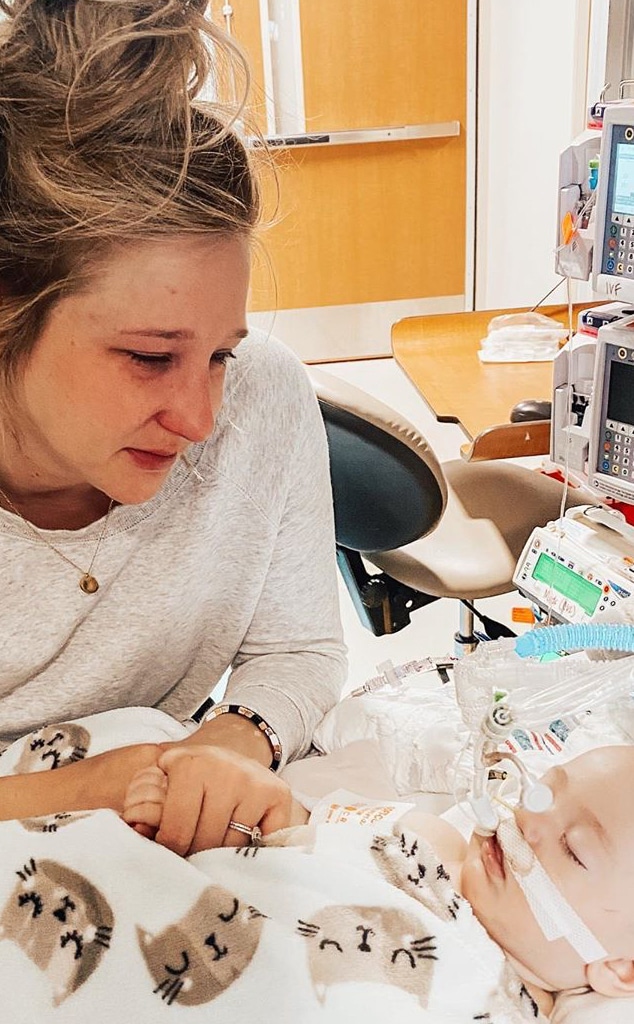 Instagram
YouTube star Brittani Boren Leach and her family laid to rest their late three-month-old son, Crew, two weeks after his death. 
The 29-year-old took to Instagram on Wednesday, Jan. 8, to share the news. "We laid our sweet baby to rest today, and a part of me went with him," Boren wrote, alongside a picture of her step-daughter and three boys as well as a picture of her baby son's casket.
"During his memorial, Carter reached over and grabbed my hand," she continued. "Then Cooper laid his hand on ours and then Sydney laid hers on top. I'm so proud of them."
According to the YouTuber's Instagram, on Christmas Day she laid her late son Crew down for a nap but when she went to check on him, something was wrong. "He was not breathing," she wrote in December. "We are living a nightmare, and I'm dying inside. Please pray for my baby. This can't be real." 
In her post from today, she continued, "We will always feel like we are missing a piece of our family, because we are. And until we get to Heaven, I know he's smiling, laughing and playing at the feet of Jesus. I just wish he was here instead. We laid a tiny blue cape with a "C" on it over his casket to celebrate our little Hero Crew. It was Jeff's idea and I loved it. Thank you to everyone who made it today, your support means so much to us. #crewscrew #blueforcrew."
Earlier this week, the YouTube star also took to Instagram to share a message with her fans and followers. 
"I pray that you will never have to experience what I have... see the things I've seen... or read the things I've read, in the past week and a half," she began her lengthy post. "And if you do, I pray that you will be incredibly blessed with the support and love of those around you, as we have. We have been blown away by the support, kindness and selflessness of so many in this community that we have never even met, and "thank you" would never be enough."
She went on, "Social media can be a very toxic place, but what we have witnessed over the past week and a half has been truly incredible. I am well aware that many of you have not followed my family until now, and I am so happy that you are here. However, I kindly want to ask you to check your heart before you continue to follow, as I will absolutely NOT tolerate ANY negativity in this space."
Further, Boren thanked the fans that continued to check-in and support her and asked for "continued prayers this week, the upcoming days will be hard." 
Watch:
In Memoriam: Fallen Stars of 2020