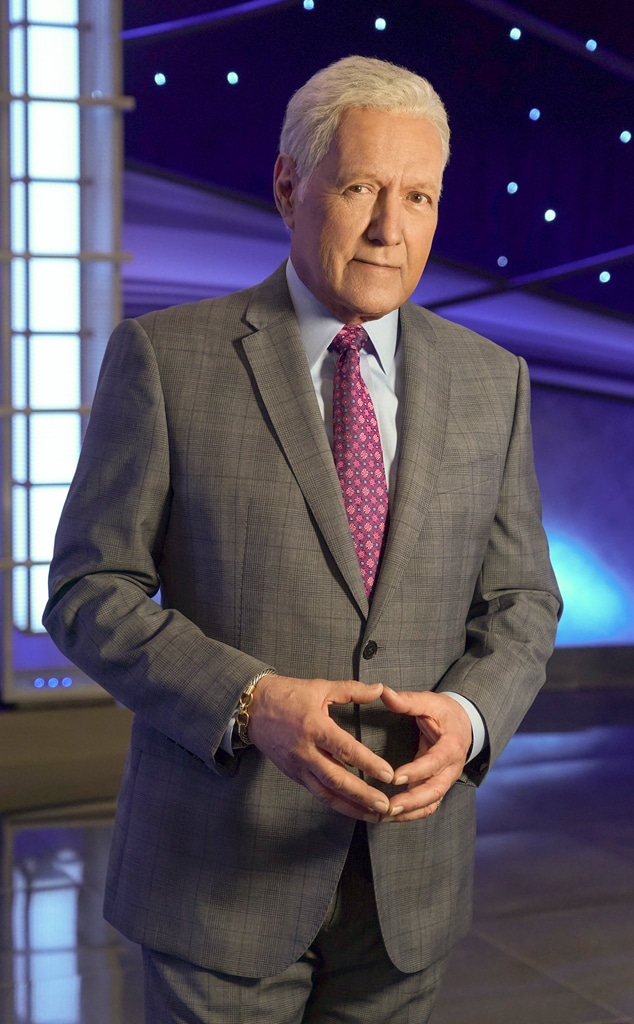 ABC
Alex Trebek soldiers on. The longtime host of Jeopardy and the show are back in primetime for a series of games titled Jeopardy: The Greatest of All Time with past champions Ken Jennings, Brad Rutter and James Holzhauer, the three highest money winners in the game show's history. And the new primetime special comes at a time when all eyes are on Trebek as he battles pancreatic cancer.
Speaking at the 2020 Television Critics Association winter press tour, Trebek, 79, looked ahead to the day he will sign off the show he's called home since 1984 and told press he has a speech planned, but when he gives it will be on a whim, just like when he shaved his famous mustache.
"Some days are better than others," Trebek said on stage at TCA about the current state of his health while promoting the tournament with the champions.
"My resistance is lower than most of you, of course, because of the treatments I've been having, and as you can tell I have the cold that seems to be going around," Trebek said about his cancer treatment. "They've got me off one of my chemo drugs, which was killing me. I won't know 'til tomorrow, I go in for some tests, and then another week or so until I find out where things stand."
The primetime special began airing Tuesday, Jan. 7 and continues on Wednesday, Jan. 8 and concludes Thursday, Jan. 9 on ABC. One of the players will receive $1 million prize with the other two receiving $250,000.
Watch:
"Jeopardy" Celebrates 35 Years With an "All-Star" Season
Trebek, who said he has good days and bad days, said during the filming of the tournament there were some rough times.
"During this tournament, I said this to my wife, because I saw all the shows after they were in, I said, 'Did you notice anything about the way I handle the shows?' She said, 'I didn't notice anything at all,' and I said I did. I seemed a little slower…I feel that I was not having one of my best weeks, so some weeks are good, some are bad, but comes with the territory for the champions," he said.
Trebek has hosted the syndicated game show since 1984 and is synonymous with it. So, what happens the time comes for him to wrap up his hosting duties? There are no current plans for that moment, it was revealed on the panel.
"Keep in mind, I'm 79 now, and I don't foresee that 30-second [goodbye speech] coming up in the near future," he said. Trebek added as long as he feels his skills "have not diminished too much" and as long as he enjoys being with the contestants, like Rutter, Jennings and Holzhauer, he'll keep hosting. He's taking things on a month-to-month basis at this point. 
Jeopardy: The Greatest of All Time continues on ABC at 8 p.m. on Wednesday, Jan. 8 and Thursday, Jan. 9.