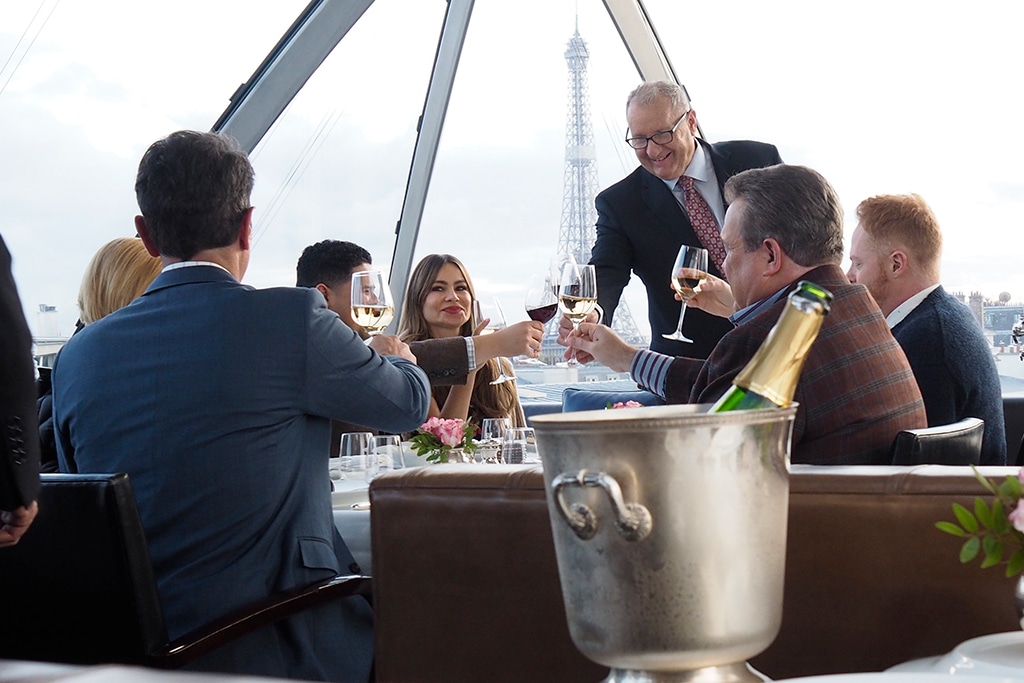 ABC
After 11 years, Modern Family is about to come to an end. 
The series finale will air Wednesday, April 8, and while there are still quite a few episodes left for us to watch, there are just four episodes left for the cast to film. That means the goodbyes haven't really started yet, and it sounds like it also means the ending isn't yet set in stone. 
"We didn't really know [the ending] from an early point," creator Steve Levitan said during a farewell panel at the TV Critics Association Winter Press Tour. It sort of depended on which season we ended it on. Had we ended it last season, then I think it would have probably revolved around the birth of the new babies, but since we went past that point, we were in uncharted territory. So it's something we've been thinking about for about a year and a half...The writing staff, we talk about where we're going to end it all the time so we can add some things in to wrap it up nicely." 
This season has featured episode titles like "The Last Halloween" and "The Last Christmas," which sound pretty final but didn't exactly feel so final just yet, Ty Burrell said.
"I'm anticipating [the emotions] happening as we're filming the real last, the last four episodes. Haven't really gone there yet," he said. 
Despite reports that Sarah Hyland's character could star in a spinoff, creator Steve Levitan says there are currently no plans to continue the world of Modern Family past the finale. However, when asked if they'd like to star in a spinoff, Reid Ewing (Dylan) and Aubrey Anderson-Emmons (Lily) both raised their hands, and Julie Bowen said that if she could work with the same writers and crew and cast, she'd love to.
As far as current plans go, the finale on April 8 will be the true end for Modern Family. 
The second half of the final season will feature a trip to Paris for the entire family, and while much of the cast was excited to all be together, unlike in LA when they all go home to their families every night, Eric Stonestreet had a particularly silly story to share about his time in Paris. 
"I ate butter and thought it was cheese," he began, going on to tell a story of butter that was so good that he not only thought it was cheese, but he was hoping to eat it all if none of his castmates wanted to eat it, and planned to try to find it when he got back to the states. 
"I took a hunk of it and put it in the middle of a piece of salami and rolled it up, and I'm like, is anybody else gonna eat this cheese?" he said. "I was thinking afterwards that if [Julie Bowen] saw me doing that, she's probably thinking, well, that's why he's overweight." 
"I just thought you really liked butter!" Bowen added. 
Modern Family airs Wednesdays on ABC.