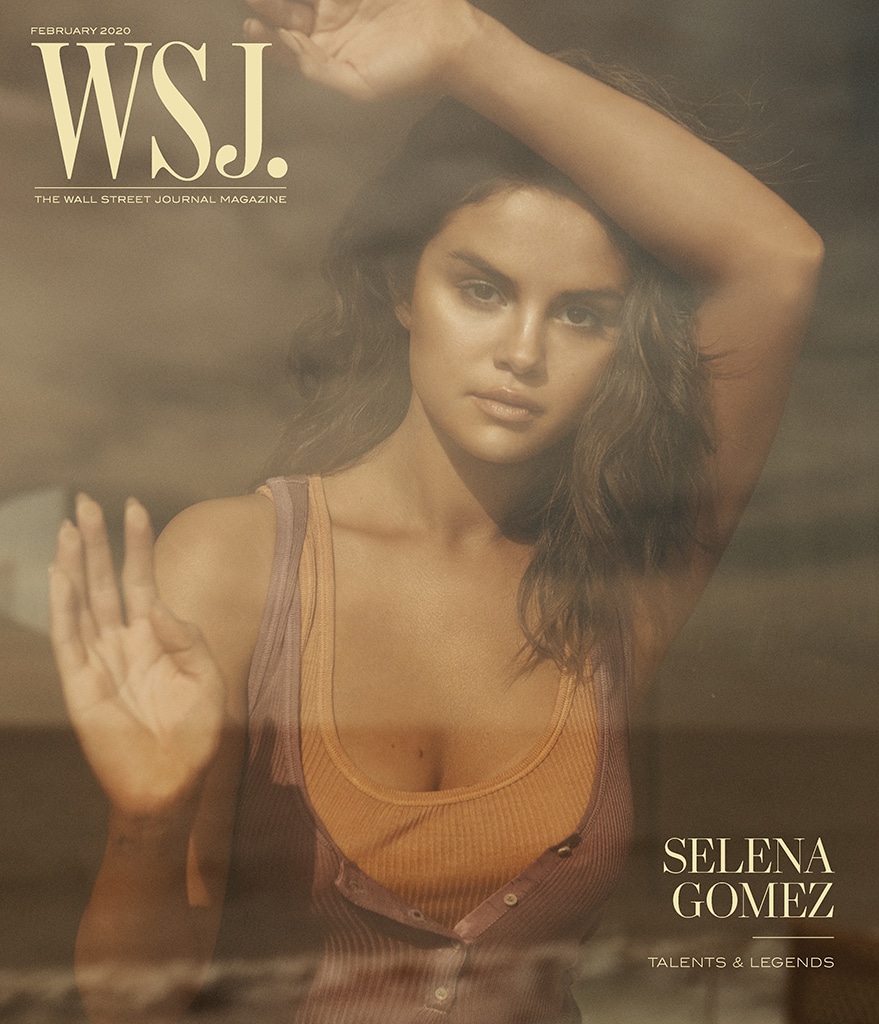 Lachlan Bailey for WSJ. Magazine
Selena Gomez has tackled all the tricky subjects. 
As she jokingly told the author of her new interview for WSJ. Magazine's annual Talents & Legends Issue, "Let's talk about all the stuff I'm not supposed to." During the lengthy sit-down, almost every topic was raised, from Gomez's famous Disney days to nearly a decade of mending her mental health. 
The 27-year-old also slightly pulled back the curtain on parts of her friendship with Taylor Swift previously kept private. The star spoke of her self-esteem, a disconnect with one of her biggest hits and oh so relatable desire for a boyfriend.
Through it all, Selena has found a silver lining in her struggles."Of course, there were a few moments in my life when I felt like, Why? Why me?" she told the magazine. "But now I look at it as, At least I can relate to more people."
For a breakdown of her many interview bombshells, keep scrolling!
1. A Self-Esteem Struggle: "I feel like I was supposed to go through everything I've gone through," the blockbuster star shared with the magazine. "I had low self-esteem, and that's something I work on continuously. But I feel so empowered because I've gained so much knowledge about what was going on mentally."
2. Loving the Disney Life: While being a Disney star has been a mixed bag for the network's famous alumni, Gomez said she loved it. "Those people were my life," the Wizards of Waverly Place alum told the magazine of that career phase. "That's the whole reason I moved out here [to L.A.]. I literally grew up with them. Before any of the madness happened for me."
3. Club Woes: In 2013, Gomez earned her first number one album with her debut solo studio album, Stars Dance. According to the magazine, clubs and Hollywood parties became a part of her social life though they left her feeling "like I wasn't doing anything good in the world."
Watch:
Necessary Realness: Look at Selena Gomez Now!
4. Mixed Musical Messages: While it was a big hit for Gomez in 2013, "Come & Get It" was hardly authentic to the songstress. "That's so not my personality," she told the magazine. "The lyrics are, 'When you're ready, come and get it.' I would never say that!" While her upcoming album, Rare, reflects the last four years of her life, the star had less of a hand in her previous musical work. "There was a lot of putting my music together for me, and I didn't have much control," she said. 
5. Mending Her Mental Health: Now 27 years old, Gomez has spent years seeking help for her mental health, including therapy and treatment facilities, since her struggles with depression and anxiety at the start of her 20s. "My highs were really high, and my lows would take me out for weeks at a time," the star described. "I found out I do suffer from mental health issues," she shared with the magazine, noting it was "such a relief." "I got on the right medication, and my life has been completely changed," she said. 
6. Selena & Swift Behind the Scenes: While fans are well aware of Gomez's longtime friendship with Taylor Swift, Gomez made it clear they don't know everything. "There's so much of my friendship with Taylor that people don't know about because we don't necessarily feel the need to post about everything we do," Gomez sad. "She has showed up for me in ways that I would have never expected. Flown in because I was hurt and was going through something. Stuff that was going on with my family. It's been proven year after year and in every moment of my life that she is one of my best friends in the world. We don't agree on everything, but we respect each other with everything."
7. Ok on Her Own: While Gomez is one of the most well-known names in the world, she wants a boyfriend just a lot of us. "I'll text her to say, 'What kind of mood are you in?'" friend and collaborator Julia Michaels told the magazine. "One time she responded, 'I'm feeling strong and happy,' and then she said at the end of the text: 'I really just want a boyfriend.'" The moment spurred one of Gomez's upcoming tracks, "I Want a Boyfriend." However, while she confirmed she's been single for more than two years, it's all ok. "One of the lyrics is about a fine line between a want and a need," Michaels said of the song. "Yes, she wants a boyfriend, but it's not a need. She's OK on her own, and we all should be too." 
WSJ. Magazine's February Talents & Legends Issue hits newsstands Jan. 18.