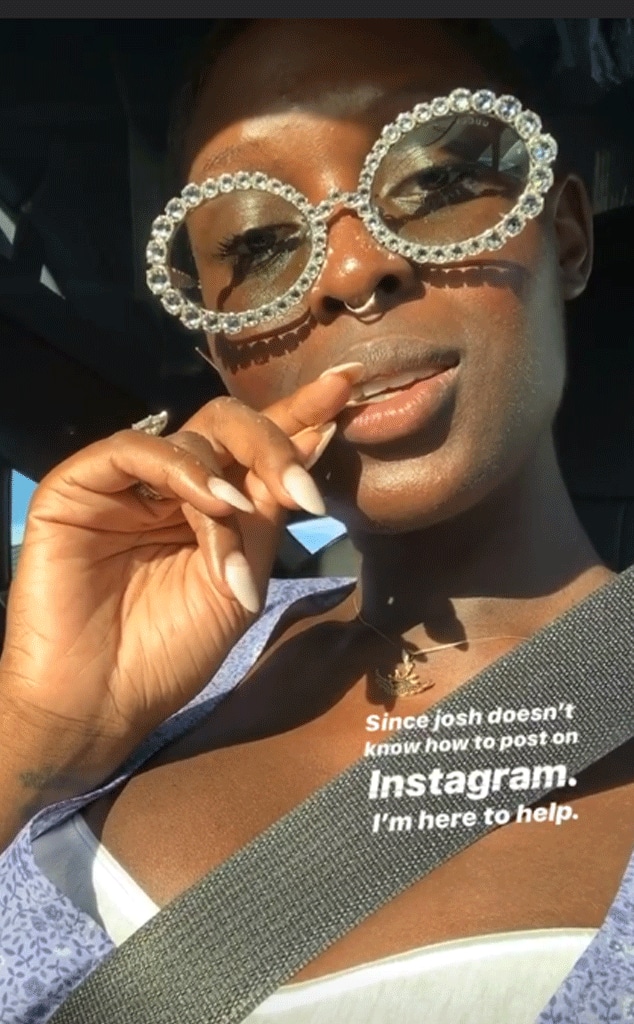 Instagram
It looks like Jodie Turner-Smith has to be her own Instagram husband!
The Queen & Slim actress took over Joshua Jackson's Instagram on Tuesday afternoon to poke some playful fun at him. "When your man is old as hell and he accidentally posts crazy-looking photos of you," the soon-to-be mother teased on the 'Gram in a short clip.
As if her banter wasn't cute enough, the 33-year-old star's video also showed her flirtatiously side-eyeing her husband while he looked guilty as charged for the hilarious mistake.
"Since josh doesn't know how to post on Instagram," Jodie began writing in a follow-up post. "I'm here to help."
The newlyweds appeared to be having a low-key afternoon, as they were spotted driving around in Joshua's Instagram Stories. For the couple's chill outing, the Jett actress dazzled in a lavender floral sundress that showed off her growing baby bump. She accessorized with a dainty gold necklace and fabulous rhinestone-adorned sunglasses.
The When They See Us actor also kept things casual and donned a blue flannel with a shirt underneath and charcoal sunnies.
Watch:
9 Most Unexpected Couples of 2019
While the celebrity pair is known for being ultra-private, the two have been more open lately. At the start of 2020, the 33-year-old actress bared it all on Instagram, and it turns out the Dawson's Creek alum is quite the photographer because he snapped the daring pic.
"Happy New Year & Happy New Decade," Turner-Smith captioned her photo. "The last 10 years have been quite the ride!!! i laughed, i cried, and, most importantly, i LEARNED. keep going. may we all see that our wildest dreams *continue* to come true."
Days after, the two lovebirds were all smiles at W magazine's pre-2020 Golden Globes party last Friday night. The 41-year-old actor was  holding his leading lady as they posed for pictures at the fanciful affair, which was held at the famous Chateau Marmont in West Hollywood.
Just last month, it was revealed the dynamic duo had a lot to celebrate: their marriage and pregnancy!
It looks like the couple has a lot to celebrate this year. Let's just hope Joshua can add Instagram Husband to his 2020 accomplishments.