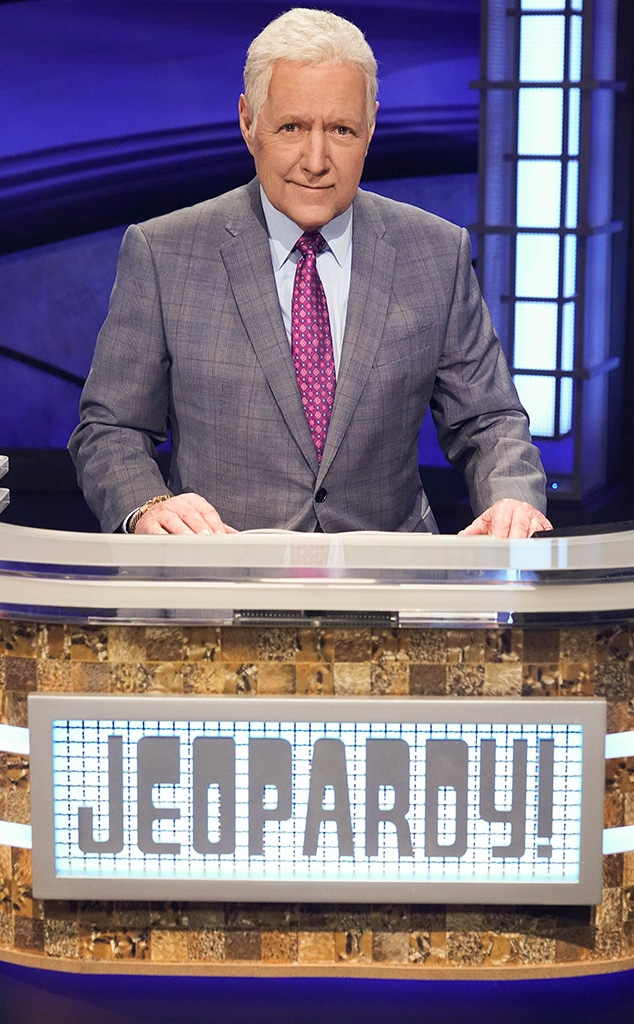 ABC
Answer: This television game show, airing in its current incarnation of daily syndication for 35 years after first premiering in 1964, has won a record 33 Daytime Emmy Awards, a Peabody Award, and, in the last few months, revealed itself to be one of Peak TV's must-watch shows.
Question: What is Jeopardy?
OK, so maybe we'll leave the clever clue writing to Alex Trebek's official Clue Crew, but you get the gist. And maybe you've heard your TV-obsessed friend, your adorably nerdy co-worker, or your mom talking incessantly about Jeopardy within the last year and thought to yourself, "When in the hell did this game show get so popular? And why?"
And if that had you scratching your head, then when ABC announced that they were bringing the whole thing to primetime for the first time in 30 years for a special tournament the network has dubbed JEOPARDY! The Greatest of All Time, gathering the game's three highest money winners in its stories history—Ken Jennings, Brad Rutter and James Holzhauer—to compete in a series of matches, the first of which airing Tuesday, Jan. 7, with the first to three taking home a cool $1 mil, you really must've been wondering what, exactly, was going on.
Well, allow us to assume the role of your TV-obsessed and adorably nerdy whoever and spell it out for you.
As those of us who been knew can tell you, in this peak TV sea of uneven, meandering and often dramatically inert "prestige" television, there's often nothing more thrilling, engrossing and wholly satisfying than the 22 minutes a weeknight that Jeopardy offers. With stalwart host Trebeck's steady hand as guide, each episode tells fans a complete story: one champion faces down two challengers in a battle of the brains. It seems simple enough, but each episode comes with it countless potential outcomes. Will the challengers be up to the snuff or will they wither under the bright lights? Will the champion buckle under the pressure to keep their winning streak alive or perhaps just push their brain past their breaking point?
You want unique characters? Well, each episode has no fewer than three of probably the smartest (and, let's say, quirkiest) people you'd ever come across, hoping to just not puke while sharing their interesting factoid during the "getting to know you" segment after the show's first break while maintaining the quickest trigger finger during game play. 
You want serialized storylines? Just wait until one of those champions finds themselves on a winning streak that carries into weeks, plural. With each new game they win, the victories become that much more hard-fought and the eventual defeat that much more devastating. This Is Us could never.
It was during one such streak—one of the show's all-time greatest, if we're being honest—that the country began to wake back up to the undeniable charms of Jeopardy thanks to Holzhauer, who more than earned his spot in the impending primetime tournament thanks to his revolutionary game play. Over the course of an astonishing 33 games that began airing on April 4 of last year and continued until June 3, the champ challenged every trope of common Jeopardy game play there was, modernizing the show at a breakneck pace. Where most players began categories with the lowest-scoring (and, therefore, easiest) clues, he went straight for the highest earners to rack up a high score quickly as he began hunting Daily Doubles like it was sport.
A sports gambler by trade, he often bet aggressively, wagering large sums if not all of his accumulated cash up to that point. And even wilder, there was very little the man did not know. To watch him play was like watching a virtuoso at work. To paraphrase a classic Billy Madison quotethere's a phrase we never, ever thought we'd type—if being a trivia wonk was ever cool, he was Miles Davis.
By his 33rd game, he'd won over $2 million and had long since broken the show's single-game winnings record. When challenger Emma Boettcher finally slay Goliath, 14.5 million people were watching. Find us another linear television show pulling in those sort of ratings! We'll wait.
In November, Holzhauer got the chance to face Boettcher once more during the season's Tournament of Champions, as both advanced handily to the finals against a third competitor who needn't have even been there. And in the end, he got his revenge and took home the $250,000 prize.
A week later, ABC announced the primetime tournament. Coincidence? We think not.
Of course, there's another, more somber reason that Jeopardy has seen an uptick in the public consciousness. And that's the announcement Trebeck made back in March that he'd been diagnosed with stage IV pancreatic cancer. Suddenly, knowing what sort of odds such a diagnose carry, it seemed as though the man we'd always assumed would be manning the ship was living on borrowed time.
Since then, we've watched in the hopes of getting progress reports on his health, choked up along with him as contestants voice their support, and just generally marveled at the steel-willed determination to not miss a show while undergoing treatment in the fight for his life.
Between revolutionary and flashy game play and Trebek's own inspiring story, the last year has taken a game that was once written off as robotic and boring and revealed it to be perhaps the most human thing unfolding on the small screen on any given night. And because of it, we simply can't look away.
JEOPARDY! The Greatest of All Time premieres Tuesday, Jan. 7, with subsequent installments airing on Wednesday, Jan 8 and Thursday, Jan 9 (and, if necessary, Friday, Jan. 10, Tuesday, Jan. 14, Wednesday, Jan. 15 and Thursday, Jan. 16), all at 8 p.m. on ABC.
Watch:
"Jeopardy" Celebrates 35 Years With an "All-Star" Season