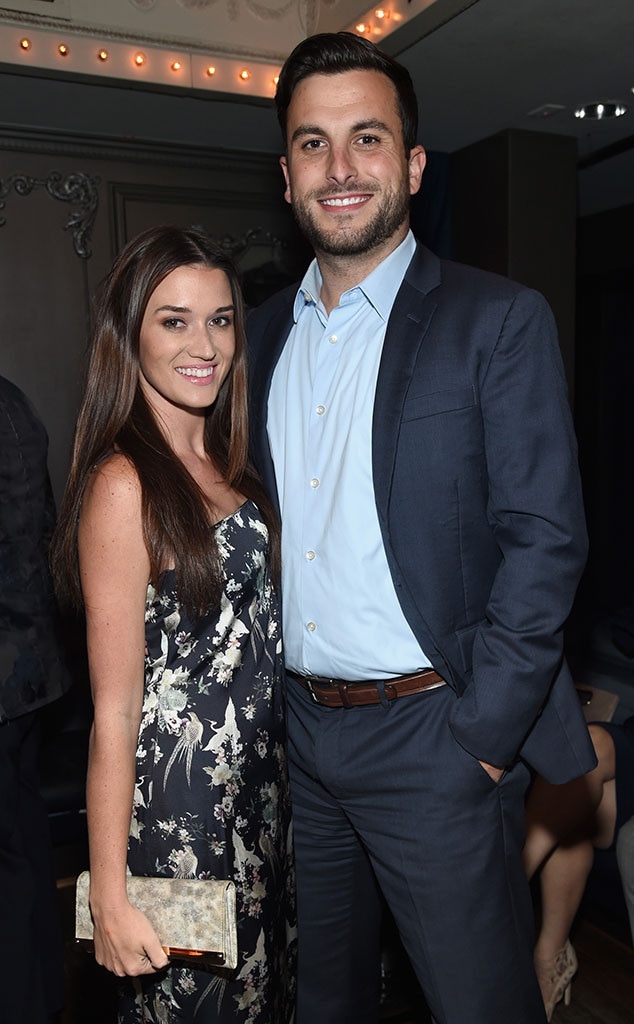 Jamie McCarthy/Getty Images for WE tv
Former Bachelor contestant Jade Roper Tolbert and her husband Tanner Tolbert are being accused of collusion after winning $1 million in a Fantasy Football contest over the weekend. 
On Sunday, fans and followers of the couple began tweeting at the 32-year-old after noticing that she had finished first place in a DraftKings—a daily fantasy sports contest and sports betting provided that allows users to enter daily and weekly fantasy sports-related contests to win money—fantasy contest for the NFL's wild-card round. The prize was a whopping $1 million. 
Jade replied to a tweet that read, "I'm pretty sure this girl was on The Bachelor. I only know this because my girlfriend forces me to watch it." Her reply was, "Hahaha that's me! And Tanner told me I shouldn't play DK Metcalf." 
Another tweet to the former Bachelor star read, "A woman from the Bachelor won the milly maker on @DraftKings. My wife's and I separate worlds have officially collided" and Jade replied, "Doesn't even feel real over here! Officially speechless. LIKE WHAAAAAAT." 
But in the replies, people were quick to call out some discrepancies. 
"Everyone realizes the two of them max entered and split their player exposure, right? And that is illegal," one Twitter user wrote in response to her previous tweet. 
While a self-proclaimed DraftKings analyst on Twitter wrote that, "To be clear I think it is freaking awesome that @jadelizroper won the millionaire maker on @DraftKings. Great story for DFS and anyone who is salty on twitter should stop being jealous"—others didn't think it was jealousy, but rather collusion between the couple to take home the prize.
"She and her husband cheated, end of story," replied another Twitter user, alongside a screenshot that showed the breakdown of which players each of them built their lineups around. 
Twitter users sharing these images noted that there were obvious correlations and similarities between the players each of them chose in an effort to maximize their chances of winning. 
For example, a screenshot shared by another Twitter user showed that the couple played similar quarterbacks but one of them chose to play them on Saturday and the other o Sunday. 
"This is absolute insanity and is the clearest collusion ever," the Twitter user wrote. "Check the QBs lmao." 
While the DraftKings still have a tweet up on their timeline from Jan. 4, announcing the wild card contest and top prize, they have seemingly deleted a more recent post announcing the winner from this weekend. The tweet, per the Washington Post, had read, "@jadelizroper will you accept this [rose emoji] as this week's millionaire? Congrats on taking it down [clapping hands emoji]."
Watch:
Peter Weber on Hannah Brown Crashing "The Bachelor"
While Jade and her husband Tanner didn't immediately address the Football Fantasy win, a former Bachelor star and friend has seemingly alluded it on Twitter after deleting his initial tweet in which he congratulates the couple for winning $1 million. 
Earlier this morning he took to social media to write, "I'm done speaking on the situation that doesn't involve me. Two great friends I love and support in which I thought was doing the right thing in defending from the information I personally know that's valid But with the hate messages and death threats I just want to be left alone."
Jade and her husband Tanner have denied any wrongdoing in regards to the DraftKings Fantasy Football contest. In a statement to E! News, the Tolberts said, "We respect that Draft Kings feels they must do their due diligence in regard to Jade winning their $1million dollar prize for the fantasy contest for the NFL's wild-card round this weekend. Though we must ponder, would the questions, accusations and curiosity about this win be the same if the winner had been male and someone who wasn't already in the public eye? It is incredibly important for us to establish that Jade's win is nothing more than pure luck and we are confident that Draft Kings will determine the same." 
According to DraftKing's community guidelines, it's against the rules for multiple contestants to work together in an effort to maximize their chances of winning a contestant hosted by them. 
Their rules read, "Team-building complementary lineups which serve to work together AND executing a strategy that may create any unfair advantage over individual play. (Example A: You and 2 of your friends coordinate the makeup of the lineups you build AND coordinate which contests you enter using them.)" 
In a statement to E! News, a DraftKings spokesperson said: "The DraftKings compliance team reviews the results of all major contests to ensure they comply with our Terms of Use and applicable state regulations. We take the integrity and fairness of our DFS contests seriously, and prizes are not paid out until our reviews are complete."