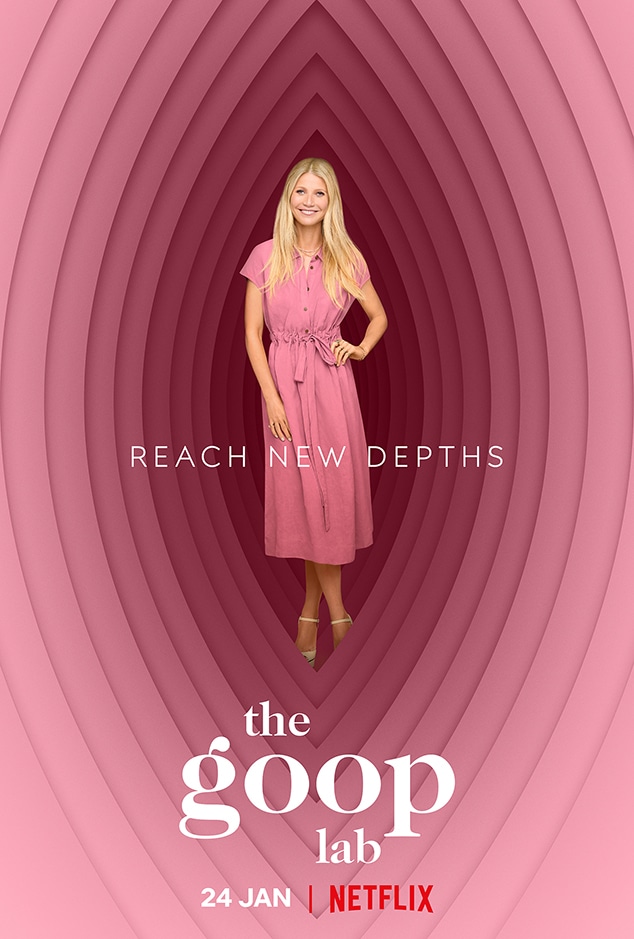 Netflix
Gwyneth Paltrow's infamous lifestyle site Goop is officially coming to Netflix, and its promo ad is...interesting.
On Monday, the trailer for the upcoming series, titled The Goop Lab, was released, along with its first promotional images. The main image features the Avengers alum, of course. But it's Paltrow's surroundings that has Twitter abuzz.
In the photo, the actress dons a pink dress a big smile as she stands in the middle of a pink design that highly resembles a vagina. Across the middle of the shot is a message that reads, "Reach new depths." Yes, you read that correctly.
The photo, of course, has garnered all kinds of responses on Twitter. Some are teasing the image and Paltrow's placement in it.
"If your vagina has a Gwyneth Paltrow inside it, please consult your physician," one user tweeted. Chimed in another, "the imagery of gwyneth paltrow standing inside a vagina and smiling is one that will never leave my brain."
Author Jessica Valenti wondered if the photo was meant to remind everyone of the infamous jade eggs that made Goop go viral years ago. (Goop was sued in 2018 for its scientifically unsubtantiated claims that the eggs had healing properties, such as preventing depression and uterine prolapse, regulating menstrual cycles and balancing hormones. The site settled the lawsuit for $145,000.)
As she tweeted, "Is she...is she the jade egg?"
While there are no mentions of jade eggs in the trailer for the upcoming series (out Jan. 24), there are mentions of exorcisms, therapeutic psychedelics, cold therapy and of course, orgasms.
As a description of the show obtained by E! News explains, "From lifestyle and wellness site goop comes The goop Lab. Hosted by Gwyneth Paltrow and goop Chief Content Officer, Elise Loehnen, the six episode series guides the deeply inquisitive viewer and pushes the boundaries and exploration of wellness topics."
Watch:
Why Gwyneth Paltrow Came Out of Semi-Retirement at 2020 Golden Globes
"The 30-minute episodes will feature doctors, researchers, alternative health practitioners, and other experts in mental, physical, spiritual and sexual health," the description continues. "The series will cover topics including psychedelics, cold therapy, female pleasure, anti-aging, energy healing and psychics. The goop Lab is executive produced by Paltrow, Elise Loehnen, Shauna Minoprio and Andrew Fried and Dane Lillegard of Boardwalk Pictures."
One thing's for sure, the ads for this show are eye-grabbing.