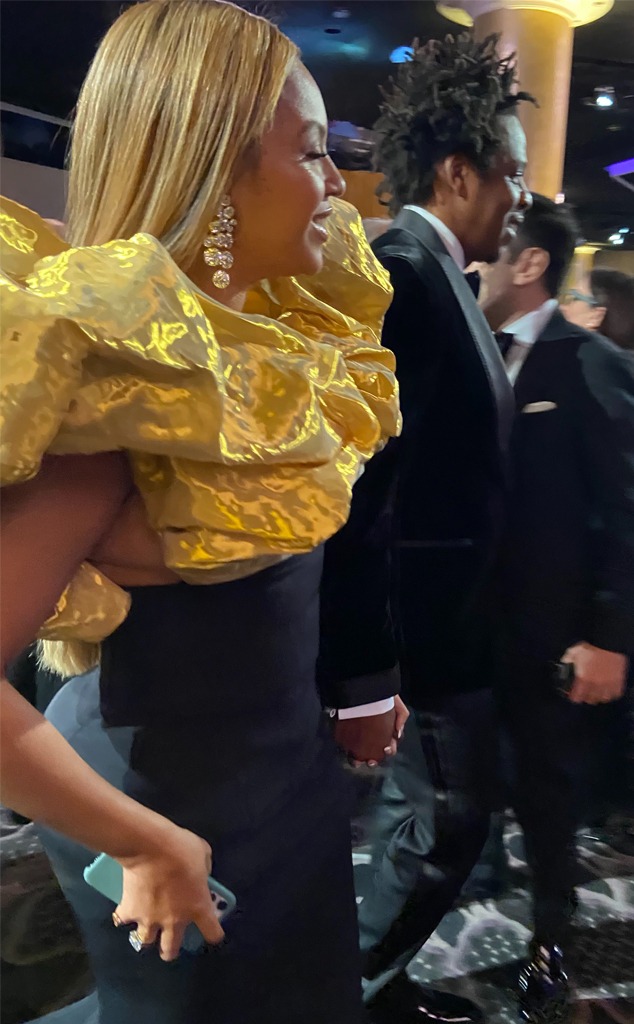 E!
If anyone can make a grand entrance, it's the one and the only Queen Bey.
To kick off the 2020 awards season and the 2020 Golden Globes, Beyoncé made a fashionably late entrance alongside Jay-Z in an absolutely breathtaking gown. After skipping out on the red carpet, the world-famous performer snuck in to The Beverly Hilton's ballroom just before the second hour of the show kicked off. 
The Texas-born singer channeled her inner Nala from The Lion King in fitted black gown embellished with gold sleeves. She complemented the fierce look with gold statement earrings and a pin-straight 'do.
After all, the 38-year-old, also known as Sasha Fierce, is nominated tonight for Best Original Song in a Motion Picture for her song "Spirit," co-written by Queen Bey herself and Timothy McKenzie and Ilya Salmanzadeh from The Lion King. Though the honor ultimately went to "(I'm Gonna) Love Me" from Rocketman, that didn't stop the couple from having the time of their lives.
To see more photos from their night out at the Globes, check out our gallery below: 
Now, after accruing a whopping 23 Grammy Awards and being nominated for tonight's Golden Globes, the multi-hyphenate is one step closer to adding an Oscar nod or win to her list.
On Monday, Dec. 16, The Academy of Motion Pictures Arts and Sciences announced shortlists in consideration for the 92nd Academy Awards in nine categories, including Music (Original Score), Music (Original Song), among others.
Of those categories, Queen Bey was nominated for her song "Spirit" and it's also the only film with two songs on the list ("Never Too Late" written by Tim Rice and Elton John is also nominated in the same category for Original Song).
As fans may recall, Beyoncé's song "Spirit" was not only featured on The Lion King official soundtrack but also on her own album The Lion King: The Gift which featured artists like Burna Boy, Donald Glover and her daughter Blue Ivy Carter.
Now, let's wait and see if the "Brown Skin Girl" singer will be adding a Golden Globe to her mantel tonight! 
Watch:
2020 Golden Globes: By the Numbers