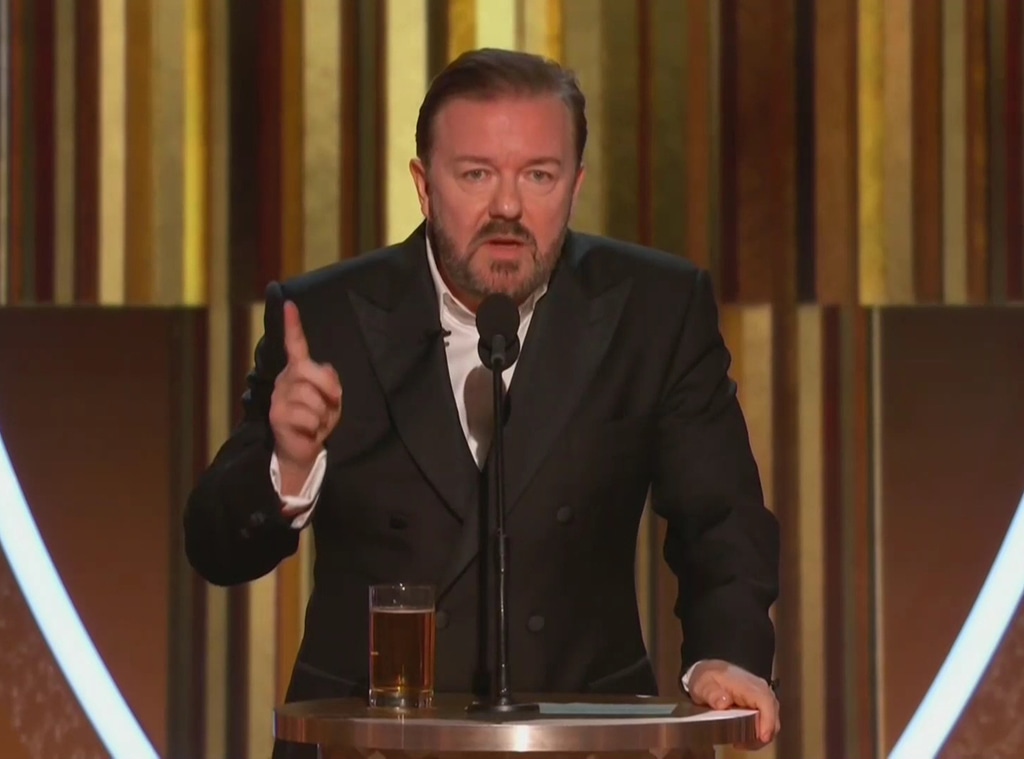 NBC
Monologue number five is in the books for Ricky Gervais. 
The comedian kicked off the 2020 Golden Globes by, as he promised, doing the same old thing he always does, and hoping the audience is more used to it by now. We've seen Gervais host four times before, and as expected, he did not hold back in his fifth go 'round. He also warned everyone right at the start. 
"You'll be pleased to know this is the last time I'm hosting these awards, so I don't care anymore. I'm joking, I never did," he said, going on to joke that the Hollywood Foreign Press Association doesn't speak English and probably hasn't read any of his tweets. 
Here's just a brief list of those Gervais skewered in his opening remarks: Felicity Huffman, Joe Pesci, Two Popes, the HFPA, Martin Scorsese, Leonardo DiCaprio, James Corden, Cats, Judi Dench, Apple, Isis, and more! 
FOR MORE AWARDS SEASON COVERAGE TEXT "POP" TO 44144 TO DOWNLOAD THE E! NEWS APP
The Felicity Huffman joke got the first big groan of the night. 
"I came here tonight in a limo, and the license plate was made by Felicity Huffman," he said, and the audience reacted quite audibly.
"No, shush. It's her daughter I feel sorry for, OK? That must be the most embarrassing thing that's ever happened to her, and her dad was in Wild Hogs." 
He said that many people of color were snubbed in all the major categories because "the Hollywood Foreign Press are all very, very racist," and joked that Martin Scorsese compares movies he hates to theme parks because he's not tall enough to ride them. 
He also took on Leonardo DiCaprio's dating history. 
"Once Upon a Time in Hollywood, nearly three hours long. Leonardo DiCaprio attended the premiere and by the end, his date was too old for him," he said. 
Watch:
Ricky Gervais Teases His 2020 Golden Globes Open
Cats got some especially wild skewering, including a joke about Judi Dench that Gervais almost didn't say that involved licking...something. 
He ended his speech by shaming everyone in the room for working for companies he said were the opposite of woke. 
"If you do win an award tonight, don't use it as a platform to make a political speech, right? You're in no position to lecture the public about anything. You know nothing about the real world. Most of you spent less time in school than Greta Thunberg." 
Stick around to hear more of what Gervais does tonight, now that he's fully stopped caring.