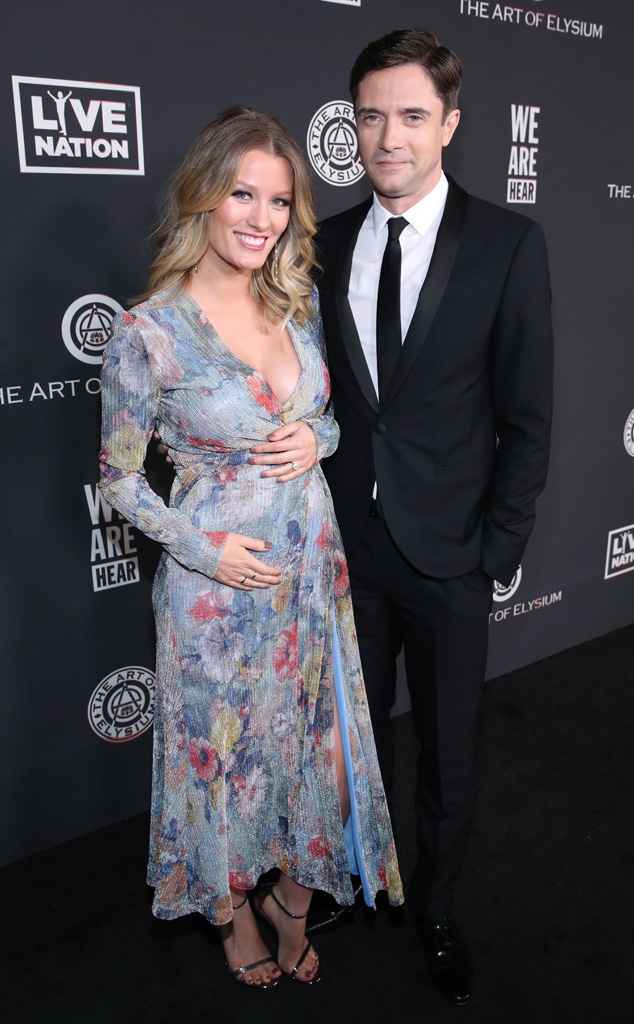 Randy Shropshire/Getty Images for The Art of Elysium
2020 is off to a great start for Topher Grace and Ashley Hinshaw!
On Saturday, the longtime couple dazzled on the red carpet at the Art Of Elysium's 13th Annual celebration in Los Angeles.
And while the ceremony was filled with fierce fashion and an even more fabulous guest list (Bella Hadid, Marilyn Manson, Jack Black and many more were in attendance), it was the Graces who made a huge splash at the fanciful affair.
The About Cherry actress and her hubby are expecting their second child together! The 31-year-old star even showed off her growing baby bump when she walked the red carpet with the 41-year-old actor.
Ashley dazzled in a whimsical baby blue floral dress, and was cradling her bump during her step and repeat. As if that weren't cute enough, the That '70s Show alum was smiling from ear-to-ear as he posed by his wife.
At the event, Topher even addressed the big elephant in the room and announced the exciting news.
"As you can see, we're expecting our second," the actor shared, before cracking a joke to Jennifer Howell, the charity head. "And after learning what toddlers are really like, this one is all yours Jen."
Many guests offered hugs and handshakes to the couple throughout the night, while the band Cheap Trick gave Topher a shout-out from the stage before performing the That '70s Show theme song.
Foo Fighters' Dave Grohl also performed with fellow surviving Nirvana members Krist Novoselic and Pat Smear, while Grohl also brought up his daughter Violet onstage. Other celebrity guests included Michael Tractenberg, Bella Hadid, Evan Ross, Jensel Ackles and wife Danneel, Ian Ziering, Varsity Blues alumni Ali Larter and Amy Smart, Audrina Patridge, and Kat Graham. The event took place at the Palladium in Hollywood and was sponsored by Casamigos Tequila.
Watch:
Topher Grace & Wife Lamented His "BlackKklansman" Rehearsals
Topher and Ashley, who wed in 2016, are already parents to their 2-year-old daughter, Mabel Jane Grace. The couple welcomed their first-born back in 2017, just a little over a year after they celebrated their anniversary.
At this time, Ashley and Topher are keeping details about their little one tight-lipped. It's unknown if they're having another girl or will be first-time parents to a baby boy. 
—Reporting by Spencer Lubitz
Congrats to the couple on their growing family!