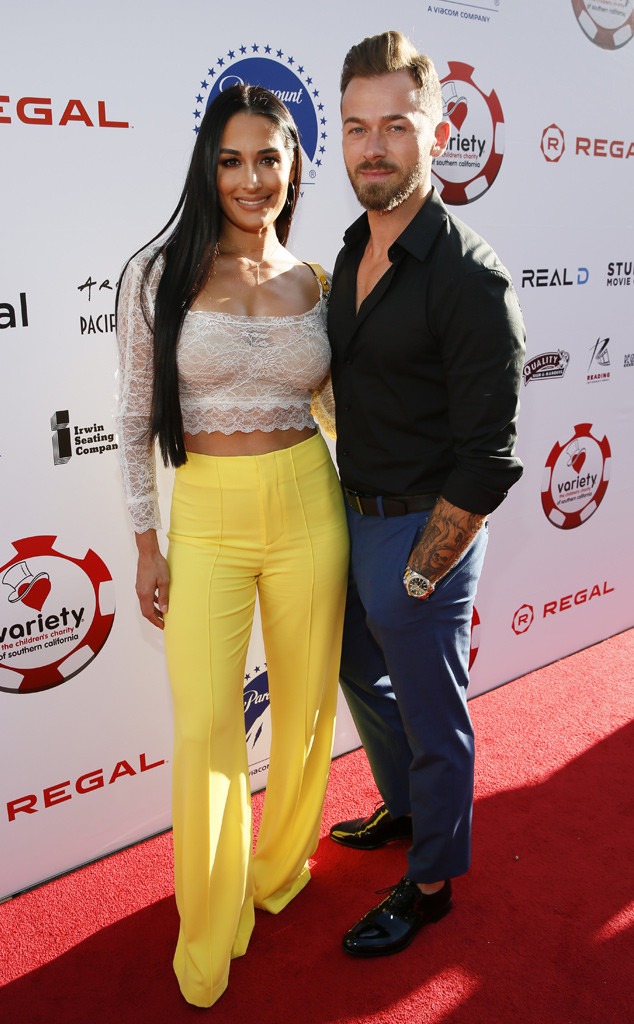 Ryan Miller/Variety
Nikki Bella is engaged to the man of her dreams!
The Total Bellas star revealed she is engaged to her boyfriend Artem Chigvintsev with one of the cutest Instagram announcements of 2020. She wrote on Instagram, "Excited for 2020 and the next decade with you @theartemc. I said yes in France in November! We have been trying to keep it a secret but really wanted to share our excitement for the New Year!"
And in an Instagram announcement of his own, Artem thanked Nikki for coming into his life and saying yes to his proposal. "You are the best thing that has ever happened to me," he shared. "So excited for what's to come I love you more than anything and thank you for saying Yes."
Alongside their announcements, the couple shared photos of the romantic proposal which appeared to take place in a ballroom covered in red roses. To make things even better, the pro dancer hired a string quartet to serenade his leading lady as he popped the question. 
Nikki and Artem's engagement isn't all that surprising considering how in love the pair looked while vacationing in France. Throughout their stay in the European country, the duo was showered with questions about when they were going to get engaged, especially after Nikki met Artem's parents. On her podcast, the star shared, "They are the sweetest people in the world... Overall, Artem's parents did say they liked me a lot, which is amazing." 
Plus, it seems Artem's parents are eager to have grand-babies! Nikki revealed that his parents were already asking if they were thinking of having kids anytime soon. "His dad asked his mom so his mom could ask Artem when we were having kids," she shared. "I started to think, 'Is it because I'm old? Did he Google and know I'm going to be 36 in November and he's like, 'Well those eggs are shriveling up, so she better get pregnant.'"
Artem's parents aside, it doesn't seem like she and him are in any rush to get pregnant or walk down the aisle. In October, she told E! News she finds the idea of getting married and having kids a bit "scary" right now. 
Then again, Nikki also said she "never" expected anything romantic to happen between her and Artem when they were competing on Dancing With the Stars, but look at them now! Of course, it took some convincing and a mind blowing kiss, but Nikki said after their first date she "couldn't stop thinking about him and that kiss."
Watch:
Nikki Bella Talks Possibility of Marrying Artem Chigvintsev
And it definitely helps that Artem won over Brie Bella and the rest of their tight-knit family. In fact, Brie said she was kind of opposed to Nikki and Artem dating since she still had some hope for her ex-fiance John Cena. "Well, I'm stubborn, but I was always very much Team John [Cena] and I was still rooting for them so I didn't want to give in to Artem because I still had hope," she explained. "And so I kind of just separated from that until I knew, 'Okay, maybe this guy is serious for her.'"
While John and Nikki shared something special, Nikki previously said her relationship with Artem is better because he's "the first person I've been with where I feel like I can be Nicole and never fear he's going to leave me for it."
"We all have a little crazy in us, and he loves my crazy," she said.
Fans can see some of that crazy, the proposal and more when the next season of Total Bellas premieres spring of this year. 
Congratulations, Nikki and Artem!