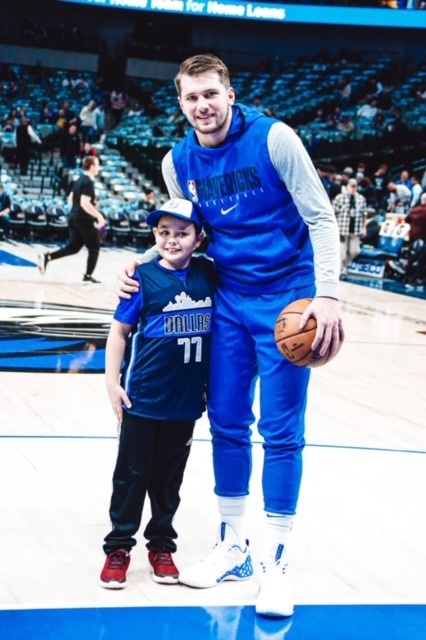 Dallas Mavericks/Mavs Foundation
Grab your tissues! This video is guaranteed to bring tears to your eyes.
Dallas Mavericks basketball star Luka Dončić was introduced to 9-year-old fan Brayden Whitley on Thursday night, and the moment was truly touching. During warmups before the team's game against the Brooklyn Nets, Mavs asst. coach Darrell Armstrong spotted Brayden's sign in the stands. The young boy's sign read, "My doc said watching Luka helps my epilepsy! 9 months no seizures!"
After reading the sign, Darrell brought Brayden down to the court to meet Luka, and the heartwarming moment was caught on camera by journalist Dorothy J. Gentry.
"I'm gonna meet Luka?" Brayden can be heard asking in the video, posted to ESPN's Twitter account. "I'm actually gonna meet Luka?!"
As Brayden stepped onto the court, Luka turned and shook his hand. In addition to sharing a sweet exchange, the duo also posed a for a photo together. After the game, Luka surprised Brayden with signed basketball sneakers, a real treat for the young fan.
When asked about the meeting, Luka told reporters, "As players we gotta connect with the fans somehow, you know, you're never going to connect with everyone it's really hard. But when you see those kids, I want to make everything possible...to give them something. This was a pleasure for me." 
In response to the video, Brayden's dad Ryan Whitley tweeted, "This is my son Brayden!!! This was his dream!! Thank you!!"
And it looks like Brayden was a good luck charm for the team! The Dallas Mavericks, led by head coach Rick Carlisle, defeated the Brooklyn Nets with a 123 to 111 win.
Watch:
Meghan Markle Does Basketball Drills in Stilettos
"It's not just a business. It's not just a game. It's a connection," Mavericks owner Mark Cuban tweeted Thursday night. "Well done DA and
@luka7doncic #ThisIsWhyWePlay."
Take a look at the heartwarming moment above!