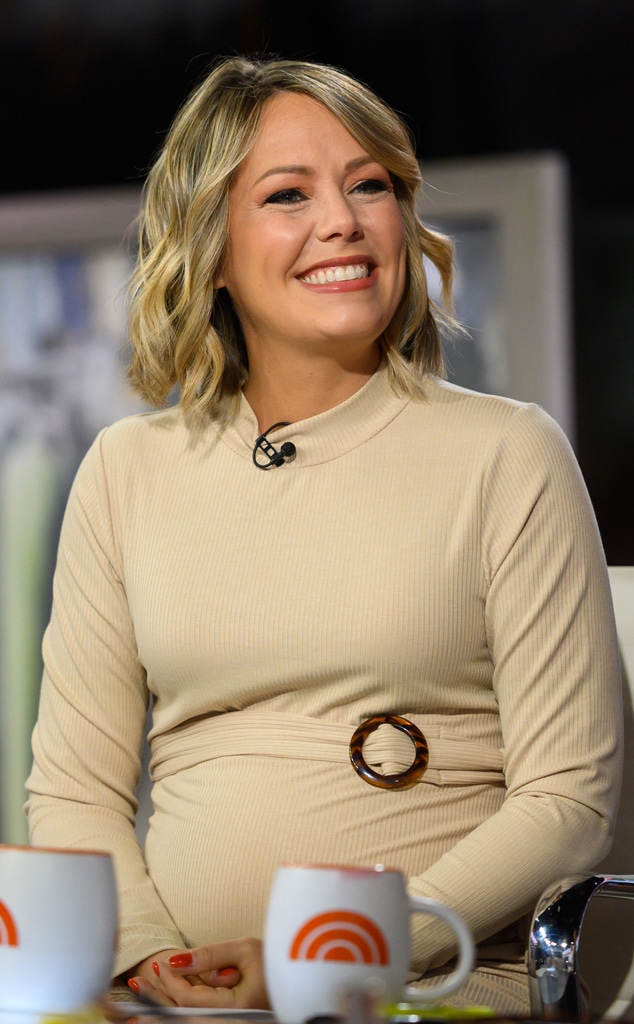 Nathan Congleton/NBC/NBCU Photo Bank
Congratulations to Dylan Dreyer!
The Today co-anchor and meteorologist and husband Brian Fichera welcomed a baby boy named Oliver George Fichera on Thursday morning, the Today show announced. Raved the proud dad, "Dyl and Ollie are doing fantastic." 
The couple's bundle of joy joins their son, Calvin Fichera, 3, in the family. This arrival news comes shortly after Dreyer's Today co-hosts threw her an on-air baby "sprinkle" shower to celebrate. "I feel like I'm in the final stretch," Dreyer told her co-hosts during the December celebration, sharing that her due date was Jan. 8.
Dreyer was then surprised by "special guests" at the on-air shower: her husband and son! She then teared up as videos from family members played, wishing her well on her last weeks of pregnancy.
Dreyer first announced her pregnancy in July, sharing the news on Today. She also revealed at the time that she'd be welcoming a baby boy.
The pregnancy announcement came about three months after Dreyer had opened up about suffering a miscarriage.
"We got really lucky with Calvin," Dreyer shared in April 2018. "We tried maybe one or two months."
"Nine months ago, we decided that we really wanted to have another baby," she shared. "I went to my OBGYN and I just said, 'We've been trying for about six months, and I don't really know what's going on. But my cycles are all over the place.'"
After doing some blood work, Dreyer learned she had a "very low" egg count. As she explained, "Instead of having the egg count of a 37-year-old, I'm more like mid 40s."
She also learned that her uterus was two-thirds scarred shut as a rare result of the emergency c-section she had for her first son. Then, after undergoing surgery to clear out the scar tissue, Dreyer got pregnant. 
About a month later, Dreyer experienced "massive" bleeding and went to the doctor, who said that the baby was fine. But then, after the bleeding continued, Dreyer returned to the doctor and learned she had miscarried.
"I am so blessed with the family that I have, but going through a miscarriage and not knowing what the future holds is emotional," Dreyer said at the time. "And I just want people to know that I'm going through it, too." 
Watch:
Dylan Dreyer Had a Dream That Hoda Kotb Would Have a Baby
Three months later, as she announced her pregnancy, Dreyer revealed that the day she was going to start IVF, she got a call from the doctor telling her that she's pregnant.
"I just want to thank everybody for the prayers, because I swear, the prayers and just putting my story out there, got me to where I am," Dylan shared in July.
Congratulations once again to Dylan and her family!